From GAMEO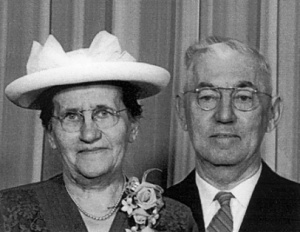 Johann "John" D. Adrian: teacher and minister; born 27 June 1891 in the village of Fishau,
Molotshna settlement
, South
Russia
. He was the son of David Adrian and Anna (Rempel) Adrian. In 1917 he married Katherina Enns (8 January 1892, Boragan,
Crimea
- 13 September 1966,
Abbotsford
,
British Columbia
). John and Katherina had four children: Ella, John, Victor and Alfred (Elfrieda, their third child, died in Russia within a month of birth). On 16 February 1967 he married Susanna (Epp) Dirks (2 April 1900 - 21 February 1975). John died 28 November 1980 in Abbotsford, British Columbia, where he is buried.
John studied in the Halbstadt Zentralschule, specializing in pedagogy. On earning his teaching certification, he began teaching in the village of Blumstein in 1918. In 1924, in the light of internal political, social and economic disruptions in Russia, the Adrian family moved to Canada, settling in Manitoba. After English studies at the Mennonite Collegiate Institute in Gretna and several months of studies at the Manitoba Teachers College in Winnipeg, John and his family settled in the village of Rosenort in 1927, taking up his duties as village teacher. A few years later he accepted a teaching position in the village of Reinfeld where he taught and ministered effectively for the next fifteen years (1931-46). The Sommerfelder parents regarded him highly as he taught their children not only the "3 Rs" but also Bible and ethics.
Adrian exemplified an enterprising teacher in Reinfeld. He taught a large class of students, from grades one to eight, for a number of years, and also taught Sunday School on Sunday (including students from ages 10 to 60). He ministered to all members of the village of about 30 families. He organized youth meetings in winter, brought students from the Winkler Bible School to have programs on some Sunday evenings, and directed an adult choir. Occasionally he invited a medical doctor to give lectures on good healthy food preparations for the women, and gave lectures with materials from the Morden Experimental Farm and the University of Manitoba to the men of the village. A most notable event was his invitation of I. P. Friesen from Saskatchewan to give a series of sermons in the school in Reinfeld. A spiritual renewal emerged. The school could not hold the attendees after two weeks. The meetings moved to the neighboring town of Winkler, eventually to the largest church building, the Mennonite Brethren church. A new denomination emerged, the Rudnerweide Church, later called the Evangelical Mennonite Mission Conference (EMMC), in 1937.
On request John published several booklets. These included Die Entstehung der Rudnerweide Gemeinde (The Establishment of the Rudnerweide Church), Hilfsbuch fuer Sonntagschul-Lehrer (A Helpful Book for Sunday-school Teachers), and Glaubenslehre (Faith Doctrines).
In 1946 Adrian moved to Yarrow, British Columbia to become principal and teacher at the Bethel Bible Institute in Abbotsford. His students found him to be a man of great integrity. His teaching was crisp and clear. He had the gift of making the difficult easy, rather than vice versa. His personal care for each student was exemplary. After three years he accepted a call to teach at the Mennonite Collegiate Institute in Gretna, Manitoba in 1949. A few years later, in 1951, he accepted a teaching position at the Canadian Mennonite Bible College in Winnipeg, where he taught hermeneutics and homiletics for the next ten years. In 1964 he and his wife Katherina retired to Abbotsford, BC, where they joined the Eben-Ezer Mennonite Church. He participated actively in the ministry until failing health no longer made it possible. He spent his last years at the Sherwood Manor.
Author(s)
Victor Adrian
Jake Tilitzky
Date Published
June 2007
[edit]
Cite This Article
MLA style
Adrian, Victor and Jake Tilitzky. "Adrian, Johann D. (1891-1980)." Global Anabaptist Mennonite Encyclopedia Online. June 2007. Web. 3 Jul 2015. http://gameo.org/index.php?title=Adrian,_Johann_D._(1891-1980)&oldid=90739.
APA style
Adrian, Victor and Jake Tilitzky. (June 2007). Adrian, Johann D. (1891-1980). Global Anabaptist Mennonite Encyclopedia Online. Retrieved 3 July 2015, from http://gameo.org/index.php?title=Adrian,_Johann_D._(1891-1980)&oldid=90739.
---

©1996-2015 by the Global Anabaptist Mennonite Encyclopedia Online. All rights reserved.