From GAMEO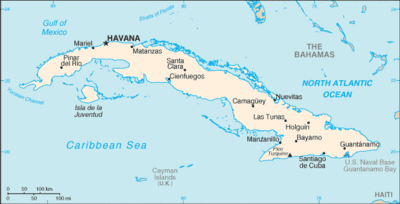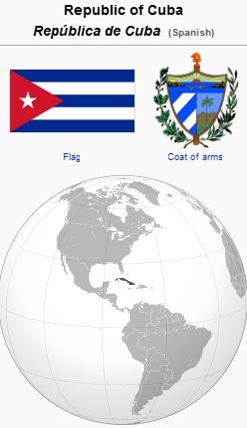 Introduction
The Republic of Cuba is an island country in the Caribbean. It consists of the island of Cuba, the Isla de la Juventud, and several archipelagos. The capital city of Havana. The estimated population in 2009 was 11,451,652. In 2002 approximately 65% of the population was White, 10% was Black, and 25% was Mulatto. The Roman Catholic Church estimates that 60% of the population in Roman Catholic.
1990 Article
Working on the island in 1986 were two Anabaptist-rooted denominations and the Mennonite Central Committee.
The Brethren in Christ began their work in 1953, establishing a mission program that developed into the Iglesia de los Hermanos en Cristo. The two congregations formed have weathered difficulties and were active in 1987 as a registered church.
The Franconia Mennonite Conference (MC), founded the Cuba Mennonite Mission in 1954. The missionaries worked out of two centers, Rancho Veloz and Sagua la Grande, both located in Santa Clara Province in north central Cuba. Numerous witness points were established. Methods included teaching English, home visitation, home Bible studies, and radio broadcasting. By 1960, six missionaries were on the field. All of them eventually left as a result of the revolution (1959). Because government registration was not obtained, any Mennonite Church gathering became illegal. Therefore, in 1987, Mennonite converts were worshiping with other Protestant groups. After Cuba began to permit some visitation, a few Brethren in Christ and Mennonite leaders visited their respective people.
After 1981 the Mennonite Central Committee (MCC) worked through church agencies in Cuba to help Cuban churches carry out their ministries, and to foster understandings between Cubans and North Americans. Examples of MCC work include helping repair a chapel, assisting in refurbishing a Bible study center, and contributing Anabaptist and peace literature to church libraries.
2013 Update
The following Anabaptist groups were active in Cuba in 2012:
Denomination
Congregations
in 2009
Members
in 2009
Congregations
in 2012
Members
in 2012
Amish Mennonites
1
20
Congregación Evangélica Misionera
5
22
 
 
Conservative (Plain) Mennonites
 
 
1
4
Iglesia Menonita en Cuba
3
50
3
50
Iglesia Misionera Anabautista - Menonita
 
 
8
70
Sociedad Misionera Hermanos en Cristo
76
3,278
156
6,217
Independent & Unaffiliated
3
23
 
 
Total
87
3,373
169
6,361
Bibliography
Mennonite World Conference. "Mennonite and Brethren in Christ Churches Worldwide, 2009: Latin America & the Caribbean." 2010. Web. 27 March 2010. http://www.mwc-cmm.org/en15/index.php?option=com_content&view=article&id=13&Itemid=16.
Mennonite World Conference. World Directory = Directorio mundial = Répertoire mondial 2012: Mennonite, Brethren in Christ and Related Churches = Iglesias Menonitas, de los Hermanos en Cristo y afines = Églises Mennonites, Frères en Christ et Apparentées. Kitchener, ON: Mennonite World Conference, 2012: 20.
Mennonite World Handbook Supplement. Strasbourg, France, and Lombard, IL: Mennonite World Conference, 1984: 68.
Wittlinger, Carlton O. Quest for Piety and Obedience: The Story of the Brethren in Christ. Nappanee, IN: Evangel Press, 1978 : 516-518.
Author(s)
Martin H. Schrag
Date Published
May 2013
Cite This Article
MLA style
Schrag, Martin H.. "Cuba." Global Anabaptist Mennonite Encyclopedia Online. May 2013. Web. 31 May 2016. http://gameo.org/index.php?title=Cuba&oldid=122254.
APA style
Schrag, Martin H.. (May 2013). Cuba. Global Anabaptist Mennonite Encyclopedia Online. Retrieved 31 May 2016, from http://gameo.org/index.php?title=Cuba&oldid=122254.
---
Adapted by permission of Herald Press, Harrisonburg, Virginia, and Waterloo, Ontario, from
Mennonite Encyclopedia
, Vol. 5, pp. 213-214. All rights reserved. For information on ordering the encyclopedia visit the
Herald Press
website.

©1996-2016 by the Global Anabaptist Mennonite Encyclopedia Online. All rights reserved.