Eckert, Chauncey E. (1873-1951)
From GAMEO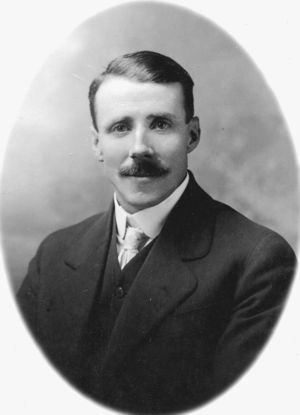 Chauncey Erwin Eckert: community leader, land developer, and benefactor of Mennonite settlers in Yarrow, British Columbia. Born in Iowa, USA in 1873, Chauncey became a banker in South Dakota before moving to British Columbia in 1906. He brought considerable assets with him, for in 1909 he built a commodious, Tudor-styled house in the heart of Chilliwack -- Stonehurst Manor. The house still exists in 2012 and was known for many years as the Mansione Restaurant.
With his move to Chilliwack, Eckert gave himself to building the early infrastructure in the city. Shortly after his arrival, he became involved in establishing the first hospital and then from 1913 to 1917 he served as an alderman. He was an active member in the Chilliwack Methodist Church, where he sang in the choir.
To pursue his interest in land sales, he joined with Ernest A. Craine to form the Craine-Eckert Land Development Company. In 1908 the company purchased 1,000 acres from Yarrow pioneer Joseph Knox. The investment doubled in worth with the completion of two major projects: building of the B.C. Electric Railway line to Chilliwack by 1911, and the draining of Sumas Lake by 1924.
Recognizing the potential for agriculture on the rich Fraser Valley soils, Eckert established one of the largest dairy farms at the time. In 1917 he was listed as a founder of the Fraser Valley Milk Producers Association. After the draining of Sumas Lake, Eckert became a principle promoter for developing the agricultural worth of the lake bottom. Eckert was also one of the principle organizers of the Chilliwack Producers' Exchange, a cooperative whose purpose it was to find markets for farm products.
It was the availability of arable land that induced Eckert to attract Mennonites immigrants eagerly looking to establish themselves after their arrival in Canada. Cleverly, his advertisements were placed in various English and German periodicals and promised generous settlement assistance. By November 1928 some 400 people had arrived in Yarrow, quickly settling onto five or ten-acre parcels of land that Eckert provided on generous repayment terms. Eckert trusted these Russian Mennonite immigrants and generously extended credit for the purchase of land, building materials as well as house-hold necessities.
His obituary in the Chilliwack Progress in 1951 noted that his personal influence had been "fruitful, substantial, and altogether beneficial." The first generation of Yarrow Mennonite settlers heartily concurred.
Bibliography
"C. E. Eckert Pioneer Succumbs." Chilliwack Progress (January 1951).
Klassen, Agatha E. Yarrow: A Portrait in Mosaic. Abbotsford, B.C.: Blairhouse, 1976.
Neufeldt, Leonard, ed. Before We Were the Land's: Yarrow British Columbia, Mennonite Promise. Victoria, B.C.: Horsdal & Schubert Publishing Ltd, 2002.
"Winnipeg Ad Initiates Mennonite Settlement." Chilliwack Progress (September 1986).
"Yarrow's Pioneers and Settlers." Web. March 2012. http://www.yarrowbc.ca/index.html.
Author(s)
David Giesbrecht
Date Published
March 2012
Cite This Article
MLA style
Giesbrecht, David. "Eckert, Chauncey E. (1873-1951)." Global Anabaptist Mennonite Encyclopedia Online. March 2012. Web. 23 Jun 2018. http://gameo.org/index.php?title=Eckert,_Chauncey_E._(1873-1951)&oldid=80394.
APA style
Giesbrecht, David. (March 2012). Eckert, Chauncey E. (1873-1951). Global Anabaptist Mennonite Encyclopedia Online. Retrieved 23 June 2018, from http://gameo.org/index.php?title=Eckert,_Chauncey_E._(1873-1951)&oldid=80394.
---

©1996-2018 by the Global Anabaptist Mennonite Encyclopedia Online. All rights reserved.