From GAMEO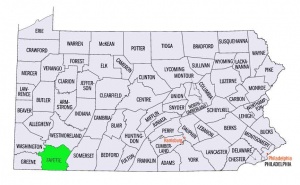 There are no official church records known to be in existence for the first one hundred years of the Mennonite settlement in northern Fayette County,
Pennsylvania
. Land was acquired in this western Pennsylvania county by four Mennonite families in 1789-1791. The first minister and bishop was Abraham Stauffer, who came from
Lancaster County
, Pennsylvania, and in 1790 purchased 278 acres of land in Tyrone Township, Fayette County. Early settlers came from Lancaster County and
Washington County
,
Maryland
.
Tradition states that the first meetinghouse, about one mile west of Pennsville, was erected before 1800. Rebuilt in 1852, it served almost continuously until membership dwindled and after 1903 it was no longer used. Throughout most of its existence the congregation held biweekly meetings. It alternated with the Stonerville meetinghouse five miles across Jacobs Creek in Westmoreland County. The Pennsville meetinghouse and burying ground became property of the Scottdale congregation (formerly Stonerville and Pennsville) which in 1903 authorized the disposal of the property. Throughout its existence the Pennsville membership was one with the Stonerville congregation and the combined memberships numbered at most 200.
After 1850 a decline set in and by another 50 years the combined membership at the two meetinghouses had declined to 20 persons or less. However, later years witnessed a growth and revival in the Scottdale congregation as it became the congregational center of the church's publishing plant. Aaron Loucks played a leading role in this work.
It is believed that the Masontown Mennonite Church in southern Fayette County, Pennsylvania, was the second oldest Mennonite congregation west of the Alleghenies. Settlers came from eastern Pennsylvania before 1800 and perhaps as early as 1790. They were the Longeneckers, Johnsons, Bixlers, Fretzes, Honsakers, Saylors, and Leckrones.
What is thought to have been the first Mennonite Sunday school in the United States was held here in 1842 when Bishop Nicholas Johnson began teaching the Bible to children of this church. In 1872 John F. Funk and Daniel Brenneman held revival meetings for four weeks. These meetings were among the first, if not the first, revival meetings in the Mennonite Church. J. N. Durr was an important leader in the congregation for many years. The 1954 membership of the congregation was 112.
In 1951 the Kingview Mennonite Church was built in East Scottdale in Fayette County, the outgrowth of extension work that began in this territory in 1906.
Author(s)
Grant M Stoltzfus
Date Published
1956
Cite This Article
MLA style
Stoltzfus, Grant M. "Fayette County (Pennsylvania, USA)." Global Anabaptist Mennonite Encyclopedia Online. 1956. Web. 25 May 2016. http://gameo.org/index.php?title=Fayette_County_(Pennsylvania,_USA)&oldid=80754.
APA style
Stoltzfus, Grant M. (1956). Fayette County (Pennsylvania, USA). Global Anabaptist Mennonite Encyclopedia Online. Retrieved 25 May 2016, from http://gameo.org/index.php?title=Fayette_County_(Pennsylvania,_USA)&oldid=80754.
---
Adapted by permission of Herald Press, Harrisonburg, Virginia, and Waterloo, Ontario, from
Mennonite Encyclopedia
, Vol. 2, p. 318. All rights reserved. For information on ordering the encyclopedia visit the
Herald Press
website.

©1996-2016 by the Global Anabaptist Mennonite Encyclopedia Online. All rights reserved.