Fehderau, Harold W. (1932-1997)
From GAMEO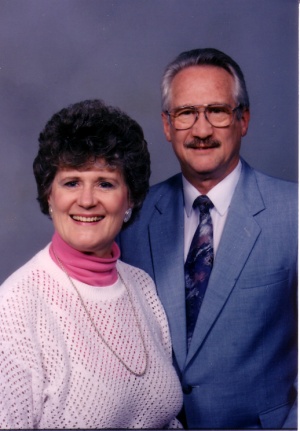 Harold W. Fehderau, a teacher, linguist and Bible translator, was born 6 February 1932, in
Kitchener
, Ontario to
Nicholas and Louise Fehderau
, the only son and second oldest of four children. He was baptized in 1946 and became a member of the
Kitchener Mennonite Brethren Church
. His keen interest in languages led to his studying all the languages that were offered while in high school. He was one of the few young men in the church community to continue higher education at that time and received his B.A. (Hons.) in Modern Languages from Waterloo College, then affiliated with the University of Western Ontario. From 1954-1957 he taught modern languages at Tabor College, Hillsboro, Kansas, while pursuing an M.A. in German Language and Literature with a minor in Linguistics from the University of Colorado, which he completed in 1958. It was this contact with linguistics that was pivotal in his vocational direction which led him to doctoral studies at Cornell University where he received his Ph.D. in Linguistics and Anthropology in 1966.
In 1957 Fehderau married Nancy Riediger (b. 2 March 1936), also a member of the Kitchener Mennonite Brethren Church, who had just graduated from Nurses' training. In 1959, after a year of French studies in Belgium, he began his assignment as a missionary linguist in the Belgian Congo for the Mennonite Brethren Board of Foreign Missions and the American Bible Society. During their first year, living in a village in the Lower Congo learning the tribal language of Kikongo, they experienced the upheavals of the country's struggle for independence in the summer of 1960. In September of that year Fehderau began a year of linguistic research of the Kituba trade language. Following that he began work on a new translation of the New Testament in Kituba.
Fehderau's research became the basis for his Ph.D. dissertation and the development of a descriptive grammar of the Kituba language. He also wrote a Kituba language learning manual with 20 comprehensive lessons for expatriates working in the area. In 1969 he completed his Kikongo (ya Leta)/English/French Dictionary. He also compiled a booklet of Kikongo fables and stories. Fehderau wrote numerous articles for various publications including Practical Anthropology, The Bible Translator, and the International Journal of American Linguistics. The Marquis Who's Who Publications Board honored him by including his biographical record in the Who's Who in the World, Sixth Edition, 1982/1983.
In 1968, Fehderau began work as translations consultant with the United Bible Societies for all of the Congo. In 1976, he was appointed Africa Translations Coordinator for the United Bible Societies based in Nairobi, Kenya. The family came back to Canada in 1980 when Fehderau accepted the position of Translations Coordinator for the Americas for the United Bible Societies, working out of Kitchener-Waterloo. From 1989-1997 Fehderau served as Translations Director for the Canadian Bible Society, providing leadership for translation projects in many aboriginal languages. He also continued to oversee the Haitian and Jamaican Creole translation projects.
While still in Africa, Fehderau pioneered the use of the computer in translation and manuscript editing. He continued developing his vision throughout the years and laid the foundation for the Kitchener translation office to be at the leading edge of computer-assisted text processing, providing guidance and tools for translators around the world. He developed a new reader series of Scripture translation for numerous languages in Africa and in the Americas. Fehderau was also keenly involved with the Bible translation for the deaf in American Sign Language.
Fehderau and his wife, Nancy, had three children. Their daughter and one of their two sons were born in Africa. Nancy was a keenly interested, actively involved, and faithful supporter and encourager of her husband and his work even though his work often took him away from home for weeks at a time which presented its own challenges for the family. Nancy provided the art work for numerous Kituba Scripture tracts and for the cover of his collection of African fables. She spent many hours typing the stencils for the Kituba/English/French Dictionary. Nancy also taught French at the American School of Kinshasa, Democratic Republic of Congo and at the Roslyn Academy in Nairobi, Kenya.
Fehderau died of cancer on 8 April 1997, only a few months before his official retirement. At a Mennonite Central Committee workers retreat in the Congo in the mid 1960s where he was a resource speaker, he said, "Our job is to lift the person we are working with up on our shoulders so that he or she can reach higher than we can." These words summarize the essence of Fehderau's personality and how he influenced those around him.
Bibliography
Fehderau, Harold W., "The Origin and Development of Kituba (Lingua Franca Kikongo)." Unpublished Ph.D. dissertation. Cornell University, 1966.
Fehderau, Harold W. Descriptive Grammar of the Kituba Language: a Dialectical Survey. Preliminary Checking ed. Leopoldville, Republic of Congo, 1962. 229 p.
Fehderau, Harold W. "Kituba English French Dictionary." Leopoldville, Republic of Congo, 1969, Mimeographed.  
Fehderau, Harold W. Dictionnaire Kituba (Kikongo Ya Leta) - Anglais - Français et Vocabulaire Français - Kituba. Kinshasa, Républic du Zaïre : Editions CEDI, 1992. 390 p.
"Harold W. Fehderau" in Who's Who in the World. Sixth Edition. Chicago, Ill. : Marquis Who's Who, 1982/1983: 351.
"Harold Fehderau Translated Bible." Kitchener-Waterloo Record. (12 April 1997)
Korstanje, Casey. "Bible Society Mourns Loss of Colleague and Friend." Hamilton Spectator (12 April 1997)
Archival Records:
Harold W. Fehderau Papers at
Center for Mennonite Brethren Studies
, Fresno, California .
Author(s)
Nancy Riediger Fehderau
Elfrieda Neufeld Schroeder
Date Published
January 2004
Cite This Article
MLA style
Fehderau, Nancy Riediger and Elfrieda Neufeld Schroeder. "Fehderau, Harold W. (1932-1997)." Global Anabaptist Mennonite Encyclopedia Online. January 2004. Web. 21 Sep 2017. http://gameo.org/index.php?title=Fehderau,_Harold_W._(1932-1997)&oldid=91751.
APA style
Fehderau, Nancy Riediger and Elfrieda Neufeld Schroeder. (January 2004). Fehderau, Harold W. (1932-1997). Global Anabaptist Mennonite Encyclopedia Online. Retrieved 21 September 2017, from http://gameo.org/index.php?title=Fehderau,_Harold_W._(1932-1997)&oldid=91751.
---

©1996-2017 by the Global Anabaptist Mennonite Encyclopedia Online. All rights reserved.