Loewen, Johann J. (1871-1937)
From GAMEO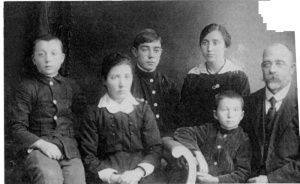 Johann J. Loewen: poet and musician; born in 1871 in the Yazykovo settlement, Russia. Johann J. Loewen grew up just north of the Chortitza Colony in Russia. He was 15 years old when he and his family moved to Friedensfeld in the Yekaterinoslav Province. There, he was baptized and joined the Mennonite Brethren Church. When he was 21 years old, he began his forestry service, which many Mennonite young men did as an alternative to military service. He disliked the work intensely, especially since he felt that many of the men around him were not remaining true to their principles but were behaving badly. However, the years of service finally came to a close and he returned to Friedensfeld. In 1897, he married Helene Friesen (1872-1968). For awhile the couple lived in Blumenfeld in the Nepluyevka settlement, where they leased a farm. Four children were born to them in Blumenfeld. 
Music was one of Johann J. Loewen's interests, and he soon founded a choir in the local church. He held conductors' courses and helped to develop a tradition of music in Friedensfeld and the other villages. Together with Bernhard Dueck, he encouraged the local Mennonites to deepen their appreciation of choral singing. In 1925, the two musicians composed a song for the 400th anniversary celebration of the founding of the Anabaptist/Mennonite movement and lamenting the people's endless search for a homeland. The song became part of the anniversary celebrations in Switzerland. Johann was also a painter and enjoyed calligraphy, often illuminating his poetic manuscripts with gold lettering. Toy-making was another of his skills, and he also enjoyed storytelling.  
The Loewen family suffered many losses and changes in the Civil War following the Russian Revolution of 1917. Their property was confiscated and they also suffered from frequent attacks. They moved to Friedensfeld, where Johann served as the church choir conductor in addition to giving music lessons and teaching Sunday School. He also helped with obtaining exit visas for the many Mennonites hoping to leave for Canada. In 1929, Johann and Helene also decided to leave, but the Soviet government was no longer issuing visas and the Loewens had to stay in the country.  
Eventually, Johann J. Loewen managed to find a job in the new system of collective farms. He worked as an orchard manager, planting and pruning the fruit trees and vines. However, when former landowners were being rounded up and sent to exile, Johann was also arrested. He was soon released because his work was considered valuable to the collective, but he was arrested and released twice more. His final arrest came in 1937, when he was incarcerated in the Nikopol prison on false charges. One of Johann and Helene's sons, Nikolai, was also arrested several months later and sent to the same prison. Later that year, father and son were executed by the Narodnyy komissariat vnutrennikh del (NKVD), the Soviet secret police. Johann was 66 years old and his son Nikolai, a veterinarian, only 27 when they were shot. Harry Loewen, former Chair in Mennonite Studies at the University of Winnipeg, is a son of Nikolai Loewen.
Bibliography
GRANDMA (The Genealogical Registry and Database of Mennonite Ancestry) Database, 5.03 ed. Fresno, CA: California Mennonite Historical Society, 2007: #495261.
Loewen, Harry. "Johann J. Loewen (1871-1937?), Friedensfeld." Preservings No. 15 (December 1999): 114-115.
Loewen, Harry. Email to Sam Steiner, 4 July 2008. (confirming year of death for Johann and Nikolai based on recent research.)
Author(s)
Susan Huebert
Date Published
July 2008
Cite This Article
MLA style
Huebert, Susan. "Loewen, Johann J. (1871-1937)." Global Anabaptist Mennonite Encyclopedia Online. July 2008. Web. 21 Jun 2018. http://gameo.org/index.php?title=Loewen,_Johann_J._(1871-1937)&oldid=95833.
APA style
Huebert, Susan. (July 2008). Loewen, Johann J. (1871-1937). Global Anabaptist Mennonite Encyclopedia Online. Retrieved 21 June 2018, from http://gameo.org/index.php?title=Loewen,_Johann_J._(1871-1937)&oldid=95833.
---

©1996-2018 by the Global Anabaptist Mennonite Encyclopedia Online. All rights reserved.