Mennonite Centre (Molochansk, Zaporizhia Oblast, Ukraine)
From GAMEO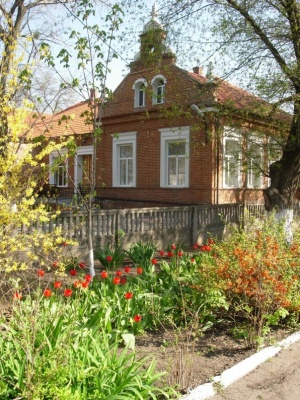 The Mennonite Centre in Molochansk (formerly Halbstadt, Molotschna Mennonite Settlement) is a Ukrainian humanitarian organization that was created to provide community development programs for people in south-eastern Ukraine. The Centre was established in 2001 after a newly-formed international association, Friends of the Mennonite Centre in Ukraine (FOMCU), purchased the former Mennonite Girls' School (Maedchenschule) in Molochansk/Halbstadt. The one-storied schoolhouse, which was constructed in 1905 and converted to a secondary school in 1910, was restored to its original condition and adapted as a multi-functional center.
The Centre was registered in Ukraine as a non-governmental humanitarian organization. Since opening its doors in 2001 it has been the agency that provided the services mandated and funded by the Friends of the Mennonite Centre in Ukraine - a charitable North American organization with an established donor base. The Ukrainian Director of the Centre, together with 13 full-time and part-time staff, delivered services and programs to residents of Molochansk and the surrounding communities. In its first decade, three North American couples came each year for two to three month periods to review new program requests and oversee the delivery of current programs. Requests for funding exceeding a pre-determined amount required approval of the North American Friends of the Mennonite Centre Board of Directors.
Mennonites came to the Molotschna area in the early 1800s and remained there for 140 years. They established vibrant, successful communities which helped open up the newly claimed territory of southern Russia. The establishment of the Soviet government, followed by the civil war, famine, collectivization, the invasion of German forces and the breakdown of existing social structures after Ukrainian independence, resulted in a society with high levels of poverty, poor infrastructure and limited support for marginalized people. The Mennonite Centre was created to aid in revitalizing the productivity and social support levels as shown in the Mennonite past.
The Centre has attempted to do this by providing funding for programs in health care, community living, music, culture, sports, education, farm assistance, and church support. Some programs were directly provided by staff and others were administered by local groups and institutions.
Health care programs have included the establishment of emergency medical funds in many former Mennonite villages. Often these funds were administered by local nurses, a doctor or a village administrator. In many cases the funds provided assistance to pay for medications for needy villagers, and assisted local people in buying wheel chairs, crutches, hearing aids, and eye glasses. In later years the Centre also undertook the costs of chemotherapy treatments for cancer patients. The Mennonite Centre also provided weekly medical clinics for seniors and children. Hospitals in Molochansk, Tokmak and Vladovka also received funds to purchase laboratory equipment, to undertake physical plant improvement, and to purchase current medical journals.
On a weekly basis the Centre encouraged community living by hosting two lunches for seniors in Molochansk. The sandwich meals, together with hot tea, brought people together for a time of socialization, presentation and singing. Moms and tots came together at the Centre weekly for mutual support, teaching, and encouragement. In 2009 the first mom's retreat was held at the Sea of Azov. The Centre not only provided the facility but also the resource people for this group. Winters can be particularly difficult for needy families in the villages. The Centre responded by subsidizing the cost of coal and supporting some homeless people by funding their stay in a local hospital during extreme weather conditions.
In addition to helping needy people in the former Mennonite villages, the Centre also provided for the development of music and culture. This was done through the donation of band and stringed instruments, costumes for dance groups, craft supplies, equipment for gymnasts, and uniforms for a football team. The Centre also funded the travel costs of groups going to competitions. This activity brought about community pride in the achievement of their youth and gave the youth a wholesome outlet for their energy and talent.
A major area of activity for the Centre has involved the support of educational programs for youth, particularly those from the small villages. School, orphanage and kindergarten facilities were upgraded with new kitchen equipment, blackboards, and flooring. In addition the Centre helped in the purchase of computers, a school bus, and gym equipment. In 2009, the Centre was responsible for interviewing and administering financial aid to twenty-four university students. It is hoped that these students will be the leaders of many professions in Ukrainian society. It is anticipated that they also will recognize the past contribution of Mennonites in their country and the current confidence of Mennonites in their future.
The farm assistance program provided funds for the purchase of equipment for farmers. Usually a small loan was offered and on occasion farmers had paid off the interest of the loan by providing farm free produce to needy families in their villages.
Mennonites had an active church life during their time in Ukraine. After the creation of the Centre, some Mennonite churches have been re-established with support from local Ukrainians. The Mennonite Centre has helped these churches by offering its own facilities for Sunday School programs, youth camp programs, Bible study discussion groups, and worship service rehearsals. Church services have also been held in the Mennonite Centre. The Centre worked primarily through Mennonite churches, but also provided humanitarian aid to Baptist and Orthodox Churches. A unique spiritual service has been offered through the Rhapsody Singers, an Orthodox choir from Tokmak. The Mennonite Centre supported their recordings, aiding them in travel to competition to Western Europe, and encouraged them to give volunteer concerts to Ukrainians in the villages.
The goal of the Mennonite Centre has been to provide community-based humanitarian services without discrimination, to foster local sustainable initiatives, and to interpret and commemorate the Mennonite past in this area. In the first decade of the 21st century the Molotschna area was made up of Russian speaking people, many who moved here during Soviet times, and Ukrainians who were well established in the area during the time of the Mennonites. Through its staff and services, the goal of the Mennonite Centre has been to demonstrate reconciliation and collaboration in a society where people are often distrustful of each other. The establishment of an independent Ukraine introduced an economy driven by market forces. While this resulted in the emergence of a middle class, it also left many seniors and young children in a very vulnerable state. A goal of the Mennonite Centre has been to develop a model of rural assistance which protects the most vulnerable, gives hope to the new generation of youth, and reminds them of the contributions made by Mennonites throughout history.
The Managers of the Mennonite Centre have included: Herb and Maureen Klassen (2001); Al and Peggy Hiebert (2001-2004); Katerina Ostapenko (2005-2006); Slava Kuprianov (2007); and Dema Bratchenko (2008 to present).
Author(s)
Ben Stobbe
Date Published
February 2010
Cite This Article
MLA style
Stobbe, Ben. "Mennonite Centre (Molochansk, Zaporizhia Oblast, Ukraine)." Global Anabaptist Mennonite Encyclopedia Online. February 2010. Web. 24 Jun 2018. http://gameo.org/index.php?title=Mennonite_Centre_(Molochansk,_Zaporizhia_Oblast,_Ukraine)&oldid=112138.
APA style
Stobbe, Ben. (February 2010). Mennonite Centre (Molochansk, Zaporizhia Oblast, Ukraine). Global Anabaptist Mennonite Encyclopedia Online. Retrieved 24 June 2018, from http://gameo.org/index.php?title=Mennonite_Centre_(Molochansk,_Zaporizhia_Oblast,_Ukraine)&oldid=112138.
---

©1996-2018 by the Global Anabaptist Mennonite Encyclopedia Online. All rights reserved.