From GAMEO
| | |
| --- | --- |
| [unchecked revision] | [checked revision] |
 

m

 

(7 intermediate revisions by 3 users not shown)
Line 1:
Line 1:
−

Obernessau (also known as Ober Nessau, Obirnessow, Nyesowka, Nieschewska, and Klein Niszewken; now known as Mała [[Nieszawka (Kuyavian-Pomeranian Voivodeship, Poland)|Nieszawka]]; coordinates: 52.989444, 18.553611 [52° 59' 22" N, 18° 33' 13" E]; population in 1815, 115; in 1910, 302), lies approximately 4 kilometres (2 miles) east of Wielka Nieszawka (Gross Nessau) and 7 km. (4 mi.) south-west of Toruń ([[Thorn (Kuyavian-Pomeranian Voivodeship, Poland)|Thorn]]). Obernessau was one of the oldest Mennonite congregations in [[West Prussia|West Prussia]], [[Germany|Germany]], (now [[Poland|Poland]]), founded in the middle of the 16th century below the town of [[Thorn (Kuyavian-Pomeranian Voivodeship, Poland)|Thorn]], apparently by Dutch settlers; the congregation belonged to the [[w381.html|Waterlander]] (also called [[Frisian Mennonites|Frisian]]) branch. Some of the members lived on the [[Korzeniecer Kämpe (Toruń, Kuyavian-Pomeranian Voivodeship, Poland)|Korzeniecer Kämpe]], an island in the Vistula.

+
 
+
 
+
 
+
 
+
 
+
 
+
 
+

Obernessau (also known as Ober Nessau, Obirnessow, Nyesowka, Nieschewska, and Klein Niszewken; now known as Mała [[Nieszawka (Kuyavian-Pomeranian Voivodeship, Poland)|Nieszawka]]; coordinates: 52.989444, 18.553611 [52° 59' 22" N, 18° 33' 13" E]; population in 1815, 115; in 1910, 302), lies approximately 4 kilometres (2 miles) east of Wielka Nieszawka (Gross Nessau) and 7 km. (4 mi.) south-west of Toruń ([[Thorn (Kuyavian-Pomeranian Voivodeship, Poland)|Thorn]]).  

 
 
−

[[File:Mala%20Nieszawka.jpg|300px|thumb|right|''Obernessau (now Mała Nieszawka, Poland)  

+

[[||||(, Poland)

 
 
−

Source: [http://en.wikipedia.org/wiki/Mała Nieszawka Wikipedia Commons] Wikipedia Commons

+

[: .

 
 
−

'']]        [[File:Obernessau.jpg|300px|thumb|right|''Obernessau Mennonite Church

+

About 1775 a number of members left Obernessau and moved to [[Deutsch-Kazun (Poland)|Deutsch-Kazun ]] near Warsaw, Poland; among these emigrants was their preacher Hans Flaming. The reason for this migration was apparently economic, farming having become very difficult in Obernessau because of repeated floods and high [[Taxes|taxes]]. After the serious flood of 1736 the Dutch Mennonites gave considerable relief, as they did again in 1888.

−

 

+
−

Source: Warchoł, Maciej.

+
−

 

+
−

" [http://www.holland.org.pl/art.php Katalog domów modlitwy mennonitów na <br/> ziemiach polskich] Katalog domów modlitwy mennonitów na

+
−

 

+
−

ziemiach polskich ." Obernessau Mennonite Church, 2011

+
−

 

+
−

Source: [http://upload.wikimedia.org/wikipedia/commons/7/7c/Ko%C5%9Bci%C3%B3%C5%82_pomenonicki_we_wsi_Ma%C5%82a_Nieszawka_%28Clerk%29.JPG Wikipedia Commons] Wikipedia Commons

+
−

 

+
−

 

+
−

 

+
−

 

+
−

 

+
−

 

+
−

 

+
−

'']] [[File:Obernessau%20Modern.jpg|300px|thumb|right|''Obernessau Mennonite Church

+
−

 

+
−

Source: Warchoł, Maciej.

+
−

 

+
−

" [http://www.holland.org.pl/art.php Katalog domów modlitwy mennonitów na <br/> ziemiach polskich] Katalog domów modlitwy mennonitów na

+
−

 

+
−

ziemiach polskich ." Obernessau Mennonite Church, 2011

+
−

 

+
−

Source: [http://upload.wikimedia.org/wikipedia/commons/7/7c/Ko%C5%9Bci%C3%B3%C5%82_pomenonicki_we_wsi_Ma%C5%82a_Nieszawka_%28Clerk%29.JPG Wikipedia Commons] Wikipedia Commons

+
−

 

+
−

 

+
−

 

+
−

 

+
−

 

+
−

 

+
−

 

+
−

'']]  <tr> <td><span class="style1">Obernessau Mennonite Church

+
−

 

+
−

Source: Warchoł, Maciej.

+
−

 

+
−

"[http://www.holland.org.pl/art.php Katalog domów modlitwy mennonitów na &lt;br/&gt; ziemiach polskich]."</span></td> <td><span class="style1">Obernessau Mennonite Church, 2011

+
−

 

+
−

Source: [http://upload.wikimedia.org/wikipedia/commons/7/7c/Ko%C5%9Bci%C3%B3%C5%82_pomenonicki_we_wsi_Ma%C5%82a_Nieszawka_%28Clerk%29.JPG Wikipedia Commons]

+
−

 

+
−

 

+
−

 

+
−

 

+
−

 

+
−

</span></td> </tr>  In Obernessau a church was built in 1778, which was burned by lightning on 11 June 1889, but was rebuilt with the aid of other congregations and dedicated on 2 November 1890, by Elder Hans Foth. The substantial tower on this church was an exception in Mennonite church architecture. The Dutch <em>[[Naamlijst der tegenwoordig in dienst zijnde predikanten der Mennoniten

+
−

in de Vereenigde Nederlanden|Naamlijst]] </em>names a number of ministers who served here: Jacob Adriaen, Jacob Adriaen de Jonge, Hans Flemming (Flaming, Vlaming) 1737, Hendrik Bartels, Cornelis Jantzen, Jacob Eck about 1760-1780, Peter Bartels 1764, Hans Nikkel, preacher 1766, elder 1779-after 1810, Zacharias Bartel 1773, Jakob Bartel 1779-1782, Abraham Eck 1780, Zacharias Bartel 1796, Cornelius Baltzer 1801.

+
−

 

+
−

About 1775 a number of members left Obernessau and moved to [[Deutsch-Kazun (Poland)|Deutsch-Kazun]] near Warsaw, Poland; among these emigrants was their preacher Hans Flaming. The reason for this migration was apparently economic, farming having become very difficult in Obernessau because of repeated floods and high [[Taxes|taxes]]. After the serious flood of 1736 the Dutch Mennonites gave considerable relief, as they<strong> </strong>did again in 1888.

+
 
 
 

In the 19th century emigration to [[Russia|Russia]] and to America reduced the congregation; living conditions had changed. When they settled on the island the Vistula flooded their land, to be sure, but the sediment left on the fields produced good crops. But the dams built for the railroads narrowed the channel of the river to such an extent that the river washed away the good soil and destroyed crops. The dams built by the people offered little protection. Great damage was caused by the flood of 1855, followed by others, usually just before the harvest, in 1871, 1879, 1883, 1888, 1891, 1896, and 1903. At the beginning of the 20th century the farmers on the Korzeniecer Kämpe had to leave when a harbor was built there. Two Mennonite families, Dirks and Foth, moved to [[Thorn (Kuyavian-Pomeranian Voivodeship, Poland)|Thorn]] in 1906.

 

In the 19th century emigration to [[Russia|Russia]] and to America reduced the congregation; living conditions had changed. When they settled on the island the Vistula flooded their land, to be sure, but the sediment left on the fields produced good crops. But the dams built for the railroads narrowed the channel of the river to such an extent that the river washed away the good soil and destroyed crops. The dams built by the people offered little protection. Great damage was caused by the flood of 1855, followed by others, usually just before the harvest, in 1871, 1879, 1883, 1888, 1891, 1896, and 1903. At the beginning of the 20th century the farmers on the Korzeniecer Kämpe had to leave when a harbor was built there. Two Mennonite families, Dirks and Foth, moved to [[Thorn (Kuyavian-Pomeranian Voivodeship, Poland)|Thorn]] in 1906.

 
 
 

In 1815 twenty families belonged to this congregation; in 1852 the baptized membership was 64 (besides 28 children), in 1888 it was 61 (besides 27 children); in 1905 the membership numbered 43, and in 1933 only 12, including children. The last ministers were David Dirks, elder from 1878, and Heinrich Foth, preacher from 1875, later elder, died ca. 1909. The <em>Gemeinde-Kalender </em>of 1941 lists the congregation as having 12 members, four of them with the right to vote.

 

In 1815 twenty families belonged to this congregation; in 1852 the baptized membership was 64 (besides 28 children), in 1888 it was 61 (besides 27 children); in 1905 the membership numbered 43, and in 1933 only 12, including children. The last ministers were David Dirks, elder from 1878, and Heinrich Foth, preacher from 1875, later elder, died ca. 1909. The <em>Gemeinde-Kalender </em>of 1941 lists the congregation as having 12 members, four of them with the right to vote.

−

 
−

 
 

= Bibliography =

 

= Bibliography =

 

<em>Doopsgezinde Bijdragen</em> (1910): 189.

 

<em>Doopsgezinde Bijdragen</em> (1910): 189.

Line 66:
Line 24:
 

"Die Gemeinde zu Obernessau bei Thorn." <em>Mennonitische Blätter</em> (1905): 29.

 

"Die Gemeinde zu Obernessau bei Thorn." <em>Mennonitische Blätter</em> (1905): 29.

 
 
−

Hege, Christian and Christian Neff. <em>Mennonitisches Lexikon, </em>4 vols<em>.</em> Frankfurt &amp; Weierhof: Hege; Karlsruhe: Schneider, 1913-1967: v. III, 285.

+

Hege, Christian and Christian Neff. <em>Mennonitisches Lexikon, </em>4 vols. Frankfurt &amp; Weierhof: Hege; Karlsruhe: Schneider, 1913-1967: v. III, 285.

 
 
 

Hoop Scheffer, Jacob Gijsbert de. <em>Inventaris der Archiefstukken berustende bij de Vereenigde Doopsgezinde Gemeente to Amsterdam,</em> 2 vols. Amsterdam: Uitgegeven en ten geschenke aangeboden door den Kerkeraad dier Gemeente, 1883-1884: v. I, Nos. 1640, 1642, 1647 f.

 

Hoop Scheffer, Jacob Gijsbert de. <em>Inventaris der Archiefstukken berustende bij de Vereenigde Doopsgezinde Gemeente to Amsterdam,</em> 2 vols. Amsterdam: Uitgegeven en ten geschenke aangeboden door den Kerkeraad dier Gemeente, 1883-1884: v. I, Nos. 1640, 1642, 1647 f.

Line 75:
Line 33:
 
 
 

<em>Mennonitische Geschichtsblätter</em> (1937): 73; (1939): 34.

 

<em>Mennonitische Geschichtsblätter</em> (1937): 73; (1939): 34.

−

 
−

 
 
 
 

= Maps =

 

= Maps =

 

[[Map:Mała Nieszawka, Kuyavian-Pomeranian Voivodeship, Poland|Map:Mała Nieszawka, Kuyavian-Pomeranian Voivodeship, Poland]]

 

[[Map:Mała Nieszawka, Kuyavian-Pomeranian Voivodeship, Poland|Map:Mała Nieszawka, Kuyavian-Pomeranian Voivodeship, Poland]]

 

{{GAMEO_footer|hp=Vol. 4, p. 14|date=September 2012|a1_last=Hege|a1_first=Christian|a2_last=Thiessen|a2_first=Richard D.}}

 

{{GAMEO_footer|hp=Vol. 4, p. 14|date=September 2012|a1_last=Hege|a1_first=Christian|a2_last=Thiessen|a2_first=Richard D.}}

 
+
 
+
---
Latest revision as of 01:47, 25 August 2014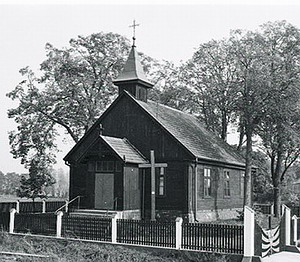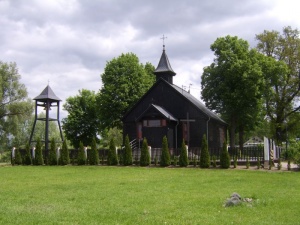 Obernessau (also known as Ober Nessau, Obirnessow, Nyesowka, Nieschewska, and Klein Niszewken; now known as Mała Nieszawka; coordinates: 52.989444, 18.553611 [52° 59' 22" N, 18° 33' 13" E]; population in 1815, 115; in 1910, 302), lies approximately 4 kilometres (2 miles) east of Wielka Nieszawka (Gross Nessau) and 7 km. (4 mi.) south-west of Toruń (Thorn).
Obernessau was one of the oldest Mennonite congregations in West Prussia, Germany, (now Poland), founded in the middle of the 16th century below the town of Thorn, apparently by Dutch settlers; the congregation belonged to the Waterlander (also called Frisian) branch. Some of the members lived on the Korzeniecer Kämpe, an island in the Vistula.
In Obernessau a church was built in 1778, which was burned by lightning on 11 June 1889, but was rebuilt with the aid of other congregations and dedicated on 2 November 1890, by Elder Hans Foth. The substantial tower on this church was an exception in Mennonite church architecture. The Dutch Naamlijst names a number of ministers who served here: Jacob Adriaen, Jacob Adriaen de Jonge, Hans Flemming (Flaming, Vlaming) 1737, Hendrik Bartels, Cornelis Jantzen, Jacob Eck about 1760-1780, Peter Bartels 1764, Hans Nikkel, preacher 1766, elder 1779-after 1810, Zacharias Bartel 1773, Jakob Bartel 1779-1782, Abraham Eck 1780, Zacharias Bartel 1796, Cornelius Baltzer 1801.
About 1775 a number of members left Obernessau and moved to Deutsch-Kazun near Warsaw, Poland; among these emigrants was their preacher Hans Flaming. The reason for this migration was apparently economic, farming having become very difficult in Obernessau because of repeated floods and high taxes. After the serious flood of 1736 the Dutch Mennonites gave considerable relief, as they did again in 1888.
In the 19th century emigration to Russia and to America reduced the congregation; living conditions had changed. When they settled on the island the Vistula flooded their land, to be sure, but the sediment left on the fields produced good crops. But the dams built for the railroads narrowed the channel of the river to such an extent that the river washed away the good soil and destroyed crops. The dams built by the people offered little protection. Great damage was caused by the flood of 1855, followed by others, usually just before the harvest, in 1871, 1879, 1883, 1888, 1891, 1896, and 1903. At the beginning of the 20th century the farmers on the Korzeniecer Kämpe had to leave when a harbor was built there. Two Mennonite families, Dirks and Foth, moved to Thorn in 1906.
In 1815 twenty families belonged to this congregation; in 1852 the baptized membership was 64 (besides 28 children), in 1888 it was 61 (besides 27 children); in 1905 the membership numbered 43, and in 1933 only 12, including children. The last ministers were David Dirks, elder from 1878, and Heinrich Foth, preacher from 1875, later elder, died ca. 1909. The Gemeinde-Kalender of 1941 lists the congregation as having 12 members, four of them with the right to vote.
[edit] Bibliography
Doopsgezinde Bijdragen (1910): 189.
"Familienforschung in Westpreußen." Hans-Jürgen Wolf. Web. 29 September 2012. http://www.westpreussen.de.
"Die Gemeinde zu Obernessau bei Thorn." Mennonitische Blätter (1905): 29.
Hege, Christian and Christian Neff. Mennonitisches Lexikon, 4 vols. Frankfurt & Weierhof: Hege; Karlsruhe: Schneider, 1913-1967: v. III, 285.
Hoop Scheffer, Jacob Gijsbert de. Inventaris der Archiefstukken berustende bij de Vereenigde Doopsgezinde Gemeente to Amsterdam, 2 vols. Amsterdam: Uitgegeven en ten geschenke aangeboden door den Kerkeraad dier Gemeente, 1883-1884: v. I, Nos. 1640, 1642, 1647 f.
Kerber, W. "Die Kirche zu Nessau." Mennonitischer Gemeinde-Kalender (1906): 107-114 with pictures.
Mannhardt. Jahrbuch (1883): 17, 19; (1888): 15 f.
Mennonitische Geschichtsblätter (1937): 73; (1939): 34.
Map:Mała Nieszawka, Kuyavian-Pomeranian Voivodeship, Poland
Author(s)
Christian Hege
Richard D. Thiessen
Date Published
September 2012
[edit] Cite This Article
MLA style
Hege, Christian and Richard D. Thiessen. "Obernessau (Kuyavian-Pomeranian Voivodeship, Poland)." Global Anabaptist Mennonite Encyclopedia Online. September 2012. Web. 25 May 2016. http://gameo.org/index.php?title=Obernessau_(Kuyavian-Pomeranian_Voivodeship,_Poland)&oldid=124190.
APA style
Hege, Christian and Richard D. Thiessen. (September 2012). Obernessau (Kuyavian-Pomeranian Voivodeship, Poland). Global Anabaptist Mennonite Encyclopedia Online. Retrieved 25 May 2016, from http://gameo.org/index.php?title=Obernessau_(Kuyavian-Pomeranian_Voivodeship,_Poland)&oldid=124190.
---
Adapted by permission of Herald Press, Harrisonburg, Virginia, and Waterloo, Ontario, from
Mennonite Encyclopedia
, Vol. 4, p. 14. All rights reserved. For information on ordering the encyclopedia visit the
Herald Press
website.

©1996-2016 by the Global Anabaptist Mennonite Encyclopedia Online. All rights reserved.