Ouddorp (Zuid-Holland, Netherlands)
From GAMEO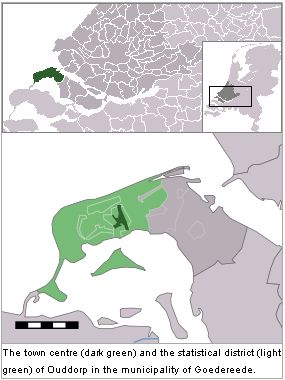 Ouddorp, a village on the island of Goeree in the Dutch province of South Holland (coordinate: 51° 49′ 0″ N, 3° 56′ 0″ E). The former congregation in this village was at first often called Goeree (or Goedereede), later usually Ouddorp. The origin and early history of the congregation are still unknown. At first the members met in an attic. In 1624 there were some difficulties with the government on account of two marriages concluded in the congregation. The Mennonites yielded. In 1747 the authorities wanted to compel the Mennonites to trade in arms; the result is not clear. Repeatedly the congregation suffered loss through floods, especially in 1717 and 1953. The congregation, which at first belonged to the Flemish branch and in the 18th century joined the Zonist Conference (Societeit), was always quite small. (The baptized membership in 1645, 44; 1727, 54; 1744, 47; 1807, 25; 1900, 9; 1955, 31.) In the 17th and early 18th centuries this congregation maintained active relationships with the neighboring congregations of Brouwershaven, Renesse, Zierikzee, Middelharnis, Goes, Spijkenisse, and Den Briel, all of which were dissolved in the 18th century with the exception of Goes. Most of the members at that time were quite well-to-do. In 1671 they contributed 473 guilders to the Fund for Foreign Needs; in the course of the 18th century they collected a total of 590 guilders for the brethren expelled from Switzerland and Poland. In the 19th century several families immigrated to North America. It seemed for a moment that the entire congregation would leave; by that time it had become quite poor. The members in the 1950s were almost exclusively farmers. Well-known names found in Ouddorp since the 17th century are Bosland and Mastenbroek. The meetinghouse was probably built before 1771. Few of the ministers of the congregation received training at the Amsterdam Mennonite Seminary. The last ministers were G. Pol 1853-1862, T. Schiere 1863-1874, H. Koekebakker 1874-1878, W. J. Leendertz 1878-1881, K. W. Rossing 1882-d.1921, F. B. Kooymans 1924-1925, W. Schopenhauer 1926-1928, R. Foppema 1930-1936, and Jacob Thiessen 1939-1946. Since 1946 the pulpit has been vacant.
After a severe flood on 1 February 1953 had devastated a part of the island of Goeree, a Mennonite Voluntary Service unit composed of American and Dutch young men worked at Ouddorp.
Bibliography
Doopsgezind Jaarboekje (1954): 38 f.
Doopsgezinde Bijdragen (1876): 72; (1907): 152-169.
Hege, Christian and Christian Neff. Mennonitisches Lexikon, 4 vols. Frankfurt & Weierhof: Hege; Karlsruhe: Schneider, 1913-1967: v. II, 131; III, 329.
Hoop Scheffer, Jacob Gijsbert de. Inventaris der Archiefstukken berustende bij de Vereenigde Doopsgezinde Gemeente to Amsterdam, 2 vols. Amsterdam: Uitgegeven en ten geschenke aangeboden door den Kerkeraad dier Gemeente, 1883-1884: I, No. 1065; II, 2, No. 300.
Author(s)
Nanne van der Zijpp
Date Published
1959
Cite This Article
MLA style
Zijpp, Nanne van der. "Ouddorp (Zuid-Holland, Netherlands)." Global Anabaptist Mennonite Encyclopedia Online. 1959. Web. 25 Apr 2018. http://gameo.org/index.php?title=Ouddorp_(Zuid-Holland,_Netherlands)&oldid=111895.
APA style
Zijpp, Nanne van der. (1959). Ouddorp (Zuid-Holland, Netherlands). Global Anabaptist Mennonite Encyclopedia Online. Retrieved 25 April 2018, from http://gameo.org/index.php?title=Ouddorp_(Zuid-Holland,_Netherlands)&oldid=111895.
---

Adapted by permission of Herald Press, Harrisonburg, Virginia, from Mennonite Encyclopedia, Vol. 4, pp. 96-97. All rights reserved.

©1996-2018 by the Global Anabaptist Mennonite Encyclopedia Online. All rights reserved.