Rempel, Jakob (1852-1926)
From GAMEO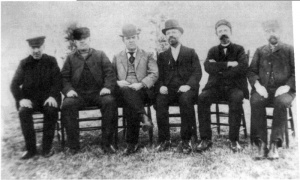 Jakob Rempel: pioneer farmer, was born in the Bergthal Colonyin Russiaon 15 April 1852 to Peter (1817-1869) and Anna (Penner) Rempel (1827-1901). After his father's death, his mother married Cornelius Enns (1827-1901). Jakob was the fourth of 12 children in the family. On 1 September 1878, he married Maria Loewen (1859-1888), daughter of Johann and Helena (Dyck) Loewen. After her death, he married Justina Funk (1869-1935), daughter of Abraham and Aganetha (Klassen) Funk, on 20 March 1889.  Jacob Rempel had 15 children, two of whom died young. He was baptized on 5 June 1872 in the Bergthal Colony in Russia. Jacob died in Bergthal (4.4 km north of Mitchell, Manitoba, Canada) on 5 April 1926. 
Jakob Rempel grew up in southern Russia in the last years of the Bergthal Colony's existence. In the 1870s, the entire colony left for North America in response to changes in the Russian government's policies towards Mennonites. Colonists feared that the tsar would rescind privileges such as freedom from military service, and emigration seemed to be the best option. Jacob left together with his family, arriving in Philadelphia, Pennsylvania, on 22 August 1875.  Most of the family settled near Butterfield and Mountain Lake, Minnesota—only Jacob and his brother Peter settled in Canada. They settled in the village of Bergthal on the East Reserve.  
While most of his siblings farmed, sold machinery, and ran stores in the United States, Jacob Rempel worked for his brother Peter in Canada. Peter became very wealthy, with his own threshing machine and a large tract of land to farm, becoming a prominent member of the community. Jakob acquired a homestead on 17 August 1878 and began to farm and raise a family. Ten years later his first wife died, leaving him with five young children. Jakob married Justina Funk in 1889.
Jakob made good use of modern inventions as they became available, buying tractors and other equipment to help with his work. Jakob and Justina were able to buy a Model T Ford in 1917, following that two or three years later with a new two-story house and a barn. Soon, a large family filled their home.
Jakob and Justina continued to live on the farm, and after Jakob died in 1926, Justina maintained the farm together with her children. Most of the family stayed in Manitoba in the Steinbach area, but one daughter moved to Mexico with her husband and family. 
Jakob Rempel was typical of many Mennonite immigrants and farmers of his day. Together with his family, he made a good life for himself in Canada, adapting to changes and modern inventions.
Bibliography
Rempel, Bernard.  "Jakob Rempel (1852-1926) Bergthal." Preservings No. 11 (December 1997): 88-89.
GRANDMA (The Genealogical Registry and Database of Mennonite Ancestry) Database, 5.03 ed. Fresno, CA: California Mennonite Historical Society, 2007: #158131.
Author(s)
Susan Huebert
Date Published
October 2007
Cite This Article
MLA style
Huebert, Susan. "Rempel, Jakob (1852-1926)." Global Anabaptist Mennonite Encyclopedia Online. October 2007. Web. 22 May 2018. http://gameo.org/index.php?title=Rempel,_Jakob_(1852-1926)&oldid=84466.
APA style
Huebert, Susan. (October 2007). Rempel, Jakob (1852-1926). Global Anabaptist Mennonite Encyclopedia Online. Retrieved 22 May 2018, from http://gameo.org/index.php?title=Rempel,_Jakob_(1852-1926)&oldid=84466.
---

©1996-2018 by the Global Anabaptist Mennonite Encyclopedia Online. All rights reserved.