Schmidt, Jacob C. (1909-1978)
From GAMEO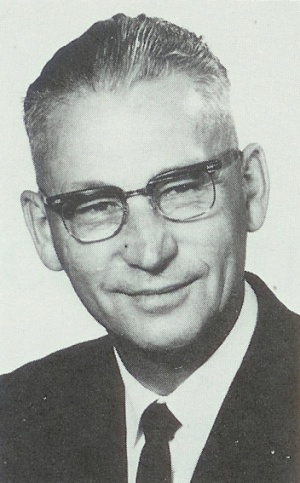 Jacob C. Schmidt: teacher and minister; born 4 September 1909 in Buhler, Kansas, USA, the second of four children born to Jacob R. Schmidt (9 March 1885, Harvey County, Kansas – 23 November 1936, Reno County, Kansas) and Maria (Voth) Schmidt (21 June 1885 – 9 December 1967, Waldheim, Saskatchewan, Canada). On 12 August 1934 Jacob married Lydia Rose Buhler (31 January 1913, Herbert, Saskatchewan - 22 June 2012, Abbotsford, British Columbia, Canada). She was the daughter of Gerhard N. Buhler (3 May 1877, Kronsthal, West Reserve, Manitoba - 13 May 1935, Herbert, Saskatchewan) and Anna Harder (b. 20 March 1884). Jacob and Lydia had five children: Earl, Carol, Robert, Anna, and Lynette. Jacob died on 11 February 1978 in Hawaii, USA.
In 1914 Jacob immigrated with his family to Canada, settling in Carnduff, Saskatchewan. After nine years the family moved to Waldheim, where Jacob completed his elementary education. After graduating from the Rosthern German-English Academy, Jacob attended the Winnipeg Bible Institute.
Jacob taught in the Rosthern <em>Fortbildungsschule</em> from 1933 to 1937 and at Bethany Bible School in Hepburn from 1938 to 1939. Jacob continued his teaching career at Rosthern Junior College and Rosthern Bible School from 1939 until 1948, and serving with his wife Lydia at the Rosthern Youth Farm for several years. From 1948 to 1951 the Schmidts lived in Steinbach, Manitoba, where they served as administrators of Bethesda Hospital.
Schmidt was ordained to the ministry on 13 June 1943 in the Zoar Mennonite Church in Waldheim and ordained to the office of elder by the Rosthern Mennonite Church in 1954. Jacob returned to teaching at Rosthern Bible School for the 1953-54 school year, and then served as leader of the Rosthern congregation from 1954 until 1964, serving not only his home congregation but also congregations in Osler, Laird, and Horse Lake. In 1964 Jacob accepted a call to serve as the evangelist for the Conference of Mennonites in Saskatchewan.
In 1966 the General Conference Mennonite Church asked Jacob and Lydia to go to Mexico for five months to start a Bible school. After returning to Canada for a time to continue serving as an evangelist, they returned to Mexico where Jacob took on the leadership of the Cuauhtemoc Mennonite Church and served as elder for all of the General Conference Mennonite congregations in Mexico.
In 1972 the Schmidts returned to Canada and Jacob accepted a pastoral position at Clearbrook Mennonite Church. After only a few months, Jacob suffered a severe heart attack and was forced to resign.
Bibliography
GRANDMA (The Genealogical Registry and Database of Mennonite Ancestry) Database, 6.00 ed. Fresno, CA: California Mennonite Historical Society, 2009: #275623.
Peters, G. I. A History of the First Mennonite Church, Greendale, B.C. Greendale, B.C.: First Mennonite Church, 1976: 179.
Author(s)
Gerhard I. Peters
Richard D. Thiessen
Date Published
July 2012
Cite This Article
MLA style
Peters, Gerhard I. and Richard D. Thiessen. "Schmidt, Jacob C. (1909-1978)." Global Anabaptist Mennonite Encyclopedia Online. July 2012. Web. 17 Feb 2018. http://gameo.org/index.php?title=Schmidt,_Jacob_C._(1909-1978)&oldid=84830.
APA style
Peters, Gerhard I. and Richard D. Thiessen. (July 2012). Schmidt, Jacob C. (1909-1978). Global Anabaptist Mennonite Encyclopedia Online. Retrieved 17 February 2018, from http://gameo.org/index.php?title=Schmidt,_Jacob_C._(1909-1978)&oldid=84830.
---

©1996-2018 by the Global Anabaptist Mennonite Encyclopedia Online. All rights reserved.