Schroeder, Gerhard (1848-1910)
From GAMEO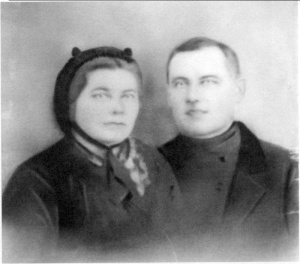 Gerhard Schroeder: entrepreneur and municipal reeve; born 20 March 1848 in Bergthal, Bergthal Colony, Russia, to Johann and Maria (Schellenberg) Schroeder. He was the sixth of eight children born to his mother, but one of 19 in the family. His father married three times. Gerhard was baptized on 5 June 1867, and on 26 November of that year, he married Anna Harder (1848-1876).
Gerhard Schroeder immigrated to Canada in 1874 with his wife and two children.  His wife died in 1876. On 14 January 1877 he married the daughter of Heinrich Penner (1810-1882), widow Margaretha Doerksen (1839-1926) who had also come to Canada in 1874 as a widow with six children. Together, they had five children.
Gerhard received a good education in Russia, and he developed a versatility that allowed him to work as a farmer, miller, entrepreneur, and politician. Gerhard and his first wife, Anna, first lived in Blumstein, Manitoba, near some of Anna's relatives. Soon after re-marrying in 1877, Gerhard moved and settled at Eigenhof, East Reserve, near present-day Mitchell.  His father and brothers settled two miles away in Tannenau.
Working in a variety of capacities in his new home, Gerhard Schroeder soon became wealthy. In 1876, he bought a windmill, which he used extensively until it was destroyed in the years before 1883. He was a successful farmer, with sheep and grain providing much of his income. His sons took over much of the hard work when they were able, while Gerhard worked in more of a supervisory capacity. Carpentry was one of Gerhard's skills, and when the Chortizer community needed construction on the church building in 1897, Gerhard was appointed master builder.
Gerhard Schroeder's experience with the church project stood him in good stead when he was elected Reeve of the Hanover Rural Municipality in 1901, a position he held until 1907, with the exception of a period in 1904. As Reeve, he oversaw work on road construction, water drainage, bridge repair, and projects such as the construction of the Manning Canal. When German-speaking residents of the Rural Municipality of Taché wanted to join the neighboring Hanover area, Gerhard became involved in the negotiations as the participants discussed such issues as the prohibition of alcohol and the building of the new municipal office. While in office, he traveled extensively within the municipalities and to Winnipeg to visit his constituents and carry out the negotiations between provincial and municipal leaders and between the village councils and the people.  It is not clear why Gerhard was not allowed to run for office again in 1907, but that is the year his term as reeve ended. Gerhard died three years later, on 22 November 1910 and was buried in the cemetery in Randolph, Manitoba.
Bibliography
GRANDMA (The Genealogical Registry and Database of Mennonite Ancestry) Database, 5.03 ed. Fresno, CA: California Mennonite Historical Society, 2007: #222110.
Schroeder, Ray.  "The Life of Gerhard Schroeder 1848-1910."  Preservings (December 2001): 93-97.
Author(s)
Susan Huebert
Date Published
January 2008
Cite This Article
MLA style
Huebert, Susan. "Schroeder, Gerhard (1848-1910)." Global Anabaptist Mennonite Encyclopedia Online. January 2008. Web. 27 May 2018. http://gameo.org/index.php?title=Schroeder,_Gerhard_(1848-1910)&oldid=96364.
APA style
Huebert, Susan. (January 2008). Schroeder, Gerhard (1848-1910). Global Anabaptist Mennonite Encyclopedia Online. Retrieved 27 May 2018, from http://gameo.org/index.php?title=Schroeder,_Gerhard_(1848-1910)&oldid=96364.
---

©1996-2018 by the Global Anabaptist Mennonite Encyclopedia Online. All rights reserved.