Washington (USA)
From GAMEO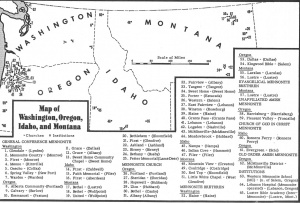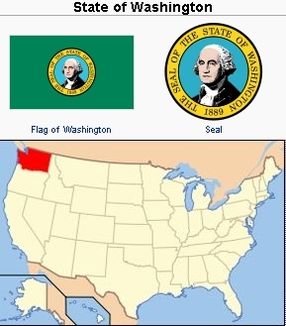 1959 Article
Washington is a state in the northwest corner of the United States, with an estimated population of 2,600,000 (1956); (6,468,424 in 2007) and an area of 71,342 square miles (184,827 km²). Its Puget Sound area is a great commercial center and the nearest American gateway to the ports of Asia. In the 1950s the state produced much wheat, fruit, and forest products. The first Mennonites to settle in Washington came to Whiteman County in 1886, from Pulaski, Iowa. In 1893 these early settlers organized what is now the Onecho Mennonite Church. In 1900 a congregation, formerly from Freeman, South Dakota, moved to Adams County from Lane County, Oregon, and is now the Menno Mennonite Church. In 1918 the First Mennonite Church of Monroe was organized by settlers from Pretty Prairie, Kansas, and Corn, Oklahoma. The Newport Mennonite Church, known as Spring Valley, was organized in 1928 by settlers who began coming to this area in 1922. In 1944 the Mennonite Country Church east of Monroe was organized, and in 1945 the Glendale Mennonite Church of Lynden. The last congregation to be established in the 1950s was Warden. There were thus seven General Conference Mennonite churches in the state.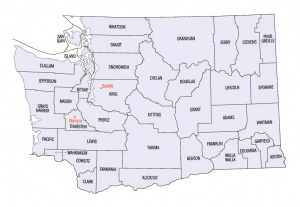 The one Mennonite Brethren (MB) church in Washington is the Whitehorn MB Church, near Blaine, which was organized in 1937. Of the eight churches, one is in the northeast, one in the south-east, two in the east central, two near Seattle, and two not far from Vancouver. Total membership in 1957 was 752—Mennonite Brethren 187, General Conference Mennonite 565. -- Willard W. Wiebe
1990 Update
Washington had Amish Mennonites and Swiss Mennonites in its Columbia plateau for 15 years before they organized a (General Conference Mennonite) congregation at Colfax in 1893. The Jacob Kauffman family moved from Kansas to Washington in 1878 by covered wagon, but most Menonites arrived after railroads opened the area, and some at Ritzville and Newport settled on railroad land. After 1957 new congregations formed at Pasco (unaffiliated but initially Mennonite Church-related) in 1967, Seattle (GCM, later also MC) in 1968, Ferndale (Mennonite Brethren) in 1980, Spokane (GCM) in 1981, and Othello (CGC) in 1987). Washington had 797 Mennonites in 1987, including 454 from the General Conference Mennonite Church; 229 Mennonite Brethren; 64 unaffiliated Mennonites; 28 Church of God in Christ, Mennonite (Holdeman); and 22 from the Mennonite Church (MC). General Conference Mennonites own Camrac, a retreat center near Leavenworth. Eastern Washington Mennonites began an Mennonite Central Committee relief sale in 1977. Congregations withdrew from Mennonite affiliation or disbanded at Colfax (GCM), Monroe (GCM), Seattle (MB), and Federal Way (MB). -- Hope Kauffman Lind
Bibliography
Burkholder, H. D. The Story of Our Conference and Churches. North Newton: Mennonite Press, 1951: 22-36.
Hertzler, Daniel. From Germantown to Steinbach. Scottdale, PA: Herald Press, 1981: 173-185.
Horsch, James E., ed. Mennonite Yearbook and Directory. Scottdale: Mennonite Publishing House (1986­87): 45, 83, 102.
Lind, Hope Kauffman. Apart & together : Mennonites in Oregon and neighboring states, 1876-1976. Scottdale, PA: Herald Press, 1990.
Pacific Coast Conference (MC), Annual Report, (1986): 9.
Pacific District Conference (GCM), Annual Report, (1986): 12-13.
Author(s)
Willard W. Wiebe
Hope Kauffman Lind
Date Published
1989
Cite This Article
MLA style
Wiebe, Willard W. and Hope Kauffman Lind. "Washington (USA)." Global Anabaptist Mennonite Encyclopedia Online. 1989. Web. 24 May 2018. http://gameo.org/index.php?title=Washington_(USA)&oldid=105216.
APA style
Wiebe, Willard W. and Hope Kauffman Lind. (1989). Washington (USA). Global Anabaptist Mennonite Encyclopedia Online. Retrieved 24 May 2018, from http://gameo.org/index.php?title=Washington_(USA)&oldid=105216.
---

Adapted by permission of Herald Press, Harrisonburg, Virginia, from Mennonite Encyclopedia, Vol. 4, pp. 892-893; vol. 5, p. 921. All rights reserved.

©1996-2018 by the Global Anabaptist Mennonite Encyclopedia Online. All rights reserved.