Zion Mennonite Church (Broadway, Virginia, USA)
From GAMEO
Zion Mennonite Church was organized as a new church in the Virginia Mennonite Conference in 1885. Until 1948, Zion and Trissels Mennonite Church operated as one congregation, with alternating Sunday services in the early years that included other Mennonite churches in the area.  After a peaceful separation in 1948, Zion began to develop a distinct identity with services at the church each Sunday.
Samuel Shank, the founding minister of the church, had watched as Union troops burned his barn 6 October 1864, only to have sparks jump to the roof of his house and destroy it as well. In 1901 both Samuel and his brother Abraham Shank, Northern District Bishop, died within a few weeks of each other. A new generation of leaders then took the helm which included deacon, minister, and Bishop Timothy Showalter of Broadway. Showalter was ordained for all three offices at the Zion church.
During the first 50 years of the congregation, 1885-1935, Zion ministers traveled widely into the mountains west of Broadway and to the north. They preached in many small communities, including schoolhouses and churches of other denominations. Ministers like Samuel Shank, Lewis Shank, and George B. Showalter gave Zion a distinctive mission impulse with their willingness to travel many miles on horseback and preach to Mennonites and others in remote mountains regions.
By the 1930s many young people from the Zion and Trissels congregations traveled to these remote communities to teach Summer Bible School. The youth lived in trailers, tents, or local homes while they conducted their two week Bible Schools.  Elizabeth A. Showalter was an early pioneer in writing curriculum and developing materials for these Northern District Summer Bible Schools. Later "Aunt Elizabeth" was hired by the Mennonite Publishing House to write curriculum materials for the wider Mennonite Church (MC).
When Zion and Trissels agreed to form separate congregations in 1948, J. Ward Shank became the pastor assigned to Zion. Married to Stella Brunk, sister of George R. Brunk II, Shank served as pastor of the church until he became a Northern District Bishop in 1954. He continued to preach at Zion and gave leadership to the congregation into the 1970s. Shank developed a weekly bulletin that was mailed to the community, served on most committees, defined doctrines, and performed most baptisms and marriages as Bishop.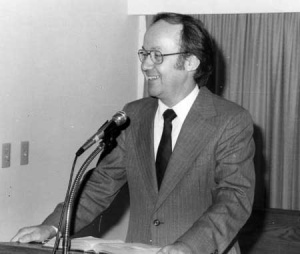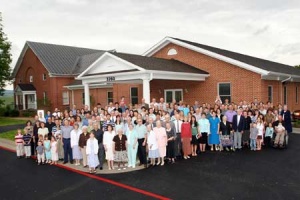 In the early 1960s Jesse and Betty Byler and Don and Martha Augsburger began a new era in Zion history, establishing a church council and a constitution. In 1965 Harvey Yoder stepped into the pastorate and until 1988 he shaped Zion as a caring, missions-minded congregation, accepting of people from many walks of life, including college students and Pleasant View Home residents.
During the 1990s and early twenty-first century a number of pastors served the congregation, including John Drescher, Steve Dintaman, Beryl Jantzi, Laban Peachey, Richard Early, Randall Shull and Myron Augsburger. Zion is a member of the Northern District of the Virginia Conference, which is a member conference of Mennonite Church USA.
Pastor Clyde Kratz was pastor in 2010; he began serving the congregation in 2002, and accepted the role of Northern District overseer in 2006. In addition to Kratz, Larry Yoder served as minister to the community.
Bibliography
Brunk, Harry A. History of Mennonites in Virginia, 2 vols. Harrisonburg, Va: H. A. Brunk, 1959-1972.
Shank, Helen Trumbo. "The Civilian Public Service Experience of Zion-Trissels Mennonite Church, 1941-1946."Unpublished paper, 1985, 8 pp. Virginia Mennonite Conference Archives, Harrisonburg, Va.
Showalter, Ida R. "History of the Expansion of the Mennonite Church in Northern District of Virginia Conference." Mennonite Historical Bulletin, 12 (July 1951);  12 (October 1951). An abridged version is in Shenandoah Mennonite Historian, 10 (Summer 2003): 2-4, edited by James O. Lehman. 
Yoder, Elwood E. We're Marching to Zion, A History of Zion Mennonite Church, Broadway, Virginia, 1885-2010. Broadway, Va.: Zion Mennonite Church, 2010.
Archival records
The archives of Zion Mennonite Church are found in the Virginia Mennonite Conference Archives, Harrisonburg, Virginia.
Additional Information
Address: 3260 Zion Church Road, Broadway, Virginia, USA 22815
Phone: 540-896-7577
Website: Zion Mennonite Church
Denominational Affiliations:
Pastors at Zion Mennonite Church
Pastor
Years of

Service

Samuel Shank
1864-1901**
Lewis Shank
1883-1901**
Joseph W. Geil
1896-1945**
Perry Shank
1901-1953**
George B. Showalter
1901-1921**
Joseph Shank
1905-1934**
Abraham Heishman
1911-1958**
John L. Stauffer
1919-1934**
N. Wilmer Geil
1922-1969**
Lewis P. Showalter
1922-1979**
Samuel A. Shank
1928-1975**
Timothy Showalter
1932-1943**
Ernest Gehman
1938-1988**
J. Ward Shank
1942-1959+
J. Otis Yoder
1954-1959
Lloyd Hartzler
1959-1961+
Jesse Byler
1961-1966+
Don Augsburger
1962-1964+
Gerald Good
1964-1965
Harvey Yoder
1965-1988+
Herman Ropp
1972-1974+
John Drescher
1983-1984; 1989-1992+
Steve Dintaman
1983-1991; 1992-1995
Samuel Janzen
1988-1989+
Beryl Jantzi
1988-1991
Laban Peachey
1992-1993; 1997+
Richard Early
1993-1997+
Myron Augsburger
1997-2000+
Randall Shull
1997-2001+
Clyde Kratz
2002-present+
**Ordained for the Northern District which included Zion and other churches
+ Indicates lead pastor at Zion
Membership at Zion Mennonite Church
| Year | Members |
| --- | --- |
| 1965 | 152 |
| 1970 | 152 |
| 1975 | 149 |
| 1980 | 150 |
| 1985 | 176 |
| 1990 | 224 |
| 1995 | 257 |
| 2000 | 229 |
| 2005 | 224 |
| 2010 | 209 |
Original 1957 Article
Zion Mennonite Church (Mennonite Church), 3 miles (5 km) south of Broadway, Rockingham County, VA, is a member of the Virginia Conference in its Northern District. About 1890 a Sunday school was organized for the summer months, using for its literature the Question Book authorized by the Lancaster Conference and the New Testament. The first meetinghouse, built in 1885, was replaced in 1941 by a new brick building, with a basement and facilities for Sunday school and an audience room for the literary society of the young people. The churchyard, which contains five acres of land, has a home for the janitor and a beautiful cemetery adjoining the church. The membership in 1957 was 138; the bishop in charge was J. Ward Shank; the minister was J. Otis Yoder. -- Timothy Showalter. Mennonite Encyclopedia, vol. 4, p. 1033
Maps
Map:Zion Mennonite Church (Broadway, Virginia)
Author(s)
Elwood E Yoder
Date Published
April 2010
Cite This Article
MLA style
Yoder, Elwood E. "Zion Mennonite Church (Broadway, Virginia, USA)." Global Anabaptist Mennonite Encyclopedia Online. April 2010. Web. 28 May 2018. http://gameo.org/index.php?title=Zion_Mennonite_Church_(Broadway,_Virginia,_USA)&oldid=62233.
APA style
Yoder, Elwood E. (April 2010). Zion Mennonite Church (Broadway, Virginia, USA). Global Anabaptist Mennonite Encyclopedia Online. Retrieved 28 May 2018, from http://gameo.org/index.php?title=Zion_Mennonite_Church_(Broadway,_Virginia,_USA)&oldid=62233.
---

©1996-2018 by the Global Anabaptist Mennonite Encyclopedia Online. All rights reserved.