Arizona (USA)
From GAMEO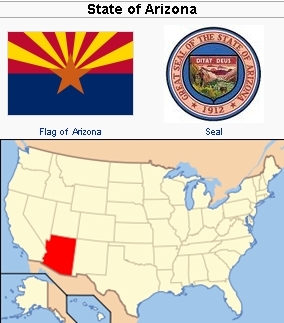 1955 Article
Mennonites first became interested in Arizona in connection with mission work in that state. Peter Stauffer, who was employed in the government Indian service among the Hopi People at Keams Canyon, called the attention of the General Conference Mennonite Church mission board to the possibilities of beginning work at that place. In 1893 H. R. Voth started the mission work among the Hopi at Oraibi. Soon stations were opened also at Hotevilla and Moen Copi.
No large-scale Mennonite settlements were made in Arizona in the first years. In the early 1950s families lived scattered as farmers, businessmen, employees, instructors, etc. Eleven Amish families from Kansas and Oregon moved to Glendale, Arizona in 1909, living on small irrigated farms. By 1916, all of these families had left Arizona. In 1918 a number of Mennonite farmers from Oklahoma, Kansas, and Minnesota started a settlement at Sahuarita, 20 miles south of Tucson on irrigation land. Because of complications resulting from the water rights, the settlement was discontinued.
On the extreme northern edge of Phoenix is the community of Sunnyslope where in the early 1950s some 75 Mennonites and Amish lived. During the winter months they are usually joined by temporary residents. In February 1946 the Sunnyslope Mennonite (MC) Church was organized. Families who moved to Arizona for health reasons found each other and gathered for worship in the home of Harold and Mae Brooks.
The University of Arizona, Tucson, had a considerable number of Mennonites on its staff in 1950. Among them were E. R. Riesen, Dean of the College of Liberal Arts; Oswald Wedel, Head of the Department of History and Political Science; A. B. Schmidt, Business and Public Administration; Emil W. Haury, Head of the Department of Anthropology; F. A. Conrad, Head of the Department of Sociology; and others, mostly graduates and former members of the faculty of Bethel College. There are a number of other families located in Tucson, but no Mennonite congregation had been established. Samuel Burkhard was a member of the faculty at the Arizona State College, Tempe; and Daniel F. Jantzen, Peoria, Arizona, was very likely the first Mennonite to enter the teaching profession in that state. -- Cornelius Krahn
1990 Update
As Mennonites continued to move to Arizona for health, climate, and employment, the number and variety of Mennonite churches increased. Of the hundreds of people who came to Arizona after 1950 to serve in Voluntary Service and its Discipleship Program, many decided to stay and become part of the life and witness of the church.
By 1987 there were more than 1,300 members in 18 congregations: 12 in the Phoenix area, 1 each in Tucson and Prescott, 2 on the Navajo reservation and 2 on the Hopi reservation. These represented six Mennonite denominational groups: Mennonite Church (MC); General Conference Mennonite Church; Mennonite Brethren; Conservative Mennonite Conference; Western Conservative Mennonite Fellowship; Church of God in Christ, Mennonite; and several unaffiliated Mennonite congregations.
The Glencroft Retirement Community, sponsored by Mennonites, Apostolic Christian Church, Friends, and the Church of the Brethren, began in 1972. In 1987 it had 1,000 residents on the Glendale campus and had built a second facility on the northeast side of Phoenix. -- David W. Mann
Bibliography
Esch, Henry D. Mennonites in Arizona. Phoenix: the author, 1985.
Hege, Christian and Christian Neff. Mennonitisches Lexikon, 4 vols. Frankfurt & Weierhof: Hege; Karlsruhe: Schneider, 1913-1967: v. I, 82.
Hertzler, Daniel. From Germantown to Steinbach. Scottdale, Herald Press, 1981.
Horsch, James E., ed. Mennonite Yearbook and Directory (1986-87): 20.
Kaufman, Edward G. The Development of the Missionary and Philanthropic Interest Among the Mennonites of North America. Berne, IN, 1931.
Luthy, David. "Amish in the 48th State." Family Life (May 1975): 13.
Wittlinger, Carlton O. Quest for Piety and Obedience: The Story of the Brethren in Christ. Nappanee, IN: Evangel Press, 1978: 147.
Author(s)
Cornelius Krahn
David W. Mann
Date Published
1987
Cite This Article
MLA style
Krahn, Cornelius and David W. Mann. "Arizona (USA)." Global Anabaptist Mennonite Encyclopedia Online. 1987. Web. 19 Aug 2018. http://gameo.org/index.php?title=Arizona_(USA)&oldid=144741.
APA style
Krahn, Cornelius and David W. Mann. (1987). Arizona (USA). Global Anabaptist Mennonite Encyclopedia Online. Retrieved 19 August 2018, from http://gameo.org/index.php?title=Arizona_(USA)&oldid=144741.
---

Adapted by permission of Herald Press, Harrisonburg, Virginia, from Mennonite Encyclopedia, Vol. 1, pp. 156-157; vol. 5, p. 37. All rights reserved.

©1996-2018 by the Global Anabaptist Mennonite Encyclopedia Online. All rights reserved.