Boldt, Bernhard B. (1894-1961)
Jump to navigation
Jump to search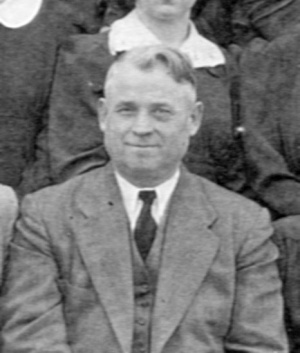 Bernhard B. Boldt, well known educator and Christian leader, was born in the village of Ohrloff, Russia, 14 January 1894, to Bernhard and Katherina (Peters) Boldt. At 17 he began his teaching career in his home village, and in 1916 he married Margaret Giesbrecht. Their union was blessed with nine children who survived the trauma of the Russian Revolution. In 1916 he joined the Mennonite Brethren Church located in the Grossfuerstental area of Southern Russia. Immediately his zeal for Christian service involved him in church leadership and preaching, an activity not uncommon among the members of his profession in Russia at this time.
His entire career was marked by an extraordinary dedication and focus on Christian ministry, no matter where or what the particular task. This sometimes led to the exclusion of other activities which he felt might detract from his teaching and preaching ministry.
As a young teacher after completing his service in the medical corps on the Russo-Turkish front, he was also ordained into the Mennonite Brethren Church. From that time on, both in Russia and Canada, he was busy as a church leader in Christian education ministries and in preaching. This first occurred in Russia in the early 1920s, then in Manitoba from 1925-1934; Ontario from 1934-1944; in British Columbia from 1944-1949; back in Manitoba from 1950-1959. Finally he was able to retire in British Columbia in 1959. His service, often accompanied by teaching in the public educational system, involved preaching, Christian education, instruction and training, as well as German language instruction. His career in full time Bible school instruction became a major part of his life, beginning in 1940. This began in Vineland at the Ontario Mennonite Brethren Bible School, and then continued at the East Chilliwack Mennonite Brethren Bible School in BC in 1947, and finally also at the Winkler Bible School in Manitoba from 1950-1956. During this time he also busied himself with roles in Bible Conferences (Bibelbesprechungen), even Conference administration. His favorite themes in his messages and instruction were on the "Psalms," to which many former students can testify. He passed away 15 June 1962, very aptly after a mid week Bible study.
Author(s)
Ed Boldt
Date Published
April 2002
Cite This Article
MLA style
Boldt, Ed. "Boldt, Bernhard B. (1894-1961)." Global Anabaptist Mennonite Encyclopedia Online. April 2002. Web. 12 Aug 2020. https://gameo.org/index.php?title=Boldt,_Bernhard_B._(1894-1961)&oldid=156082.
APA style
Boldt, Ed. (April 2002). Boldt, Bernhard B. (1894-1961). Global Anabaptist Mennonite Encyclopedia Online. Retrieved 12 August 2020, from https://gameo.org/index.php?title=Boldt,_Bernhard_B._(1894-1961)&oldid=156082.
---

©1996-2020 by the Global Anabaptist Mennonite Encyclopedia Online. All rights reserved.