Conservative Mennonites (Swiss-High German, Pennsylvania)
From GAMEO
The assemblage of congregations and fellowships referred to as "conservative" Mennonites is an elusive group to identify. Some are composed of persons almost exclusively of Amish origin (such as the Beachy Amish Mennonite Fellowship), while a smaller number are exclusively of Mennonite origin. Still others have a high degree of mixture of Amish and Mennonite elements. The gradual evolution of the names in common usage also contributes to the difficulty. A similar variety of "conserving" or conservative Mennonites in the Dutch and Russian Mennonite tradition clusters around the Old Colony Mennonites and the branches of the Bergthal Mennonites, including Sommerfeld Mennonites and the Chortitzer Mennonite Conference. The reader should also consult related articles on Old Colony Mennonites and Old Order Mennonites.
Most of the groups using the name conservative Mennonite trace their origin to the Amish rather than to the Mennonites. Those which would best qualify for the conservative Mennonite name do not use the term conservative; rather, they are usually identified by such names as Old Order Mennonites (Wisler), or by a regional name such as Washington-Franklin or Southeastern Conference. They include the following; Conservative Mennonite Conference; Conservative Mennonite Fellowship; Conservative Mennonite Church of Ontario; Conservative Mennonite Churches of York and Adams Counties, Pennsylvania; Cumberland Valley Mennonite Church; Eastern Pennsylvania Mennonite Church; Mid-Atlantic Mennonite Fellowship; Midwest Mennonite Fellowship; Northern Light Gospel Mission Conference; Southeastern Mennonite Conference; Washington-Franklin Mennonite Conference; and Western Conservative Mennonite Conference. The congregations deriving from Amish roots are much more inclined to use "conservative Mennonite" as part of their name because it is often Mennonite influence on their programs and methods that accompanied their departure from the Amish. The Old Order River Brethren are a conservative group that is neither Amish nor Mennonite but rather Brethren in Christ in origin.
The name conservative Mennonite became secure by its usage in the Mennonite Yearbook in the early 1900s. It was a name applied to some independent Amish Mennonites (AM) churches not ready to affiliate with the three newly organized Amish Mennonite Conferences (1888-1892), which were the Ohio and Eastern Amish Mennonite, the Indiana-Michigan Amish Mennonite, and the Western Amish Mennonite. In 1910-1912 the congregations forming a new conference adopted the name used in the Mennonite Yearbook, Conservative Amish Mennonite, and added the term "Conference". The name Amish was dropped in 1954.
The pattern established by the Conservative Conference, i.e., using the name Mennonite because of program and methods, and eventually dropping the Amish name, has been followed by others. For most of those people, using conservative Mennonite is more respectable than using the more appropriate term progressive Amish. The gradual assimilation into the Mennonite mainstream takes place at greatly differing degrees, as is evident with the Conservative Mennonite Conference.
The difficulty of classifying congregations is evident in the Mennonite Yearbook, especially in the two broad groupings listed as "Unaffiliated Mennonite Congregations" and "Fellowship Churches." The first group, covering more than two pages, includes 1 horse-and-buggy Amish congregation, 3 fringe Beachy Amish congregations, and 16 "conservative" Mennonite congregations whose members trace their origin to the Amish and who, for the most part, are one or two generations removed from their Amish connections. At least one of the congregations is an Amish Mennonite group from the Amish schism of the late 1800s. Also included are five Amish Mennonite congregations of the "sleeping preacher" tradition. Several of the congregations qualify as truly conservative Mennonite, always having been Mennonite rather than Amish.
The Fellowship Churches listed in Mennonite Yearbook are a combination of conservative Mennonites and progressive Amish. They range from several congregations consisting largely of people from progressive Amish background to those composed of a majority of conservative Mennonites.
The Tennessee Brotherhood Churches are an unusual combination of Old Order Mennonites (Wisler) and people from various Amish groups. These influences show in a highly codified written discipline which is vigorously applied. There were a total of five congregations in Tennessee and Kentucky, none of which were listed in the Mennonite Yearbook (1986-87).
The congregations listed as conservative Mennonite are usually limited in their contacts and fellowship with each other. The working relationships between congregations are not nearly as broad as many people assume. They are not a uniform group any more than are the Amish. There are dozens of fragmentations and subgroups.
Bibliography
Horsch, James E., ed. Mennonite Yearbook & Directory, 1986-87. Scottdale, PA: Mennonite Publishing House, 1987: 95-105, 167-78.
Horst, Isaac R. Separate and Peculiar. Mt. Forest, ON: the Author, 1979.
Scott, Stephen. The Amish Wedding and Other Special Occasions of the Old Order Communities. Intercourse, PA: Good Books, 1988.
Scott, Stephen. An Introduction to Old Order and Conservative Mennonite Groups. People's Place Book #12. Intercourse, PA: Good Books, 1996.
Additional Information
Old Order Amish Mennonite Spectrum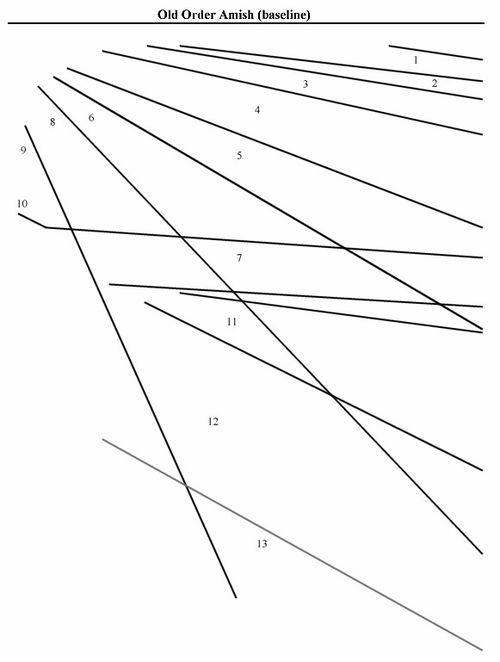 Two directions of movement:
a) To the right: represents forward chronological movement
b) Downward: represents "distance" from Old Order Amish
Legend:
"New Amish" Amish Brotherhood
King Amish and related small and scattered groups
Unaffiliated Amish churches between King and Beachy; sometimes called Fellowship Amish
Beachy Amish Mennonite Fellowship churches
Conservative Amish Mennonite fellowships/conferences and unaffiliated groups
Conservative (Amish) Mennonite Conference
Old Order Mennonites (Wisler)
Amish Mennonite Conferences (Now part of the Mennonite Church): Ohio and Eastern A.M.; Indiana-Michigan A.M.; Western A.M.
Amish Mennonites
Stuckey and other independents
Conservative Mennonites of non-Amish origins
(Old) Mennonite Church (MC)
General Conference Mennonite Church (GCM)
Author(s)
Elmer S Yoder
Date Published
1989
Cite This Article
MLA style
Yoder, Elmer S. "Conservative Mennonites (Swiss-High German, Pennsylvania)." Global Anabaptist Mennonite Encyclopedia Online. 1989. Web. 24 Mar 2019. http://gameo.org/index.php?title=Conservative_Mennonites_(Swiss-High_German,_Pennsylvania)&oldid=116521.
APA style
Yoder, Elmer S. (1989). Conservative Mennonites (Swiss-High German, Pennsylvania). Global Anabaptist Mennonite Encyclopedia Online. Retrieved 24 March 2019, from http://gameo.org/index.php?title=Conservative_Mennonites_(Swiss-High_German,_Pennsylvania)&oldid=116521.
---

Adapted by permission of Herald Press, Harrisonburg, Virginia, from Mennonite Encyclopedia, Vol. 5, pp. 199-200. All rights reserved.

©1996-2019 by the Global Anabaptist Mennonite Encyclopedia Online. All rights reserved.