Enns, Ernest D. (1931-2010)
From GAMEO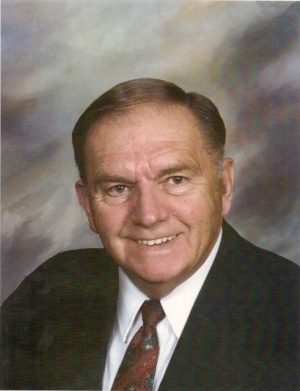 Ernest David Enns: business person and ministry leader; born 27 April 1931 in Beechy, Saskatchewan, Canada to Johann Heinrich Enns (1898-1979) and Anna (Loewen) Enns (1900-1956). He was the fourth child in a family of four sons and six daughters. On 26 May 1956 he married Martha Epp in Vancouver, British Columbia (BC), Canada. They had three sons: Melvin, Graham, and James. Ernest died of cancer on 3 February 2010 at the Mission, BC hospice.
Ernest spent his childhood years in Beechy, Saskatchewan and moved with his family to Abbotsford, BC in 1944. He was baptized in the summer of 1948 and became a member of the Clearbrook Mennonite Brethren Church.
Enns enrolled at Briercrest Bible Institute in 1949 beginning a long association with this institution. After he was established in business, he served on the Briercrest Board of Governors for 32 years. He served as chairperson of the Board for 13 years, leading this institution through pivotal changes in leadership from the original founders to a new generation of leaders. He also played a major role in the development of the campus by being directly involved in 19 major construction projects totaling over 16 million dollars at that time. The Briercrest Board of Governors recognized his leadership by naming the newly constructed education and library building the "Enns Educational Center"
Although Ernest Enns' primary focus was the advancement of Briercrest Bible College, he was always involved in ministries of the local church as well. He was one of the founders of Richmond Bethel Mennonite Brethren Church in Richmond, British Columbia and always concerned that the church and educational institutions work closely together. He was also very involved in expanding the ministry of Far East Broadcasting in Canada and around the world.
Music played a significant role in the life of Ernest. He sang with a number of different quartets , but his longest involvement was with the Rock of Ages Quartet based in Vancouver, BC.
As a business person, Ernest Enns spent most of his life in the wholesale and retail lumber and hardware business. He owned his own business in Richmond, BC and managed a number of other business operations. For the last twenty years of his life he worked as a management consultant with Lynden Door in Lynden, Washington and Yarrow, BC. Although Ernest spent most of his life in business, he was able to utilize his unique gift of bringing Christianity into the marketplace. He considered and used his economic resources as investments in the lives of individual young people and the institutions that trained them.
Author(s)
Peter Enns
Date Published
May 2010
Cite This Article
MLA style
Enns, Peter. "Enns, Ernest D. (1931-2010)." Global Anabaptist Mennonite Encyclopedia Online. May 2010. Web. 22 Jul 2018. http://gameo.org/index.php?title=Enns,_Ernest_D._(1931-2010)&oldid=94517.
APA style
Enns, Peter. (May 2010). Enns, Ernest D. (1931-2010). Global Anabaptist Mennonite Encyclopedia Online. Retrieved 22 July 2018, from http://gameo.org/index.php?title=Enns,_Ernest_D._(1931-2010)&oldid=94517.
---

©1996-2018 by the Global Anabaptist Mennonite Encyclopedia Online. All rights reserved.