Enns, Herman W. (1930-1977)
Jump to navigation
Jump to search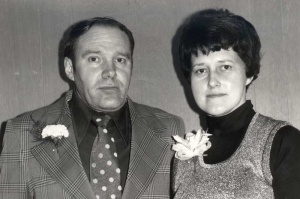 Herman W. Enns: pastor and educator, was born 7 April 1930 in Winnipeg, Manitoba, the third child, and oldest son, in a family of five. His parents, Wilhelm (29 August 1895-19 January 1974) and Katharina (9 May 1897-16 October 1992) Enns, lived on a farm at Springstein, Manitoba, 32 km. west of Winnipeg. His father was a farmer-preacher in the Springstein Mennonite Church for many years. On 9 September 1961, during his seminary studies, he married Estelle Bartel of Hillsboro, Kansas. Herman died suddenly of a heart attack on 6 June 1977.
Herman attended school in Springstein up to Grade nine and attended the Mennonite Collegiate Institute in Gretna, Manitoba for high school. His major extra-curricular activity was editing the school year book. In the fall of 1950, after six months of teaching on a permit basis, Herman enrolled in the University of Manitoba in the pre-med program, and in 1952 was accepted into the School of Medicine in Winnipeg. Several rather traumatic religious experiences prevented him from proceeding in medicine, so he enrolled in the liberal arts program at the United College in Winnipeg (now the University of Winnipeg). He taught secondary school for one year at Swan River, Manitoba. He attended the Canadian Mennonite Bible College for one year and received his B.A. from the University of Manitoba in 1955.
Herman taught high school for four years at the United Mennonite Educational Institute in Leamington, Ontario. However it had become clear to him at the time he changed from medicine to the arts that he wanted to enter the ministry and be involved in preventive medicine. He enrolled at the Mennonite Biblical Seminary in the fall of 1959 and graduated in May 1962.
On 9 September 1962 Herman was ordained to the Christian ministry by his home congregation in Springstein, Manitoba. On 15 September 1962 he assumed leadership of the Hamilton Mennonite Church. In 1965 a church building was erected and in 1966 a Community Service Project in the north end of Hamilton was begun that became the Welcome Inn Church and Community Centre.
Herman was heavily involved in extra-congregational activities. He served as secretary for the Ontario Conference of United Mennonite Churches as well as the Conference of Mennonites in Canada, each for a three year term. He was moderator of the Ontario Conference for three years. He served as vice-chairman of the Conference of Mennonites in Canada and on various Boards and committees. The Inter-Mennonite Board of Congregational Resources, the Board of the Mennonite Biblical Seminary in Elkhart, Indiana were among his other involvements. Herman was a firm supporter of inter-Mennonite cooperation in the years before it became fashionable. He also served on the executive for the Hamilton Ministerial Association and was involved with Telecare in Hamilton, serving as director of training for two years. He wrote a leader's guide for church membership instruction in 1969.
In 1970 he was able to work out a part-time arrangement with the Hamilton congregation, and took further training at McMaster University, concentrating on psychology. In September 1971 he began a residency year of Supervised Pastoral Education in Hamilton. In September 1972 Herman continued his probationary and course assistant training in Toronto. His assistant supervisor training was taken In the summer of 1973 in London, Ontario under the supervision of Ralph Lebold.
In September 1974 Herman resigned as minister of the Hamilton Mennonite Church to accept the position of Chaplain at the McMaster University Medical Centre. This provided him the opportunity to continue in Supervised Pastoral Education, moving from acting supervisor to supervisor on 17 October 1975. He served as a supervisor in Supervised Pastoral Education with McMaster Divinity College and in a parish setting from 1975-1977, and was active in the Ontario Region of the Canadian Association for Pastoral Education.
In a paper on Clinical Pastoral Education, Herman stated "a theory for Clinical Pastoral Education must draw its inspiration from Jesus, the true liberator (Luke 4:18-19), the great physician who healed all manner of diseases, the enlightened teacher, who knew about emotional and spiritual renewal and rebirth, the faithful pastor whose congruent life style became a light along the way which He Himself opened up. Ile summarized His own reason for living: 'I am come that they might have life in all its fullness'." This also would be fitting summary of Herman Enns' vision.
Bibliography
Enns, Herman. Behold Your God!: Selected Sermons. Hamilton, Ont: s.n, 1987.
Enns, Herman. This We Believe: Leader's Guide. Newton, Kan: Faith and Life Press, 1978.
Der Bote (12 July 1977): 7, 12.
Mennonite Reporter (13 June 1977): 1.
Archival collection at Mennonite Archives of Ontario
Author(s)
Samuel J Steiner
Date Published
October 2009
Cite This Article
MLA style
Steiner, Samuel J. "Enns, Herman W. (1930-1977)." Global Anabaptist Mennonite Encyclopedia Online. October 2009. Web. 10 Jul 2020. https://gameo.org/index.php?title=Enns,_Herman_W._(1930-1977)&oldid=164907.
APA style
Steiner, Samuel J. (October 2009). Enns, Herman W. (1930-1977). Global Anabaptist Mennonite Encyclopedia Online. Retrieved 10 July 2020, from https://gameo.org/index.php?title=Enns,_Herman_W._(1930-1977)&oldid=164907.
---

©1996-2020 by the Global Anabaptist Mennonite Encyclopedia Online. All rights reserved.