Esslinger, Wolfgang (d. 1529)
Jump to navigation
Jump to search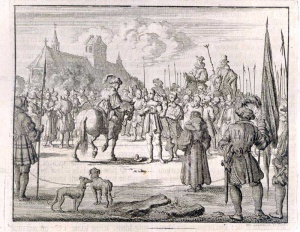 Wolfgang Esslinger was one of the seven martyrs who were put to death 7 December 1529 (not 1531, as stated in the Martyrs' Mirror), at Schwäbisch-Gmünd. In this city, at that time a free city, the Anabaptist preacher Martin Zehentmayer, also called Martin der Maler, from Bavaria, formed a congregation which in 1529 had over 100 members, but was ruthlessly nipped in the bud.
In February 1529 the council had Zehentmayer and 40 adherents, 19 of them women and girls, thrown into prison; Esslinger shared this fate. The council made an effort to have them renounce their faith, but with little success. The prisoners seem to have been encouraged to steadfastness; for in various regulations "all women, girls, and children" were forbidden to go to the towers, to sing or to read there or talk to the prisoners. The captives suffered willingly.
Meanwhile a bitter conflict had arisen between the mayor Egen and a part of the council concerning their power and authority, which the mayor managed to decide in his own favor by calling in outside force. At the expense of the Swabian League he demanded that 250 soldiers be sent to him immediately on the ground that he feared an insurrection on the occasion of the approaching execution of the Anabaptists, considering their great following in the city. His request was granted. After the arrival of the troops and the notorious imperial provost Berthold Aichele, who was accompanied by two executioners, legal proceedings were at once opened against the Anabaptist prisoners; the councilors did not all agree with this procedure but had to yield to force.
In order not to heighten the excitement of the citizenry who were worried about the life of the prisoners who had already languished in prison 42 weeks, they apparently tried the nonresidents first, among them Wolfgang Esslinger. The council promised them liberty if they renounced their faith. When this failed to move them, seven of them, including Wolfgang Esslinger, Zehentmayer, a woman, and a youth of sixteen, were sentenced to death. When the mayor read the verdict Esslinger called out to him, "Just as you are judging today, God will also judge you when you appear before His face; God will recognize you. Leave your sins and unrighteousness and repent, then God will not hold it against you." The sentence roused general horror and was carried out 7 December 1529, on an open place before the city. On the site of execution in the presence of the executioners another attempt was made to make them recant, but, as the council later reported, the spectators, especially the women, called out encouraging words to the victims. After a short prayer they all went to their death completely unafraid.
The steadfastness of the martyrs made a deep impression on the Anabaptists and was celebrated in several hymns; one of the songs written by the victims in prison, "Aus tiefer Not schrein wir zu dir," of which each one composed a stanza, was widely distributed. The songs are found in Die Lieder der Hutterischen Brüder (Scottdale, 1914) 48-59.
Bibliography
Braght, Thieleman J. van. Het Bloedigh Tooneel of Martelaers Spiegel der Doopsgesinde of Weereloose Christenen, Die om 't getuygenis van Jesus haren Salighmaker geleden hebben ende gedood zijn van Christi tijd of tot desen tijd toe. Den Tweeden Druk. Amsterdam: Hieronymus Sweerts, 1685: Part II, 32.
Braght, Thieleman J. van. The Bloody Theatre or Martyrs' Mirror of the Defenseless Christians Who Baptized Only upon Confession of Faith and Who Suffered and Died for the Testimony of Jesus Their Saviour . . . to the Year A.D. 1660. Scottdale, PA: Herald Press, 1951: 439. Available online at: http://www.homecomers.org/mirror/index.htm.
Hege, Christian and Christian Neff. Mennonitisches Lexikon, 4 vols. Frankfurt & Weierhof: Hege; Karlsruhe: Schneider, 1913-1967: v. I, 611 f.
Wagner, Emil. "Die Reichsstadt Schwäbish-Gmünd in den Jahren 1526-1530." Württembergische Vierteljahrshefte für Landesgeschichte (1881): 81 ff.
Wolkan, Rudolf. Die Lieder der Wiedertäufer. Berlin, 1903. Reprinted Nieuwkoop: B. De Graaf, 1965: 17-21.
Author(s)
Christian Hege
Date Published
1956
Cite This Article
MLA style
Hege, Christian. "Esslinger, Wolfgang (d. 1529)." Global Anabaptist Mennonite Encyclopedia Online. 1956. Web. 15 Jul 2020. https://gameo.org/index.php?title=Esslinger,_Wolfgang_(d._1529)&oldid=145028.
APA style
Hege, Christian. (1956). Esslinger, Wolfgang (d. 1529). Global Anabaptist Mennonite Encyclopedia Online. Retrieved 15 July 2020, from https://gameo.org/index.php?title=Esslinger,_Wolfgang_(d._1529)&oldid=145028.
---

Adapted by permission of Herald Press, Harrisonburg, Virginia, from Mennonite Encyclopedia, Vol. 2, p. 252. All rights reserved.

©1996-2020 by the Global Anabaptist Mennonite Encyclopedia Online. All rights reserved.