Friesen, Ted E. (1920-2016)
Jump to navigation
Jump to search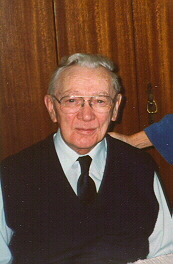 Theodore Erwin "Ted E." Friesen: businessman and lay leader in the Canadian Mennonite community; born on 3 July 1920 in Altona, Manitoba, Canada, the sixth of seven children of David W. Friesen (12 June 1879, Schoensee, East Reserve, Manitoba - 19 May 1951, Altona, Manitoba) and Sara (Klippenstein) Friesen (26 August 1882, Gnadenfeld, Manitoba – 7 March 1963, Altona, Manitoba). Ted married Linda "Linie" Krahn (22 August 1921, Petershof, Ukraine - 11 April 2019, Altona, Manitoba), daughter of Peter B. Krahn (1896-1964) and Justina (Peters) Krahn (1898-1997), on 23 September 1945 in the Altona Bergthaler Mennonite Church in Altona, Manitoba. Ted and Linie had four children: Eric, Paul, Timothy, and Marlene, who died at birth. Ted died on 15 February 2016 in Altona, Manitoba.
Ted lived in Altona, Manitoba from birth. In 1936 he entered the family business known in 1997 as D. W. Friesen & Sons, Ltd. The business began as a general store and post office, but emerged into a large printing and wholesale stationery firm that employed 600 persons in 2016. From 1951-1986 Ted Friesen served as Secretary-Treasurer and Vice President of D. W. Friesen & Sons.
Friesen was at the heart of many historic developments in Canadian Mennonite life. In the early 1960s, he was appointed to the Board of Christian Service, a new board of the Conference of Mennonites in Canada. He also served on the Canadian Mennonite Relief Committee, as "a very junior member," he recalled in his memoirs. The Relief Committee was one of seven agencies that united to form Mennonite Central Committee Canada in 1963, and Ted was appointed to its first Executive Committee in 1964, a position he held until 1977.
Ted was also at the meeting that brought the Manitoba and Ontario Mennonite historical societies together in 1968 to launch a major publishing project. Friesen, together with J. Winfield Fretz and Frank H. Epp, conceived the Mennonites in Canada history project that resulted in a three-volume work. That project led to the formation of the Mennonite Historical Society of Canada; Ted served on the executive of this national organization from 1968-96, the last decade as president.
Friesen, along with his two brothers, initiated the first English-language periodical for Mennonites in Canada. In 1953, Friesens launched the first issue of The Canadian Mennonite, "an English language weekly devoted to the affairs of Mennonites across Canada." A message from the publisher in the first issue admitted that "such a periodical will not be a financially profitable enterprise, but we pray that it will be a worthwhile service to our Mennonite brethren everywhere."
Friesens found an editor in the 1953 graduating class of Canadian Mennonite Bible College, a founding college of Canadian Mennonite University, Winnipeg. Frank Epp was just 24 years old when he took on the job. Friesens published The Canadian Mennonite until October 1962, when it transferred ownership to the Canadian Mennonite Publishing Company. The Canadian Mennonite was succeeded by the Mennonite Reporter in 1971, also an inter-Mennonite periodical. In 1997, the Mennonite Reporter was replaced by Canadian Mennonite.
Ted's vision and openness were also evident closer to home. Seeing a need for English-language worship in Altona, he and his wife Linie helped to found Altona Mennonite Church in 1962. He served as church moderator for 17 years, and also as a deacon. He loved his town and the people in it. He was "a walking oral history" of Altona and the surrounding villages, said son Eric at his father's funeral. Ted's other passions included classical music, Low German literature, baseball and his family.
A conscientious objector during the Second World War, Ted never judged those who signed up, including two of his brothers. Eric recalled his father visiting injured veterans in the Altona Hospital. "Trust my Dad to be both a committed pacifist and a man who opened his heart to those who weren't." Ted and his brother John, who enlisted, are featured in a 2002 National Film Board documentary, The Pacifist Who Went to War.
Ted Friesen left a rich legacy of service to Mennonites in Canada and was deeply committed to the church and its institutions.
Bibliography
Reimer, Margaret Loewen. "Friesen Began First Canada-wide English Paper for Mennonites." Canadian Mennonite (6 June 2016): 21.
Author(s)
Margaret Loewen Reimer
Sam Steiner
Date Published
June 2016
Cite This Article
MLA style
Reimer, Margaret Loewen and Sam Steiner. "Friesen, Ted E. (1920-2016)." Global Anabaptist Mennonite Encyclopedia Online. June 2016. Web. 15 Jul 2020. https://gameo.org/index.php?title=Friesen,_Ted_E._(1920-2016)&oldid=164081.
APA style
Reimer, Margaret Loewen and Sam Steiner. (June 2016). Friesen, Ted E. (1920-2016). Global Anabaptist Mennonite Encyclopedia Online. Retrieved 15 July 2020, from https://gameo.org/index.php?title=Friesen,_Ted_E._(1920-2016)&oldid=164081.
---

©1996-2020 by the Global Anabaptist Mennonite Encyclopedia Online. All rights reserved.