Giesbrecht, Johann J. (1908-1940s)
Jump to navigation
Jump to search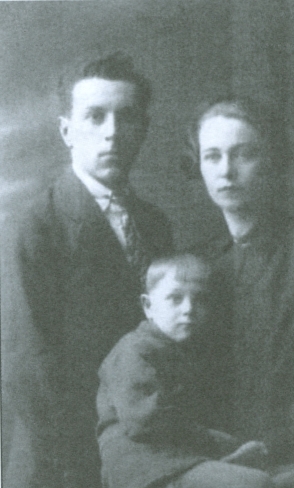 Johann Johann Giesbrecht: accountant; born in Halbstadt, Molotschna Mennonite settlement, South Russia, on 31 December 1908 to Johann and Anna (Goossen) Giesbrecht. He was the eldest of seven children in the family. In 1926, Johann married Maria Doerksen of Wernersdorf, Molotschna Mennonite settlement and settled in Wernersdorf. The couple had one child, a son named Waldemar. Johann was arrested in September 1937 and presumably exiled. He died, likely of starvation, in the 1940s.
As a child, Johann lived with his family in Halbstadt, where he attended the village school before completing his studies at the Zentralschule in the same town. In about 1920, the family moved to Lichtenau, Molotschna Mennonite settlement. In 1931, Johann Sr., who had worked for some years as a traveling representative for a Dutch export company, was arrested in Zaporizhia and exiled for five years. Several months later, the Giesbrecht family was expelled from their home in Lichtenau and told to leave the following day. They fled on foot to the nearest large city, Melitopol.  
Meanwhile, after completing his basic studies in Halbstadt, Johann attended the University of Odessa, where he obtained a degree in accounting, as his father had done before him. In 1926, he married Maria and the couple settled down in Maria's home village. Their son, Waldemar, was born there in 1929; he had a disability of some kind.
In 1933, Giesbrecht, together with Maria and Waldemar, joined Johann's family in Melitopol, followed by a move to Kamenka later in the year and the next year in a move across the Dnieper River to Nikopol. There, the family found two rooms to live in, with the entire family sleeping in one room. After Johann's father completed his sentence in 1936, he returned to his family and began to work as a bookkeeper for a small restaurant.
Johann obtained a job as an accountant in a grain elevator station in Nikopol, where he worked until his arrest in September 1937. Two Narodnyy komissariat vnutrennikh del (NKVD) policemen (the secret police) knocked at the door a little after midnight and searched the place for at least an hour before they took Johann away. Maria was visiting her parents in Wernersdorf at the time but returned immediately after hearing the news. She was able to visit Johann in jail a week or two later. He had been tortured, and he looked beaten up. Johann was accused of planning to blow up the elevator terminal where he was working, but whether or not he signed a confession under torture is unknown.
After his arrest, Giesbrecht was presumably exiled to a remote location, although the family had a difficult time discovering what had happened to him. According to official reports, he died in the 1940s of "heart failure," which likely meant that he had starved to death in exile. Maria and Waldemar joined Johann's parents and some of his siblings in the Great Trek out of the Soviet Union in 1943 and settled in Germany while the rest of the family continued on to Canada.    
Johann Johann Giesbrecht was dedicated to his family and his community, supporting them in difficult times. Despite the many troubles he experienced in his life, he remained committed to his community and his faith and helped to provide a measure of stability for his wife and son, as well as his parents and siblings. Although the details of his fate are unknown, he remains a good example of endurance and faithfulness in the trials of life he encountered.
Bibliography
Giesbrecht family information from Harry Giesbrecht, Winnipeg, Canada, brother.
Huebert, Helmut T. Mennonites in the Cities of Imperial Russia, 2 vols. Winnipeg, MB: Springfield Publishers, 2008: v. 2, 299-300.
Huebert, Helmut T. 1937: Stalin's Year of Terror. Winnipeg, MB: Springfield Publishers, 2009.
Author(s)
Helmut T. Huebert
Susan Huebert
Date Published
September 2009
Cite This Article
MLA style
Huebert, Helmut T. and Susan Huebert. "Giesbrecht, Johann J. (1908-1940s)." Global Anabaptist Mennonite Encyclopedia Online. September 2009. Web. 12 Jul 2020. https://gameo.org/index.php?title=Giesbrecht,_Johann_J._(1908-1940s)&oldid=94815.
APA style
Huebert, Helmut T. and Susan Huebert. (September 2009). Giesbrecht, Johann J. (1908-1940s). Global Anabaptist Mennonite Encyclopedia Online. Retrieved 12 July 2020, from https://gameo.org/index.php?title=Giesbrecht,_Johann_J._(1908-1940s)&oldid=94815.
---

©1996-2020 by the Global Anabaptist Mennonite Encyclopedia Online. All rights reserved.