Holmes-Wayne-Tuscarawas Counties Old Order Amish Settlement (Ohio, USA)
From GAMEO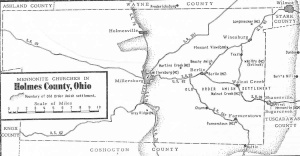 1956 Article
Holmes County (Ohio) Old Order Amish settlement is the largest Old Order Amish community in the United States. Founded in 1809 by settlers coming from Somerset County, Pennsylvania. In 1955 it had 43 congregations with 4,354 baptized members and approximately 1,600 families. In addition there were in the community one Beachy Amish congregation with 28 members, two Conservative Amish congregations with 428 members, six Mennonite (Mennonite Church Ohio Conference) congregations with 1,312 members, and one General Conference congregation with 235 members, all of whom with few exceptions descend from the original Amish constituency in this area. The Amish community, which was in the eastern half of the county, roughly east of Route 76 and the county seat of Millersburg, "spilled over" into Coshocton County on the south and Wayne County on the north. It always had also covered the western part of Tuscarawas County lying immediately east of Holmes County. In the heart of the settlement the land was almost solidly occupied by Amish or Mennonite farmers. From east to west the Amish shopping centers were Sugarcreek (Tuscarawas County), Walnut Creek, Berlin, and Millersburg.
The Old Order Amish of Holmes County were no longer fully unified in the 1950s. A stricter group of congregations, which practiced shunning sharply against members transferring to other Amish or Mennonite congregations, had no communion fellowship with the other Amish congregations. This included several subgroups: the "Swartzendruber" or "Sam Yoder" group of five congregations, and the "Stutzman" group of two congregations. Some of these strict congregations were not in communion with each other.
The first division in the community, that between the Old Order and the progressive group (Walnut Creek congregation) which joined the Mennonite (Mennonite Church) Conference, occurred in 1862. The Conservative division occurred about 1915. The small Beachy congregation was started in 1941. A Church of God in Christ mission, called the Rock of Ages Mission, which was established among the Amish near Maysville, won a small number of Old Order Amish and a few more Old Order Mennonites and others.
Parochial schools have developed more widely in the Holmes County Amish community than anywhere else among the Old Order Amish. For the school year 1955-1956 there were ten such schools, with a total enrollment of 344, each operated by its own Amish school board, the first established in 1945. Two of these offer nine grades, thus including the first year of high school.
The typical congregational organization of the Holmes County Amish consists of one bishop, two preachers, and one deacon. In 1955 there were in the 43 congregations, 39 bishops, 80 preachers, and 36 deacons, or a total of 155 ordained men. There was no church activity in the congregations except a Sunday morning church service every two weeks. Some of the members supported the work of the Mission Interests Committee. J. A. Raber of Baltic, Ohio, operated a small bookstore at his home, and occasionally issued publications, including even an edition of Menno Simons' Works in German (1926). He has published the Neuer Amerikanischer Calender annually since 1930. This Calender contained an Amish "ministers' list" with years of birth and ordination indicated for each one.
The Holmes County Amish settlement was a typical close-knit Amish community, somewhat less tradition-bound than the more conservative Lancaster County settlement, and very similar in spiritual and cultural level to the Elkhart-Lagrange County settlement in northern Indiana. The Brunk Brothers' revival campaign and similar campaigns by other Mennonite evangelists held in the vicinity in the early 1950s had some influence, although the most common result was the transfer of awakened members to a Conservative congregation or to an Ohio Mennonite congregation.
Beginning with 1953, Ervin Gingerich, an Old Order Amish deacon, has published annually an Ohio Amish Directory, since 1956 in two volumes, the first of which gave complete ministerial and membership statistics and names for all Amish congregations in the Holmes County settlement, including also parochial school statistics. Vol. II did the same for all other Amish congregations in Ohio. The Budget, a weekly newspaper published at Sugarcreek, Ohio, since 1920, has long been "the Amish newspaper," not only for Holmes County but also for the entire United States with a circulation of well over 8,000 in the 1950s. It contained a remarkable amount of Amish local news "correspondence" from many Amish communities, as well as special articles of interest to the Old Order and Conservative groups. For over 30 years (1890-1920) the paper was edited and published by S. H. Miller and J. C. Miller, the former an Amish Mennonite minister of Shanesville.
In spite of the long history and size of the Holmes County Amish settlement practically nothing had been published about it. Two unpublished M.A. theses on this region were recorded by John A. Hostetler in his Annotated Bibliography on the Amish (Scottdale, 1951): Lyle Fletcher, "The Amish People of Holmes County, Ohio: A Study in Human Geography" (Ohio State University, 1932, pp. 98) and Velma Leeper, "The History, Customs, and Social Life of the Amish of Ohio with Special Reference to Holmes County" (Kent State University, Kent, Ohio, 1936, pp. 180). -- Harold S. Bender
1990 Article
The Holmes-Wayne-Tuscarawas Counties, Ohio, Old Order Amish Settlement -- the world's largest Amish settlement -- is located 35 miles (55 km) southwest of Canton, Ohio. Its first settlers arrived in 1807 from Somerset and Mifflin Counties in Pennsylvania; however, the community began developing when Jonas Stutzmen built a log cabin near Walnut Creek in 1809. In 1986 this hilly, picturesque community had over 110 church districts (congregations) serving a total population of about 30,000 people. Amish population has doubled in the last 25 years, due mainly to large family size.
The state of Ohio had 23 separate Amish settlements in 1987 which supported more than 150 parochial schools. The majority of these schools were found in the Holmes County area. Amish schooling reflected the seriousness given to child rearing, not only in the development of the basic skills, but more importantly, the moral content and cultural standards to be instilled in the socialization process.
The Holmes County community has experienced a greater amount of factionalism than is found in most Amish settlements. In 1987 more than 20 distinct groups of Amish and Mennonites could be identified by their variations of dress, modes of transportation, or degrees of modernity. Groups were often identified by the names of their leaders, usually a minister or bishop. Some groups avoided full fellowship with each other because of differences in church discipline. Such cultural and religious differences created a certain curiosity that attracted tourists. Holmes County has become one of the major tourist areas in the state, although not fully sanctioned by the Amish. Tourism has invited craft shops, restaurants specializing in Amish cooking, and other commercial endeavors to an otherwise quiet, tranquil community. Amish non-farmers are increasingly involved in the tourist business. The area is nationally known for its Swiss cheese and homemade Trail Bologna. Sugarcreek, a small town in Tuscarawas County, is well known for it publication of The Budget, a popular weekly newspaper that serves hundreds of Amish and Mennonite communities in the United States, Canada, and several other countries. -- Samuel L.Yoder
2017 Update
In 2017 the settlement had an estimated 274 church districts and an estimated population of 35,130.
Bibliography
Karch, A. P. "The Amish of Holmes County, Ohio." The Standard Atlas of Holmes County, Ohio. Cincinnati (1907).
Miller, S. H. "The Amish in Holmes County, Ohio." Mennonite Yearbook and Directory. (1918): 81 f.
"Twelve Largest Amish Settlements, 2017." Young Center for Anabaptist and Pietist Studies, Elizabethtown College. June 2017. Web. 31 August 2017. http://groups.etown.edu/amishstudies/statistics/twelve-largest-settlements-2017/
Yoder, John H. "Caesar and the Meidung." Mennonite Quarterly Review 23 (1949): 79-98, treats a case of a lawsuit regarding "shunning" in the Holmes-Wayne County settlement.
Author(s)
Harold S. Bender
Samuel L. Yoder
Date Published
August 2017
Cite This Article
MLA style
Bender, Harold S. and Samuel L. Yoder. "Holmes-Wayne-Tuscarawas Counties Old Order Amish Settlement (Ohio, USA)." Global Anabaptist Mennonite Encyclopedia Online. August 2017. Web. 11 Dec 2018. http://gameo.org/index.php?title=Holmes-Wayne-Tuscarawas_Counties_Old_Order_Amish_Settlement_(Ohio,_USA)&oldid=154149.
APA style
Bender, Harold S. and Samuel L. Yoder. (August 2017). Holmes-Wayne-Tuscarawas Counties Old Order Amish Settlement (Ohio, USA). Global Anabaptist Mennonite Encyclopedia Online. Retrieved 11 December 2018, from http://gameo.org/index.php?title=Holmes-Wayne-Tuscarawas_Counties_Old_Order_Amish_Settlement_(Ohio,_USA)&oldid=154149.
---

Adapted by permission of Herald Press, Harrisonburg, Virginia, from Mennonite Encyclopedia, Vol. 2, pp. 793-394; vol. 5, p. 388. All rights reserved.

©1996-2018 by the Global Anabaptist Mennonite Encyclopedia Online. All rights reserved.