Hunsberger, David Leslie (1928-2005)
From GAMEO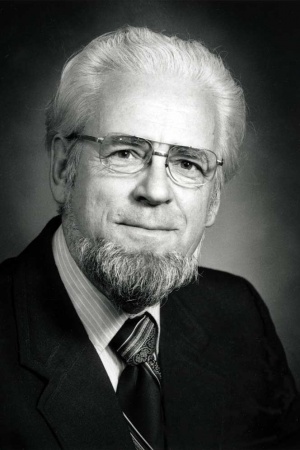 David L. Hunsberger: photographer; born 4 June 1928 to Noah Hunsberger (14 December 1877-14 March 1958) and Minnie (Witmer) Hunsberger (20 June 1887-25 December 1987), in Waterloo, Ontario, Canada. David had one younger sister, Grace (Gingerich), and two older step-brothers, John and Paul, offspring of his father's first marriage to Mary Ann Shantz (17 October 1881-6 February 1925). On 6 July 1956 David married  Katherine Nafziger (b. 12 January 1933), daughter of Amos Nafziger (7 December 1899-24 January 1990) and Nancy Gerber Nafziger (17 February 1900-6 August 2000). They had three sons and one daughter. David died at Kitchener–Waterloo Hospital (now Grand River Hospital) on 6 January 2005. Katherine died on 8 March 2007. They are buried in the St. Jacobs Mennonite Church cemetery.
Noah Hunsberger, David's father, was a rural mission worker and a minister at Erb St. Mennonite Church. The family lived on a farm north of Baden, Ontario for a few years during which time David was baptized at Shantz Mennonite Church. When David was 14, the family moved to St. Jacobs, Ontario where he joined the St. Jacobs Mennonite Church. David lived in St. Jacobs for 55 years working as a professional photographer.
David began his photography work with a borrowed camera until he could afford to buy his own equipment. He free-lanced, took photos of weddings and for catalogues and journals, but his great love was photographing nature. The family's hikes along the Bruce Trail, along the St. Jacob's Mill Race and in parks and their cave explorations frequently halted temporarily while David patiently got exactly the correct angle and light to photograph an interesting subject. He sensed profound spirituality amid natural beauty, something he passed on to his children.
Taking photographs would not support a family, David's parents warned. They were right--in the early days--so David took a bookkeeping course by correspondence and landed a job with B.F. Goodrich to pay the bills. Eventually he did photography full time, spending late night hours in his basement darkroom.
When a studio in his home was no longer adequate, he set up The Laughing Horse Gallery in a St. Jacobs shop which proved to be an attraction not only to tourists but also to Old Order Mennonites who dropped by to try to identify people in his photos. In the 1980s the studio, managed by Katherine and son Robert, moved to St. Jacob's Country Mill and then to Waterloo in 1996. It closed in 2000.
For nature photos, David usually used color but for Old Order Mennonite subjects he used black and white. In the 1990s, he began to work with a computer, learning how to manipulate earlier photos. He was a member of the Professional Photographers of Ontario and won numerous awards, mostly for his artistic photographs but also for commercial work.
Renowned for his nature photography, rural landscapes and many different Mennonite groups, particularly Old Order Mennonites, David provided an unique lens on Waterloo County history and life. The trust and understanding he developed between himself and Old Order Mennonites allowed him to capture the essence of that community. After his death, a significant collection of David's photography was donated to the Mennonite Archives of Ontario at Conrad Grebel University College in Waterloo, Ontario.
Bibliography
Hunsberger, David L, James Hertel, Koni Lattner, and J W. Fretz. People Apart: Portrait of a Mennonite World in Waterloo County, Ontario. St. Jacobs, Ont: Sand Hills Books, 1978.
Hunsberger, Fred. Interview by Ferne Burkhardt. Petersburg, Ontario (February 2011).
Leis, Bethany. "Capturing the Quiet in the Land: the David L. Hunsberger Photograph Collection." Mennonite Archives of Ontario. Web. 12 July 2011. http://publish.uwo.ca/~bleis/hunsberger/.
McClurg, Alisa. "A Life of Expression: Memories of David L. Hunsberger." Mennonite Heritage Portrait. 1987. Web. May 2009. http://www.mennoniteheritageportrait.ca/Report.php?ListType=Documents&ID=1764.
David Hunsberger Collection. Mennonite Archives of Ontario. Web. 12 July 2011. http://www.grebel.uwaterloo.ca/mao/slidecollections/HM10.28.htm.
Author(s)
Ferne Burkhardt
Date Published
July 2011
Cite This Article
MLA style
Burkhardt, Ferne. "Hunsberger, David Leslie (1928-2005)." Global Anabaptist Mennonite Encyclopedia Online. July 2011. Web. 17 Jul 2018. http://gameo.org/index.php?title=Hunsberger,_David_Leslie_(1928-2005)&oldid=94300.
APA style
Burkhardt, Ferne. (July 2011). Hunsberger, David Leslie (1928-2005). Global Anabaptist Mennonite Encyclopedia Online. Retrieved 17 July 2018, from http://gameo.org/index.php?title=Hunsberger,_David_Leslie_(1928-2005)&oldid=94300.
---

©1996-2018 by the Global Anabaptist Mennonite Encyclopedia Online. All rights reserved.