Isaak, Sally Schroeder (1926-2009)
Jump to navigation
Jump to search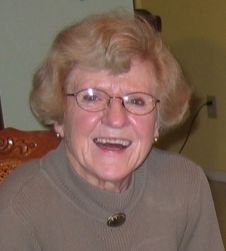 Sally Schroeder Isaak: teacher and radio broadcaster; born 19 February 1926 near St. Francois Xavier, Manitoba, Canada. She was the second of 10 children of Wilhelm Schroeder (1894-1975) and Sara (Doerksen) Schroeder (1896-1973), immigrants in 1925 from South Russia. Sally married Frank Isaak on 22 August 1987 at Steinbach, Manitoba. Sally died on 19 January 2009 in Abbotsford, British Columbia, Canada.
The Wilhelm Schroeder family moved to an isolated farming community near Steinbach, Manitoba in 1930. This is where Sally spent her early childhood, where she went to Grade school and where her father Wilhelm Schroeder served the little community with his preaching in the local school house.
A good Christian home, the experiences of church and Sunday School, and the memorization of 500 Bible verses from the gospel of John (which earned Sally a week at the Canadian Sunday School Mission Camp in Gimli, Manitoba), were all catalysts that helped her as she was confronted with the question of salvation. A gracious aunt helped Sally by pointing out Isaiah 43:1: "But now, this is what the Lord says - He who created you, O Jacob, He who formed you O Israel: Fear not, for I have redeemed you; I have summoned you by name; you are mine."
After completing high school, Sally continued her education and upon graduating from Teacher's College in Winnipeg became a school teacher. She also studied at Mennonite Brethren Bible College, Winnipeg, Manitoba; Regent College, Vancouver, British Columbia; Tabor College, Hillsboro, Kansas, and the Mennonite Brethren Biblical Seminary in Fresno, California.
Sally began her teaching career at Kleefeld, Manitoba. After three years at her first school she resigned this position and accepted a teaching assignment at Winkler, Manitoba, where she became involved in church work, singing in the Mennonite Brethren church choir and teaching Sunday school. Sally worked for one year with Mennonite Central Committee in California and returned to Winnipeg and teaching for one year after that.
From 1956 to 1987 Sally worked in the German Language Service of HCJB World Radio in Quito, Ecuador, with Mennonite Brethren Missions and Services International. While in Quito she was active in the local Spanish church. During that time Sally also earned a Masters degree in Communications from Wheaton Graduate School, Illinois, which honed her tools for good broadcasting. Although the letters from listeners, especially in South America, were positive and encouraging the programs beamed at German-speaking Europe were generally not as well received. Consequently Sally went to Germany in 1966 to spend several months living there to listen to, and interact with the listeners. The direct, honest criticism was perhaps painful at first but it provided insight, and programming was subsequently changed and tailored to meet the needs of the European radio audience.
Sally deeply appreciated her parents and siblings. Her furloughs centered on studies as well as family oriented activities. She valued her father's opinions and fondly spoke of her mother, who had became an "avid fan" of her short wave radio broadcasts. She dubbed her parents and siblings a "marvelous family."
In 1987 Sally settled in Abbotsford, BC with her husband Frank Isaak where she joined the Bakerview Mennonite Brethren Church. Sally was fluent in German and English as well as Spanish so it was here that she began a new ministry with Latin Americans leading to the establishment of Bakerview Hispanic Church.
Health problems, including diabetes, plagued Sally during her working years and cancer became a challenge in retirement. In spite of this her enthusiasm and energy, her spirit of good will and her unfaltering faith was an encouragement to all who knew her.
Bibliography
Isaak, Frank. Interview by author. Abbotsford, BC (6 November 2009).
Isaak, Sally Schroeder. Some Seed Fell on Good Ground. Winnipeg, MB: Windflower Communications, 1994.
Mennonite Brethren Herald (July 2009).
Schroeder, William. Interview by author (4, 7, 14 & 16 December 2009).
Author(s)
John J Neufeld
Date Published
December 2009
Cite This Article
MLA style
Neufeld, John J. "Isaak, Sally Schroeder (1926-2009)." Global Anabaptist Mennonite Encyclopedia Online. December 2009. Web. 19 Aug 2019. https://gameo.org/index.php?title=Isaak,_Sally_Schroeder_(1926-2009)&oldid=142775.
APA style
Neufeld, John J. (December 2009). Isaak, Sally Schroeder (1926-2009). Global Anabaptist Mennonite Encyclopedia Online. Retrieved 19 August 2019, from https://gameo.org/index.php?title=Isaak,_Sally_Schroeder_(1926-2009)&oldid=142775.
---

©1996-2019 by the Global Anabaptist Mennonite Encyclopedia Online. All rights reserved.