Krehbiel, Henry Peter (1862-1940)
From GAMEO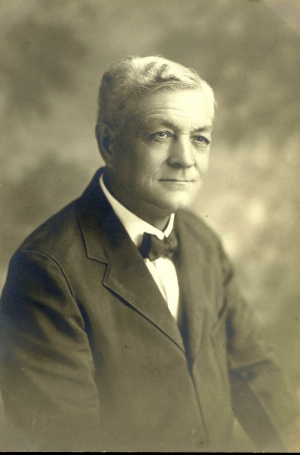 Henry Peter Krehbiel was born at Summerfield, Illinois on 13 April 1862, the third child of Christian and Susanna Amalie (Ruth) Krehbiel. He had three living sisters and eight brothers, of whom three preceded him in death. His parents immigrated from the Palatinate. On 21 November 1887 he was married to Matilda Emelia Kruse of Halstead, Kansas. To this union two children were born: Elva Agnes (Leisy) of Dallas, Texas, and Ariel Kruse, deceased in infancy. In 1878 he and his brother J. W. Krehbiel went to Kansas to break prairie for the coming of the Christian Krehbiel family to Kansas. In 1881 Henry attended Emporia Normal at Emporia, Kansas, then taught at the Quaker School in  Harvey County for one year, after which he attended Kansas University for a year. For five years he was manager of a hardware store in Halstead. Then in 1892, feeling called to the ministry, he took his family to Oberlin, Ohio, and in 1897 received the B.D. degree from the Oberlin Theological Seminary.
During the years at Oberlin he was supply pastor for the Mennonite churches in Sterling and Wadsworth, Ohio. In 1897-1900 he was pastor of the First Mennonite Church at Canton, Ohio, continuing to serve the church at Sterling. While here he also founded and edited a Mennonite paper, The Review. He also was active in promoting Bluffton College, at Bluffton, Ohio. In October 1900 the family returned to Newton, where he took over the management of the bookstore later known as The Herald Book and Publishing Company. He also published and edited the German Mennonite newspaper Post und Volksblatt, later named Der Herald. In 1923 he established The Mennonite Weekly Review.
In 1905 he began his regular trips to Burrton, Kansas, where he organized a church at the request of the Home Mission Board of the Western District Conference. Later he was ordained as elder of the church. In 1912 he started a mission church in Hutchinson, Kansas.
Krehbiel held many offices and committee posts in various conferences. He was secretary of the Home Mission Board of the General Conference, 1914-1923; member of the Mennonite Immigration Bureau which he helped organize in 1906; member of the special committee on merger of Bethel College with the Western District Conference, 1916; member of the Committee on Exemptions for both the Western District and General Conferences, 1917; member of Committee on War Exemptions for All Mennonites, 1918. In 1917 he was elected Conference representative for Bethel College. He organized the Mennonite Settlers' Aid Society in 1918. From 1908- he was statistician for the General Conference, and from 1913 the American representative for the Mennonitisches Lexikon.
Among his publications are numerous pamphlets. War Being Inconsistent with the Teachings and Spirit of Christ won first prize in a Quaker contest in 1895. Others were: "How Can Mennonite Doctrines Receive More Recognition," Bundesbote, 1895; "Mennonite Settlements in Kansas," Mennonite Yearbook, 1896; "Our Position Toward Secret Societies," Conference paper, 1896 (Mennonite Book Concern, 1898); "History of Education Among the Mennonites" (Herald Publishing Co., 1925), a paper read at the Bethel College Bible Course; "What Is a Pacifist?" (Herald Publishing Co., 1931), a paper read at the Quaker-Mennonite-Brethren Conference at Mount Morris, Illinois.
He further wrote: History of the Mennonite General Conference, Vol. I, 1898 and Vol. II, 1938 (Vol. III of the history was projected but not completed); War, Peace, Amity, 1937.
His activities were varied. In 1896 he invented an endless sickle; in 1900 a newspaper file for libraries. In 1909 he was a member of the Kansas Legislature as representative from Harvey County. In 1914-1918 he interested himself in Mennonite expansion by opening a colony in Wyoming. During World War I he concerned himself with the position of the conscientious objector and traveled with a committee to Washington, D.C., for conferences with the Secretary of War, and also visited Mennonite young men in military camps. After the war he turned his energies to helping refugee Mennonites abroad. He opened two colonies, one near Spokane, Washington, and the other at Cuauhtemoc, Mexico. He was greatly interested in the historical background of the Mennonites. In 1927 he and his wife undertook a trip around the world which carried them to many Mennonite churches in Europe, and to Mennonite missions in India.
In 1931 he lost his wife. In 1936 he married Katie A. Friesen of Burrton. On 2 December 1940 he passed away at his home in Newton. He lies buried in the mausoleum at Halstead, Kansas.
Author(s)
Elva Krehbiel Leisy
Date Published
1957
Cite This Article
MLA style
Leisy, Elva Krehbiel. "Krehbiel, Henry Peter (1862-1940)." Global Anabaptist Mennonite Encyclopedia Online. 1957. Web. 16 Feb 2019. http://gameo.org/index.php?title=Krehbiel,_Henry_Peter_(1862-1940)&oldid=113471.
APA style
Leisy, Elva Krehbiel. (1957). Krehbiel, Henry Peter (1862-1940). Global Anabaptist Mennonite Encyclopedia Online. Retrieved 16 February 2019, from http://gameo.org/index.php?title=Krehbiel,_Henry_Peter_(1862-1940)&oldid=113471.
---

Adapted by permission of Herald Press, Harrisonburg, Virginia, from Mennonite Encyclopedia, Vol. 3, pp. 237-238. All rights reserved.

©1996-2019 by the Global Anabaptist Mennonite Encyclopedia Online. All rights reserved.