Kutz, Jacob Alexander (1903-1997)
From GAMEO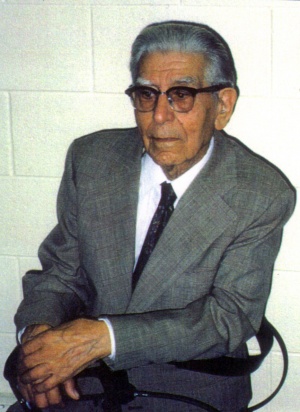 Jacob A. Kutz: church and conference leader and barber; born 21 October 1903 in the village of Mariawohl, in the northwest corner of the Molotschna Colony, Ukraine, to Alexander Ivanovich and Vera Evanowna Kutzenko, members of the (Greek) Orthodox  church who had slowly become part of the Molotschna environment. He was the oldest of five children. In Canada Jacob married Sara Giesbrecht on 2 September 1928 and together they raised three children, Arthur W., Vera Margaret and Helga Irene. Jacob died 1 February 1997 at Tabor Manor in St. Catharines, Ontario.
Although the family maintained its strict Orthodox roots in the Ukraine, Jacob was educated in the Mennonite schools of the district. He was deeply impressed by his teachers, to the point where after graduating from a Mennonite elementary school in Mariawohl, a Mennonite high school in Gnadenfeld and the Mennonite business college in Halbstadt, he was ready to join the Mennonite Church.
Then came the spiritual revivals in the Molotschna Colony and he joined the Mennonite Church in Landskrone. At the same time, war and revolution swept through the area and he was imprisoned and later forced into military service. However, his deep faith and his strong resistance to war led to his exemption from military service.  Soon after that he obtained permission to emigrate to Canada. Jacob left his family behind and landed in Quebec in July 1926. Here he changed his name to Kutz from Kutzenko.
After spending the obligatory time working in northern Ontario, Jacob studied to become a barber and settled in Kitchener, Ontario. Here, in 1928, he joined the Kitchener Mennonite Brethren Church (KMB). From 1930 on he actively pursued his career as a barber but even more actively, his service to God. He expressed his deep faith and determination in decades of church and conference work. At the KMB Church Jacob taught an adult Sunday School class for over forty years, was treasurer for 14 years,  secretary for 19 years and church correspondent for the Mennonitische Rundschau a number of years. For a time he was also church moderator. The collection and writing of historical and statistical data for the Ontario Conference as well as the KMB church were also part of his work. As conference leader, Jacob and his family hosted many Mennonite visitors from across Canada. All of this made for a very busy church career.
Jacob's service to the Ontario Conference of MB Churches must be stressed as well. He served as provincial treasurer for 31 years, from 1947 to 1978, as  Home Missions Treasurer for a number of years and as Board of Trustees Treasurer for many years -- a true labor of love.
Through all this church work Jacob Kutz remained a dedicated student of the Word, for decades an active member of the KMB choir, a loyal and loving father and a busy volunteer to the end. At Tabor Manor in St. Catharines where he lived from 1993 to 1997, he volunteered in the local elementary school. In 1996 the Lt. Governor of Ontario recognized his lifetime of volunteer work with a "Senior Achievement Award." (given to individuals for outstanding volunteer work in their local community). He died at peace and surrounded by his family -- a remarkable and faithful servant of God.
Bibliography
"Jacob Alexander Kutz." Mennonite Brethren Herald. (16 May 1997): 27-28.
Kutz, Jacob Alexander. My Life in the Ukraine & Canada as I Remember it. Peterborough, ON: Ingrid Harder, 1996.
Author(s)
Ed Boldt
Date Published
April 2006
Cite This Article
MLA style
Boldt, Ed. "Kutz, Jacob Alexander (1903-1997)." Global Anabaptist Mennonite Encyclopedia Online. April 2006. Web. 15 Aug 2018. http://gameo.org/index.php?title=Kutz,_Jacob_Alexander_(1903-1997)&oldid=142784.
APA style
Boldt, Ed. (April 2006). Kutz, Jacob Alexander (1903-1997). Global Anabaptist Mennonite Encyclopedia Online. Retrieved 15 August 2018, from http://gameo.org/index.php?title=Kutz,_Jacob_Alexander_(1903-1997)&oldid=142784.
---

©1996-2018 by the Global Anabaptist Mennonite Encyclopedia Online. All rights reserved.