Liberalism
Jump to navigation
Jump to search
Liberalism is a product of the Enlightenment and of Deism. In America it "came of age" ca. 1750-1820. Both the Enlightenment and Deism correlated with the American Revolution and the rise of the new nation. Benjamin Franklin (1706-90) and Thomas Jefferson (1743-1826) were "free thinkers," as were Ethan Allan (1738-98), Thomas Paine (1737-1809; "that dirty little atheist"), and many others. All believed that there is one God, not three, that sin derives from human choices, that reason is "my church" and the Bible is largely the product of "priestcraft" which has corrupted the simple message of Jesus with metaphysical speculations (Jefferson). The Sermon on the Mount is the heart of the Bible. Works lead to salvation, Christ's death is a moral example, and there will be a judgment at some future time but everyone will enjoy blessedness (universalism).
Several movements grew out of, or against, this background, including theological liberalism, evangelical liberalism (or progressive orthodoxy), Transcendentalism, and scientific modernism. Such evangelical liberals as Walter Rauschenbusch (1861-1918), Washington Gladden (1836-1918), and Horace Bushnell (1802-1876) condemned Deism as terrible infidelity. They defended revelation and miracles. Bushnell's book, Christian Nurture (1847), for example, stressed the importance of Christian education and, thereby the work of the church. He stressed the deity of Christ more than his humanity, but in interpreting the atonement he gave greater emphasis to the moral influence theory than to substitutionary salvation. Rauschenbusch placed great emphasis on a personal conversion experience and on discipleship. The goal of evangelical liberals was to realize the kingdom of God on earth through preaching, teaching, and nonviolent social action.
Theological liberalism included Charles W. Eliot (1834-1926), William Newton Clarke (1840-1912), Harry Emerson Fosdick (1878-1969) and others. In their view Christianity was truth and reason combined, the Bible should be read like any other book, the effects of sin are more important than its origin, and revelation affirms the mystery and miracle of the incarnation, Christ's death and resurrection, and other eternal truths. They tended to affirm historicism, that is, the inter-relatedness of all events past and present.
This historicism led to a variety of liberal emphases, chief among which was probably the affirming of evolution, thereby undercutting belief in a literal understanding of the Genesis account of creation. In this they took their cue from Darwin's Origin of species (1859). While liberals insisted that evolution was simply "God's way of doing things," this position became a major challenge to biblical authority. It marked the beginning of biblical criticism as method. Beyond this liberals also applied evolution to society and became firmly optimistic about the progressive future of the human race. This meant a weakened doctrine of personal and corporate sin. Then too, a new interest in the history of religions led to considerable liberal interest in the truths of other religions and, thus, to questions about the uniqueness of Christianity. This, in turn, had a negative impact on missions.
Interest in comparative religions was also strong among Transcendentalists like William Ellery Channing (1810-1884), Ralph Waldo Emerson (1803-1882) in America, and, of course, F. D. E. Schleiermacher (1768-1834) in Germany. In this view oriental religions have many truths to teach. Transcendentalists stressed taking feelings, intuitions, and nature seriously. There is little difference between the natural and revealed order. Jesus was divine because of how he lived. He was the world's best teacher. Religious consciousness is primary. Christology in this theology was generally weak, mystical, almost pantheistic. Elements of Romanticism were embodied in the movement.
Finally there was also scientific modernism, represented best by the "Chicago School" of the early 20th century -- Shailer Mathews (1863-1941), S. J. Case (1872-1947), and Henry N. Wieman (1884-1975). That "era" had run its course in Chicago by the end of World War II. All whom we have identified as scientific modernists were committed to applying the scientific method to biblical, theological, and historical studies. God became an objective, verifiable reality. Religion, to them, was a human phenomenon to be found world-wide in a variety of forms, including Christianity. While scientific modernism shared many assumptions with liberalism, and liberals used higher criticism, the rigor and presuppositions of scientific modernism's methodology made it a different movement in its time. Thus it becomes confusing to use the terms modernism and liberalism synonymously without specific explanation of what is meant in a given context.
The Mennonite response to these issues cannot be understood without a parallel reading of the impact of Fundamentalism upon them. The 25 years from 1920 to 1945 were probably the most crucial for Mennonites in relation to this controversy, though some point to articles in church papers as early as the late 1890s warning against the dangers of higher criticism (Schlabach, 113). A primary continuing difficulty is to distinguish between classic Fundamentalism (cf: The Fundamentals, 12 vols, 1910-1914) and simple Mennonite conservatism -- the former being post-critical, the latter pre-critical. It is difficult to measure scattered Mennonite theology against propositional Fundamentalism, to sort out the cultural variables, and to remain objectively irenic.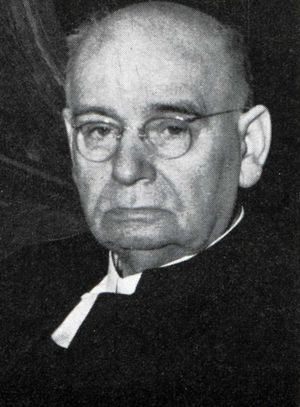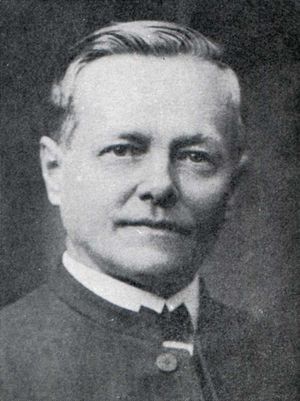 Two prominent leaders who identified themselves as Fundamentalists were John Horsch and Daniel Kauffman. Both published numerous articles in church papers and wrote books in defense of the true faith, Horsch with Modern Religious Liberalism in 1920, and Kauffman with The Two Standards in 1924, as well as editing the widely used Doctrines of the Bible (1914). Horsch's first volume was not directed against Mennonites per se, but a second volume in 1924 was The Mennonite Church and Modernism. Schools and leaders with advanced degrees were particularly suspect, and not without reason since, for example, some had taken advanced degrees at the U. of Chicago or at universities in Europe. No one directly identified themselves as liberals or modernists, but the Christian exponent took up the defense against elements of Fundamentalism in a 16-page biweekly publication (1924-28).
The tensions are a matter of historical record and can be traced in the appended bibliography. Some Goshen College faculty moved to Bluffton College, which increased Mennonite Church (MC) suspicion of the General Conference Mennonite Church. Goshen College closed its doors for a year (1923-24). The founding of Grace Bible Institute in 1943, now Grace University (Omaha, Nebraska, USA), was at least partly the result of criticism of Bethel College (Kansas). Other realignments occurred, but peace did prevail and a new generation of Mennonites was hardly aware of this history unless they were working specifically on related issues. In 1958 the Mennonite Church and the General Conference Mennonite Church began joint seminary training and by the late 1980s many joint projects were in process, including the drafting of a new confession of faith.
A parallel flow of events occurred in Canada, primarily in Ontario, as part of the debate in the United States. It may be that there was greater awareness in Canada of how accepting Fundamentalist language and thought distanced Mennonites from historic Anabaptism. "Historic Anabaptism and North American fundamentalism nonetheless represented two different 'forms of faith,' which, according to J. B. Toews, clashed with each other" (Epp, 56). Quoting Paul Martin in another context, Epp says ". . . Mennonites showed their greatest interest in the Fundamentalists. I believe it was at this stage that we learned to use the Bible in very legalistic and prescriptive ways." But healing also came to the Canadian scene, though a small committee of "Concerned Mennonites" (pastors) continued to meet on these issues from time to time.
The issues of liberalism and modernism were not dead in the late 1980s, but they were not inter-conference issues. The Sword and Trumpet periodical continued to alert readers to issues of unorthodoxy among Mennonites. Some church leaders complained of the inroads of "secular humanism" into schools and pulpits, but the meaning of that term had not yet been clearly defined. Was the rapid increase of pastoral counseling training drawing on humanistic roots? Did the vast network of Mennonite mental health centers across North America violate biblical truths in their therapy? Or was secular humanism a commentary on a perceived increasing secularization of North American Mennonite faith and culture? As part of the total North American scene Mennonites too had moved from earlier left and right theological polarities to a broad middle ground which most people simply preferred to call Evangelical. This broad coalition, of course, itself tended to make that term hard to define.
See also Liberalism in the Dutch Mennonite Church
---
Bibliography
Ahlstrom, Sidney E. A Religious History of the American People. New Haven, 1972: ch. 46.
Averill, Lloyd J. American Theology in the Liberal Tradition. Philadelphia, 1967.
Carnell, Edward J. The Case for Orthodox Theology. Philadelphia, 1959.
DeWolf, L. Harold. The Case for Theology in Liberal Perspective. Philadelphia, 1959.
Epp, Frank H. Mennonites in Canada: a People's Struggle for Survival. Toronto: Macmillan, 1982: ch. 2.
Gospel Herald, various issues 1922-25.
Handy, Robert T. A History of the Churches in the United States and Canada. New York, 1977: ch. 9.
Haury, David A. Prairie People: a History of the Western District Conference. Newton: Faith and Life, 1981: ch. 9.
Horsch, John. Modern Religious Liberalism. Scottdale, PA 1920.
Horsch, John. The Mennonite Church and Modernism. Scottdale, PA, 1924.
Juhnke, James C. Vision, Doctrine, War: Mennonite Identity and Organization in America, 1890-1930, The Mennonite Experience in America, vol. 3. Scottdale, PA: Herald Press, 1989.
Kaufman, E. G., comp. Mennonite Pioneers. North Newton, KS, 1973.
Kauffman, Daniel, ed. Doctrines of the Bible. Scottdale, PA: Mennonite Publishing House, 1914.
Kauffman, Daniel. The Two Standards. Scottdale, PA: Mennonite Publishing House, 1924.
Kauffman, J. Howard and Leland Harder, eds. Anabaptists Four Centuries Later: a Profile of Five Mennonite and Brethren in Christ Denominations. Scottdale, PA: Herald Press, 1975.
Kraus, C. Norman. "American Mennonites and the Bible, 1750-1950." Mennonite Quarterly Review 41 (1967): 309-29.
Marty, Martin E. Modern American Religion, vol. 1, The Irony of It All, 1893-1919. Chicago, 1986.
Marsden, George M. Fundamentalism and American Culture. The Shaping of Twentieth-Century Evangelicalism: 1870-1925. New York, 1980.
Marsden, George M., ed. Evangelicalism and Modern America. Grand Rapids, 1984.
Pannabecker, S. F. Faith in Ferment. Newton, 1967.
Pannabecker, S. F. Open Doors: a History of the General Conference Mennonite Church. Newton, KS: Faith and Life, 1975.
Schlabach, Theron F. Gospel versus gospel. Scottdale, PA: Herald Press, 1980.
Mennonite, various issues, 1923.
Toews, Paul. "Fundamentalist Conflict in Mennonite Colleges: a Response to Cultural Transitions?" Mennonite Quarterly Review 57 (1983): 241-56.
Additional Information
Charles Darwin's Origin of Species
Author(s)
Cornelius J Dyck
Date Published
1989
Cite This Article
MLA style
Dyck, Cornelius J. "Liberalism." Global Anabaptist Mennonite Encyclopedia Online. 1989. Web. 15 Aug 2020. https://gameo.org/index.php?title=Liberalism&oldid=143638.
APA style
Dyck, Cornelius J. (1989). Liberalism. Global Anabaptist Mennonite Encyclopedia Online. Retrieved 15 August 2020, from https://gameo.org/index.php?title=Liberalism&oldid=143638.
---

Adapted by permission of Herald Press, Harrisonburg, Virginia, from Mennonite Encyclopedia, Vol. 5, pp. 518-520. All rights reserved.

©1996-2020 by the Global Anabaptist Mennonite Encyclopedia Online. All rights reserved.