Loewen, Cornelius Paul (1926-1985)
Jump to navigation
Jump to search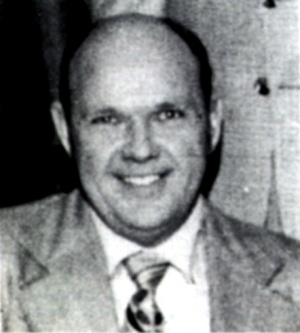 Cornelius Paul "Cornie" Loewen: businessman; b. 9 October 1926 in Steinbach, Manitoba to Cornelius T. "C. T." and Helena (Friesen) Loewen. He was the sixth child in a family of three sons and four daughters. In 1947 he married Annie Hildebrand. They had five sons and one daughter. Cornie Loewen d. 20 October 1985 in Steinbach, Manitoba.
Loewen was baptized in 1944 in the Steinbach Kleine Gemeinde Church which later became the Evangelical Mennonite Church (EMC). Loewen was very active in the EMC church and conference throughout his life. In the 1950s and 1960s Loewen was involved with the Sunday School Department, the Trustee Committee, the Mission Board and the Church Board. From 1962 to 1971 he sat on the EMC Conference Mission Board and he chaired the board from 1970 to 1971. During his time on the Board he traveled to South America and the Congo. His interest in mission continued after his term and he traveled to Paraguay in 1974 and 1980, helping to establish a Mennonite-run radio station there, and to Africa in 1982 to visit African Inter-Mennonite Mission stations.
Loewen also put much time and energy into the family lumber business. While Loewen's first jobs in the family business were as an ice delivery boy and then a delivery truck driver, at the age of 23 Loewen moved with his wife Annie to become manager of the Loewen Lumber Co., the family's lumberyard in Rosenort, Manitoba. After five years Cornie, Annie and their growing family returned to Steinbach and by 1958 Loewen was General Manager of the Steinbach business. The business grew throughout the 1950s and 1960s under the management of Cornie Loewen and his two older brothers, Edward and George. In 1971 Edward sold his share in the business due to ill health and Cornie and George divided the business between them; Cornie took the window factory and its branches in Edmonton and Kitchener and George kept the store. The window manufacturing business continued to grow in the 1970s and 1980s; the Steinbach plant was expanded in 1973, 1978 and 1985.
Loewen also found time for leisure, for travel and for organizational involvement beyond Steinbach. Loewen was an avid golfer, skier and pilot. He traveled around the world with his family and with friends. He was named to many committees which reached beyond his growing business and hometown. In 1971 Loewen traveled to the Soviet Union with fellow Steinbachers Peter and Edwin Barkman of Barkman Concrete, as part of a Canadian delegation sponsored by the Federal Department of Industry, Trade and Commerce and the Canadian Branch of the National Precast Concrete Association. In 1976 Loewen was appointed to a forest products consultative committee mandated to provide a link between the industry and Ottawa. In 1978 he was named to the board of directors of the Manitoba Development Corporation. He also sat on the boards of the Lumberman's Insurance Company, Golden West Broadcasting Ltd., of which he became president in 1980, and in 1985, only months before he passed away, he was named to the board of directors at Atomic Energy of Canada Limited.
Loewen died suddenly in Steinbach in October 1985 only ten days after the announcement of a $3 million expansion of the millwork factory. He is remembered as a generous employer who regretted that the business was getting so big that he could no longer know each employee personally. Loewen was a Christian businessman who believed he was only a steward of the business which God had entrusted to him. As well as being a businessman, Loewen was a man who loved his family, and loved travel and leisure.
Bibliography
Reimer, Al. "C. P. Loewen, 1926-1985: A personal tribute." Mennonite Mirror (November 1985): 15.
Loewen, Melvin J. The Descendants of Cornelius W. Loewen and Helena Bartel. Goshen, IN and Steinbach, MB: Heritage Classics, 1994.
Mills, Rachel Joanne. "Gender, Ethnicity, and Religion in the making of Entrepreneurship: The Loewen Lumber Business in Steinbach, Manitoba, 1877-1985." M.A. Thesis, Universities of Manitoba and Winnipeg, 2003.
Author(s)
Rachel Joanne Mills
Date Published
December 2004
Cite This Article
MLA style
Mills, Rachel Joanne. "Loewen, Cornelius Paul (1926-1985)." Global Anabaptist Mennonite Encyclopedia Online. December 2004. Web. 12 Aug 2020. https://gameo.org/index.php?title=Loewen,_Cornelius_Paul_(1926-1985)&oldid=57953.
APA style
Mills, Rachel Joanne. (December 2004). Loewen, Cornelius Paul (1926-1985). Global Anabaptist Mennonite Encyclopedia Online. Retrieved 12 August 2020, from https://gameo.org/index.php?title=Loewen,_Cornelius_Paul_(1926-1985)&oldid=57953.
---

©1996-2020 by the Global Anabaptist Mennonite Encyclopedia Online. All rights reserved.