Martin, John M. (1910-2011)
From GAMEO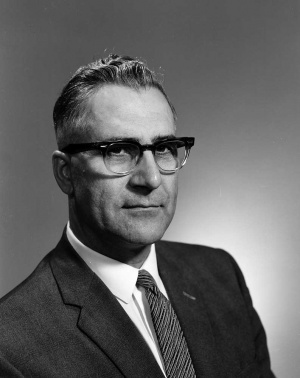 John M. Martin: farmer and itinerant preacher, was born 16 November 1910 to John F. Martin (31 May 1865-9 February 1958) and Elizabeth (Martin) Martin (19 August 1868-5 April 1932) on an Old Order Mennonite farm in Wellesley Township, Waterloo County, Ontario. John was the 11th in a family of 12 children. His formal education began at Bricker School, where it also ended on the completion of eighth grade. In his teen years he worked on the home farm and as a hired man on neighboring farms. On 8 May 1932 John married Melissa Brubacher (25 February 1911- ). In the ensuing years they became parents of Ruth, Doris, Ernie, Timothy, Eleanor, and Murray and Neil. They had 22 grandchildren, 48 great grandchildren, and two great, great grandchildren. John M. Martin died 3 May 2011.
On 24 December 1930, John's brother Addison was instantly killed at the railway crossing just west of the hamlet of Wallenstein. This experience led John to examine his life, to attend instruction classes and to be baptized into the Old Order Mennonite Church. Eight months later Martin had a conversion experience while attending special meetings at a non-Mennonite log church in Wallenstein. He later viewed this as the beginning of "a life of testimony for God."
In 1934 John and Melissa, with others, left the Old Order Church. This small group began the Hawkesville Gospel Mission in the village of Hawkesville. It was in the tradition of the Plymouth Brethren denomination. During 1933 and 1934, under Martin's leadership, they carried on open-air meetings in many nearby towns. Significant numbers of local Mennonites and Old Order Mennonites were attracted to the services and became part of the group.
John Martin led in the planting of "simple New Testament churches." In April 1935 he and Melissa left the farm and made their way to the northern Ontario town of Matheson, where he and his brother, Sidney, helped to build a log building for the fellowship. In the summer of 1935, John and Sidney also held meetings in school houses and homes. After six months of this work, John and Melissa returned to his home farm in Wallenstein. But the spring of 1936 they left the farm and John began a ministry that took him to many towns and villages throughout southern Ontario. Some meetings were held in his gospel tent. Later, John purchased a "gospel trailer" that served as his mobile home.
In 1940, Martin started a Sunday afternoon program called "The Evangel Hour," a radio broadcast over CKCR in Kitchener. In the 1950s and 1960s, John often preached and taught in small communities of Northern Ontario, including logging camps and First Nations villages. His ministry also took him to eastern Ontario and the province of Quebec. In 1964 the Martins became involved in the Graphite Bible Camp in eastern Ontario. This work ended in 1971. Some years later, under John's leadership, the Conestoga Bible Camp opened, not far from the village of Hawkesville
In the summer of 1967, the Hawkesville Bible Chapel was built. John led in the growth of this congregation. In less than 10 years the Woodside Bible Chapel was built in the town of Elmira, also under John's guidance. In the ensuing years John's ministry led to the opening of churches in the southern Ontario towns of Listowel, Exeter, Clinton and Tavistock. These churches attracted numerous persons of Mennonite background. John and Melissa moved to Tavistock in 1980, and remained there until his death. At the time of his death, John and Melissa had been married just a few days shy of 79 years.
John Martin was a self-made man, with no formal education beyond eighth grade. In his last days he wrote, "My wife and I can add our testimony to many others, that in six decades of full-time service, God has met every need.
Bibliography
Martin, John. Saved to Serve-The Treasure in Earthen Vessels. Grand Rapids Michigan, 1994.
Martin, Ruth. Interview by author (February, 2012).
John Martin Obituary-The Stratford Beacon Herald. May, 2011
Author(s)
Del Gingrich
Date Published
November 2012
Cite This Article
MLA style
Gingrich, Del. "Martin, John M. (1910-2011)." Global Anabaptist Mennonite Encyclopedia Online. November 2012. Web. 16 Jan 2019. http://gameo.org/index.php?title=Martin,_John_M._(1910-2011)&oldid=83435.
APA style
Gingrich, Del. (November 2012). Martin, John M. (1910-2011). Global Anabaptist Mennonite Encyclopedia Online. Retrieved 16 January 2019, from http://gameo.org/index.php?title=Martin,_John_M._(1910-2011)&oldid=83435.
---

©1996-2019 by the Global Anabaptist Mennonite Encyclopedia Online. All rights reserved.