Neuenschwander, Jesse (1933-1999)
Jump to navigation
Jump to search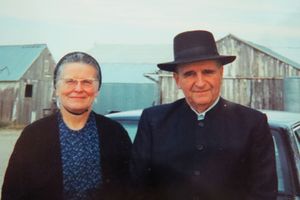 Jesse Neuenschwander: bishop, editor and conference leader, was born in Kidron, Ohio, USA on 17 August 1933 to Jacob M. Neuenschwander (6 May 1893-24 December 1974) and Lydia Martha Amstutz Neuenschwander (20 December 1900-18 October 1975). He was the sixth son and seventh child in a family of 10 children. On 11 September 1954 he married Helen Louise Heistand (16 March 1935-31 August 2017). Jesse and Helen had 10 children, including one foster child. Jesse Neuenschwander died 31 May 1999 of a heart attack. He and Helen are buried in the White Oak Mennonite Church cemetery.
Jesse grew up on his father's farm and as part of the Sonnenberg Mennonite Church near Kidron, Ohio, then an independent Mennonite congregation. Jacob Neuenschwander was one of the congregation's ministers, having been ordained on 22 January 1931 in a lot that included 22 men. Jacob had a conservative mindset and over the years resisted some of the changes proposed by laypersons in the congregation, including allowing radios and joining one of the Mennonite Church's district conferences. Jacob and his family withdrew from the Sonnenberg congregation in 1952, and in 1953 joined a nearby Old Order Mennonite (Wisler) congregation.
It was within this milieu that Jesse Neuenschwander matured in his religious thinking. In the early 1950s he attended Brunk Brothers Revival meetings in Lancaster, Pennsylvania. While there he met Helen Heistand, whom he married in 1954. At that time of his marriage, Jesse joined the Manheim Mennonite Church, Helen's congregation, and part of the Lancaster Mennonite Conference. After completing his I-W service near Chambersburg, Pennsylvania, Jesse and Helen returned to Ohio where they farmed and participated in the County Line Mennonite Church, a "Wisler" congregation.
On 13 December 1959 Jesse Neuenschwander was ordained as a minister for the Manheim Mennonite Church. The family moved back to Pennsylvania where they continued farming along with Jesse's ministerial work. He continued to encourage a conservative church life, and served on several boards in the Lancaster Conference, including the Nonconformity Committee.
During 1966 Jesse participated in conversations with other ordained leaders in the Lancaster Conference who had similar concerns. They began to hold meetings not explicitly sanctioned by the conference. In 1967 Jesse Neuenschwander withdrew from leadership at the Manheim congregation, and pastored a new White Oak Mennonite Church that a year later became part of the then forming Eastern Pennsylvania Mennonite Church (EPMC). In December 1973 he was ordained as a bishop in that group.
As a leader in the Eastern Pennsylvania Mennonite Church, Jesse contributed many articles to the Eastern Mennonite Testimony, and served as an associate editor for 15 years. He served as chair of the Publication Board of EPMC, as well as a board member of Rod and Staff Publishers. He was secretary of the Mennonite Messianic Mission board for 26 years and served on the Bahamas Committee for 16 years. He traveled widely to speak in conservative Mennonite congregations.
Jesse Neuenschwander was skilled in developing relationships. He listened graciously to those who disagreed with him and raised questions in such conversations without becoming defensive. His warm leadership style and influence left a rich heritage.
Bibliography
Auker, Kenneth. Keeping the Trust: Issues surrounding the Formation of the Eastern Pennsylvania Mennonite Church. Ephrata, Pa.: Eastern Mennonite Publications, 2013.
"Dalton, Ohio." Gospel Herald 23, no. 45 (5 February 1931): 956.
"Field Notes." Gospel Herald 52, no. 49 (22 December 1959): 1084.
"Jesse Neuenschwander." SAGA (Swiss Anabaptist Genealogical Association) Genealogical Website. Web. 4 February 2019. http://69.197.190.243/getperson.php?personID=I9562&tree=moser .
Kreider, Kenton R. "Jesse Neuenschwander (1933-1999)." The Historical Journal 20, no. 2 (October 2014): 4.
Lehman, James O. "Sonnenberg: The Pioneer Church in the Swiss Mennonite Immigration to America in the Nineteenth Century." Unpublished paper, 1958? Copy in Milton Good Library, Conrad Grebel University College, Waterloo, Ontario.
Author(s)
Sam Steiner
Date Published
February 2019
Cite This Article
MLA style
Steiner, Sam. "Neuenschwander, Jesse (1933-1999)." Global Anabaptist Mennonite Encyclopedia Online. February 2019. Web. 16 Jul 2019. https://gameo.org/index.php?title=Neuenschwander,_Jesse_(1933-1999)&oldid=163207.
APA style
Steiner, Sam. (February 2019). Neuenschwander, Jesse (1933-1999). Global Anabaptist Mennonite Encyclopedia Online. Retrieved 16 July 2019, from https://gameo.org/index.php?title=Neuenschwander,_Jesse_(1933-1999)&oldid=163207.
---

©1996-2019 by the Global Anabaptist Mennonite Encyclopedia Online. All rights reserved.