Niedorp (Noord-Holland, Netherlands)
Jump to navigation
Jump to search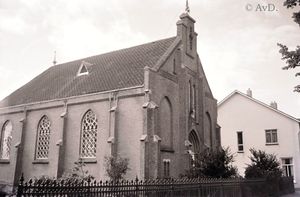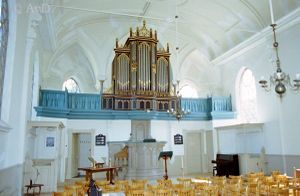 Nieuwe Niedorp and Oude Niedorp (formerly commonly called Nierop) are two villages in the province of North Holland. Soon after 1530 the Anabaptists were numerous here. On 6 March 1535, the attorney general of the Court of Holland, Reinier Brunt, made a raid on Nieuwe Niedorp nd arrested eight Anabaptists; he had them executed in Monnikendam, where he had set up his headquarters. Several days later he seized three more, and had them hanged on the spot; the house of Jan Walichs, where they had worshiped, was torn down; and in June 1535 others were apprehended. Still others escaped, for example, Jan Gijsbrecht, who in 1542 fled from Niedorp to Emden, East Friesland.
Afterward a Mennonite congregation developed in each village, though probably neither was large. The Oude Niedorp group belonged to the Frisian branch and was a member of the Frisian Sociëteit in North Holland. The group in Nieuwe Niedorp called itself the United Waterlander and Flemish congregation, and later belonged to the Zonist Sociëteit.
The two Mennonite congregations united in 1803 under the name Oude en Nieuwe Niedorp. In 1857, both church buildings being in a state of collapse, it was decided to build a new one in Nieuwe Niedorp. It was dedicated 25 October 1857 by Inne Thyssen Taconis. The old church of Oude Niedorp was demolished in 1860. The 1857 meetinghouse of Nieuwe Niedorp was replaced by a new one in 1879. The baptized membership was 32 in 1847, 64 in 1861, 164 in 1900, and 109 in 1957. During most of the 18th century the pulpits of both Oude and Nieuwe Niedorp were vacant. In 1813-1831 Johannes Michiels Bakker served here, and in 1841-1865 Inne Thyssen Taconis, the last untrained preacher; he had been appointed as ministerial candidate by the Conference of Friesland. Taconis was followed by K. S. van der Meulen 1865-1904, D. Haars 1905-35, Miss T. Rothfusz 1942-46, and Mrs. E. Franken-Liefrinck 1949- . From August 1940 until March 1941 P. J. Smidts, pastor of Den Helder, who was forced to leave this town because of the war, lived in Nieuwe Niedorp, taking care of the congregation. They had a Sunday school for children, and a ladies' circle.
Bibliography
Cate, Steven Blaupot ten. Geschiedenis der Doopsgezinden in Friesland. Leeuwarden: W. Eekhoff, 1839.
Hoop Scheffer, Jacob Gijsbert de. Inventaris der Archiefstukken berustende bij de Vereenigde Doopsgezinde Gemeente to Amsterdam, 2 vols. Amsterdam: Uitgegeven en ten geschenke aangeboden door den Kerkeraad dier Gemeente, 1883-1884: vv. I and II, see Index.
Doopsgezinde Bijdragen(1861): 162 f.; (1880): 165; (1909): 15, 22.
Hege, Christian and Christian Neff. Mennonitisches Lexikon, 4 vols. Frankfurt & Weierhof: Hege; Karlsruhe: Schneider, 1913-1967: v. III, 251.
Kühler, Wilhelmus Johannes. Geschiedenis van de Doopsgezinden in Nederland II. 1600-1735 Eerste Helft. Haarlem: H.D. Tjeenk Willink & Zoon n.v., 1940: I, 174.
Naamlijst der tegenwoordig in dienst zijnde predikanten der Mennoniten in de vereenigde Nederlanden. Amsterdam, 1810: 69.
Reliwiki. "Nieuwe Niedorp, Dorpsstraat 149 - Doopsgezinde Kerk." 19 December 2012. Web. 13 October 2014. http://reliwiki.nl/index.php/Nieuwe_Niedorp,_Dorpsstraat_149_-_Doopsgezinde_Kerk.
Additional Information
Congregation: Doopsgezinde Gemeente Nieuwe Niedorp
Address: Dorpsstraat 149, 1733 AG Nieuwe Niedorp, Netherlands
Denominational affiliation:
Algemene Doopsgezinde Sociëteit
Map
Map:Doopsgezinde Gemeente Nieuwe Niedorp
Author(s)
Nanne van der Zijpp
Date Published
1957
Cite This Article
MLA style
Zijpp, Nanne van der. "Niedorp (Noord-Holland, Netherlands)." Global Anabaptist Mennonite Encyclopedia Online. 1957. Web. 25 Feb 2020. https://gameo.org/index.php?title=Niedorp_(Noord-Holland,_Netherlands)&oldid=144489.
APA style
Zijpp, Nanne van der. (1957). Niedorp (Noord-Holland, Netherlands). Global Anabaptist Mennonite Encyclopedia Online. Retrieved 25 February 2020, from https://gameo.org/index.php?title=Niedorp_(Noord-Holland,_Netherlands)&oldid=144489.
---

Adapted by permission of Herald Press, Harrisonburg, Virginia, from Mennonite Encyclopedia, Vol. 3, p. 875. All rights reserved.

©1996-2020 by the Global Anabaptist Mennonite Encyclopedia Online. All rights reserved.