Olfert, Abram A. (1904-2005)
Jump to navigation
Jump to search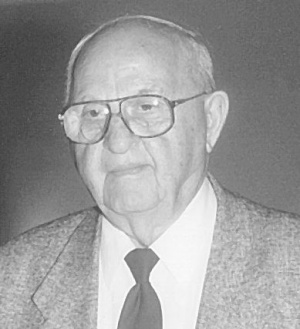 Abram Abram Olfert: community leader; born to Abram J. Olfert (14 March 1872 – 4 January 1936) and Maria (Martens) Olfert (12 January 1879 – 9 September 1964) in the village of Steinfeld, Schlachtin Mennonite Settlement, South Russia on 11 June 1904. Abram married Margaret Sawatzky (8 November 1907, Nieder-Chortitza, Chortitza Mennonite Settlement, South Russia – 15 November 1958, Abbotsford, British Columbia, Canada) on 31 May 1930 and they had the following children: Jacob, Hilda, Abe, Henry, Helga, and Heidi. After Margaret's death, Abram married Maria (Martens) Dueck (26 April 1902, Samara, Russia – 18 December 1990, Abbotsford, British Columbia) on 12 April 1959, adding five more children to the family: Agnes, Herman, Albert, Doreen, and Erna. Abram died on 28 June 2005 in Abbotsford, British Columbia, where he was buried.
Because of the political unrest in Russia Abram was only able to complete the sixth grade in school. His love of travel was evident early when, as a third grader, he had the opportunity to go on a week-long excursion to the capital of Ekaterinoslaw, which remained a memorable adventure for him. Abram was baptized 21 May 1923 in Gruenfeld.
The Olfert family immigrated to Canada in 1926. Abram Olfert was not able to join his family in Sperling, Manitoba until 1928 because he was of military age. Since there was no war at that time, his unit was assigned to build a railroad. Finally after two years he was granted permission to leave. Abram saw this as the leading of the invisible hand of God.
Farming with his parents did not interest him in the least. He decided to start a general store, operating out of the family home. Here he also met and married Margaret Sawatzky from Gnadenthal in 1930.
In 1947 the Olfert family with their six children moved to British Columbia and lived in Yarrow, Arnold and Coghlan before buying a 10 acre farm on Bradner Road in the Aldergrove area. Abram and Margaret Olfert were subsequently invited by their friends David and Margaret Wiebe, to join the West Abbotsford Mennonite Church in Abbotsford, where he served as deacon for many years as well as Sunday school teacher. David Wiebe also recommended Abram Olfert for the job of manager of Abbotsford Growers Co-operative. After three years he resigned this position and became the manager of Funks Super Market.
In 1958 Abram's wife Margaret was diagnosed with kidney failure. Kidney transplants were unheard of and dialysis was not recommended. She passed away 15 November 1958. In 1959 Abram married Maria Dueck, adding her five children to the family.
Abram took it upon himself to organize activities for the seniors in the Abbotsford area. His first idea was to provide day trips by bus. This was so successful that more activities needed to be organized. He and several friends banded together as a committee and formed the Clearbrook Golden Age Society with the motto "Seniors helping Seniors." With the help of Mennonite Central Committee (MCC), a used furniture and appliance store was opened, using senior volunteers to repair and sell donated stock. It was a resounding success. Other projects followed as interest was expressed and finances were available. These included woodworking, upholstery, bicycle repairs, large and small appliance repairs, television repairs and a gift shop. With all these projects and ever increasing demand for more, it was time to plan for larger facilities. Through much discussion and negotiation, the society bought the former Mennonite Educational Institute complex on Clearbrook Road. It was a huge undertaking, but not impossible. The Society was able to pay off the mortgage before it was due.
When in retirement Olfert moved to the Menno Pavilion, a seniors home in Abbotsford, he brought his ideas and creativeness with him. He did not like to cook, so he suggested noon meals be provided for the residents. Here too, he started activities and projects. His mind was always active.
With much encouragement from his children, he compiled his autobiography, entitled The Invisible Hand. The book was published in 1999 and launched at his 95th birthday celebration.
Abram Olfert died at the age of 101 on 28 June 2005, leaving a great legacy for family and friends.
Bibliography
GRANDMA (The Genealogical Registry and Database of Mennonite Ancestry) Database, 6.02 ed. Fresno, CA: California Mennonite Historical Society, 2010: #523229.
Author(s)
Heidi Olfert
Date Published
October 2010
Cite This Article
MLA style
Olfert, Heidi. "Olfert, Abram A. (1904-2005)." Global Anabaptist Mennonite Encyclopedia Online. October 2010. Web. 12 Jul 2020. https://gameo.org/index.php?title=Olfert,_Abram_A._(1904-2005)&oldid=166470.
APA style
Olfert, Heidi. (October 2010). Olfert, Abram A. (1904-2005). Global Anabaptist Mennonite Encyclopedia Online. Retrieved 12 July 2020, from https://gameo.org/index.php?title=Olfert,_Abram_A._(1904-2005)&oldid=166470.
---

©1996-2020 by the Global Anabaptist Mennonite Encyclopedia Online. All rights reserved.