Rainbow Mennonite Church (Kansas City, Kansas, USA)
Jump to navigation
Jump to search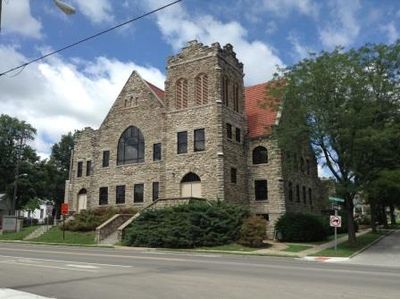 In July 1956 a group of Mennonites in upper Rosedale, a community located in the southern area of Kansas City, Kansas, met to discuss the establishment of a church. A small church building on the corner of Rainbow and 40th, owned by the Latter-Day Saints, became available for sale, and with the assistance of the Home Mission Board of the General Conference Mennonite Church, was purchased in November 1956. The first service was held on 6 January 1957. Stanley Bohn was installed as pastor in August 1957 and on 24 November of the same year, Kansas City Mennonite Church celebrated its Charter Day with 45 members and their children. The church became a member of the Western District Conference.
In 1964, Grace Mennonite Church from Mission, Kansas, located southwest of Kansas City and a member of the South Central Mennonite Conference of the Mennonite Church, merged with the Kansas City Mennonite Church to become Rainbow Boulevard Mennonite Church, one of the first dual-membership Mennonite churches in the United States.
Beginning in 1963, the ministers of five churches in Rosedale began meeting to consider more effective ways to minister in the rapidly changing community. Spirited by community-minded ministers, these conversations led the congregations of the Rosedale Christian Church (Disciples of Christ), Rosedale United Methodist Church and Rainbow Boulevard Mennonite Church to form Rosedale Team Ministry, an effort to increase their impact within the community. This group shortly thereafter established Cross-Lines Cooperative Council. Working together in the community, the three churches became well acquainted.
By the late 1960s, Rainbow Boulevard congregation found itself needing a new meeting place. With a membership of 150, even with two worship services offered, it was standing room only. In 1969, when Rainbow began looking for larger quarters to accommodate growth, the Rosedale United Methodist Church invited them to consider sharing their building. After much consideration, a two-year trial period began in December 1969 with separate worship services and a joint church school. They were joined a year later by the Rosedale Christian Church. When Rainbow moved to its current location, the congregation dropped "Boulevard" from its name, and became Rainbow Mennonite Church.
Joint community programs flourished in the following years as the three ministers worked together with able assistance from community development staff and volunteers. Early involvement in the civil rights and anti-Vietnam War movements influenced the church's early development and subsequent history. Many programs focused on aiding the health of the community.
Services were offered in several locations. The former Rainbow building, known as Common Ground, provided a facility for young adult ministries, an alternative school, a Gift and Thrift retail outlet, a hospitality room and lodging. The former Disciples' building housed such things as a girls' club, Team ministries, VISTA program, education services and other day-to-day activities related to community development. Legal services, Building Blocks, Whitmore Playground, a neighborhood repair and restoration project, a tool bank, a boys' club, Open Market and Mennonite Voluntary Service Unit Programs were located nearby. The main Methodist building was home to the nutrition site, food bank, Head Start, joint vacation Bible school, financial assistance, support for community organizations and related services.
Sharing Community in Rosedale (SCR), a not-for-profit corporation, was officially created in 1977. This cooperative arrangement provided a structure for the three churches to work together without detracting from the unique points of each denomination. The formation of SCR enabled the three congregations to jointly acquire The Whitmore property directly across the street from the church building and transform it into a neighborhood park with play equipment for different age groups, basketball courts, and two small fields. The playground has become a year around recreational resource for lower Rosedale. Whitmore Playground was the start of many other neighborhood improvements and a joyful reminder that a community can help create its own future.
In 1991 it became necessary for the United Methodist and Disciples congregations to join Rainbow for worship services year-round. Frank Ward was the full-time pastor for all. Closeness developed over the years causing the congregations to be more tolerant and adapt practices. For example, the Disciples were accustomed to receiving communion every Sunday and the Mennonites 4-5 times a year. Now, communion is offered once a month.
After various programs had run their course, the original church buildings owned by the Mennonite and Disciples congregations were sold and the proceeds made available to the work of the Sharing Community in Rosedale. The United Methodist congregation disbanded and transferred ownership of the church building and the parsonage to the Sharing Community.
In recent years the congregation has numbered approximately 200 people who live throughout the greater Kansas City metro area. The church is made up of mostly Caucasian, middle-to-upper middle class professional, and two-thirds of the congregation's members have a Mennonite background.
Bibliography
"A History of the Kansas City Mennonite Church." Unpublished.
Penner, Erica. "Rainbow Mennonite Church." Personal e-mail (5 November 2013).
Stackley, Muriel. "A Walk Back in History." Rainbow Mennonite Church. 9 March 2011. Web. 21 September 2013. http://www.rainbowmennonite.org/Who_We_Are/Our_History
Additional Information
Address: 1444 Southwest Blvd., Kansas City, KS 66103-1829
Phone: 913-236-8820
Website Rainbow Mennonite Church
Denominational Affiliations:
Rainbow Mennonite Church Pastoral Leaders
| Minister | Years of Service |
| --- | --- |
| Stanley Bohn | 1957-1967 |
| Gary Schrag | 1967-1972 |
| Ken Rupp | 1972-1974 |
| Frank Ward | 1974-1998 |
| Ron Holland (interim) | 1998-1999 |
| Robert Kaufman | 1999-2012 |
| Ron Holland (interim) | 2012-2013 |
| Ruth Harder | 2013-present |
Author(s)
Muriel Stackley
Richard D. Thiessen
Date Published
November 2013
Cite This Article
MLA style
Stackley, Muriel and Richard D. Thiessen. "Rainbow Mennonite Church (Kansas City, Kansas, USA)." Global Anabaptist Mennonite Encyclopedia Online. November 2013. Web. 29 Feb 2020. https://gameo.org/index.php?title=Rainbow_Mennonite_Church_(Kansas_City,_Kansas,_USA)&oldid=104451.
APA style
Stackley, Muriel and Richard D. Thiessen. (November 2013). Rainbow Mennonite Church (Kansas City, Kansas, USA). Global Anabaptist Mennonite Encyclopedia Online. Retrieved 29 February 2020, from https://gameo.org/index.php?title=Rainbow_Mennonite_Church_(Kansas_City,_Kansas,_USA)&oldid=104451.
---

©1996-2020 by the Global Anabaptist Mennonite Encyclopedia Online. All rights reserved.