Reimer, Abram H. (1901-1995)
From GAMEO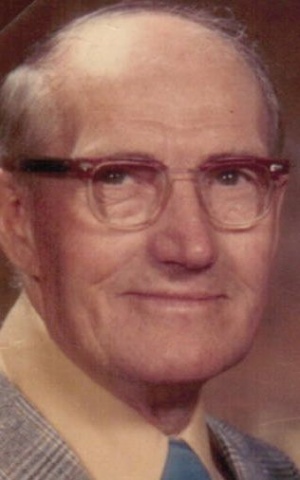 Abram H. Reimer: community leader; born in Neu-Schönsee, Zagradovka Mennonite Settlement, South Russia on 27 November 1901, the youngest son of Heinrich Reimer (10 February 1850, Margenau, Molotschna, South Russia - 15 September 1929, Blumenhof, Swift Current, Saskatchewan) and Margareta (Regehr) Reimer (5 March 1862, Gnadenthal, Molotschna, South Russia - 27 February 1923, Lichtfelde, Molotschna, South Russia). On 3 May 1924 he married Liese Dick (24 March 1901, Crimea, South Russia - 8 March 1985, Clearbrook, British Columbia) in Alexanderkrone, Molotschna, South Russia. Liese was the daughter of Jakob Johann Dick (1869-1937) and Maria (Harder) Dick (1870-1955). Abram and Liese had five children, all born in Canada: Helmuth, Hedy, Elizabeth, Ernie, and David. Abram died on 31 December 1995 in Abbotsford, having lived his final years at the Tabor Home.
When Abram was four, his family moved to the Molotschna Mennonite Settlement. As a young man, he served in the Red Army for 3 years, based in Baku.
Abram married Liese in 1924 and they immediately immigrated to Canada. Abram and Liese settled in the Borden/Hepburn area of Saskatchewan, working for farmers. It was here that Abram accepted the Lord and was baptized in 1925. Also, on arrival in Canada, he pursued learning the English language. In 1927 Abram, together with his brother Gerhard, purchased a farm in the Drumheller region of Alberta. The Depression ended this venture in 1930-1931. Thereafter Gerhard moved to Ontario and Abram to the Fraser Valley, settling in Agassiz.
In 1934 the Reimers undertook a further and final move to Abbotsford, where they purchased 20 acres for $200 on Huntingdon Road, which at this time was a trail winding its way through freshly logged areas. Veterans from World War I had settled in a few places and these were generally very supportive of the new Mennonite settlers. Abram Reimer cultivated good relations with these folks.
Poverty was extreme in the early years. The Reimers built their first home for $50. However, land was cleared soon and mixed farming became the norm for the Reimers and most Mennonite settlers. Abram and Liese worked hard at establishing a nearly self-sufficient operation. One unique venture for this couple was the cultivation of an exemplary orchard where they experimented with every conceivable fruit that would grow in the Fraser Valley.
Abram Reimer strongly promoted the establishment of church and school. Abram and Liese were charter members of the South Abbotsford Mennonite Brethren Church. Abram was the Gehilfsleiter or assistant pastor for some years and served in various positions. During the 1930s he was heavily involved in the establishment of South Abbotsford Bible School, which is today's Columbia Bible College. Immediately after World War II, Reimer became a strong proponent of the Mennonite Educational Institute (MEI). He served on the MEI Board for eight years and as chairman for three.
Canada was Abram Reimer's chosen country and he was proud of it. However, the German language was important to him, and Abram and Liese were highly involved in the establishment of the King Road Mennonite Brethren Church in Abbotsford, of which they were also charter members.
Abram Reimer sought to demonstrate Christian virtues throughout his life. Service to his neighbor and to the larger society was the norm for him. He will be remembered as a good husband (Liese was sick for 43 years), an excellent father, and a man who loved and wanted to serve his community.
Bibliography
GRANDMA (The Genealogical Registry and Database of Mennonite Ancestry) Database, 6.04 ed. Fresno, CA: California Mennonite Historical Society, 2010: #217896.
Author(s)
Ernie Reimer
Date Published
November 2010
Cite This Article
MLA style
Reimer, Ernie. "Reimer, Abram H. (1901-1995)." Global Anabaptist Mennonite Encyclopedia Online. November 2010. Web. 22 Apr 2019. http://gameo.org/index.php?title=Reimer,_Abram_H._(1901-1995)&oldid=96182.
APA style
Reimer, Ernie. (November 2010). Reimer, Abram H. (1901-1995). Global Anabaptist Mennonite Encyclopedia Online. Retrieved 22 April 2019, from http://gameo.org/index.php?title=Reimer,_Abram_H._(1901-1995)&oldid=96182.
---

©1996-2019 by the Global Anabaptist Mennonite Encyclopedia Online. All rights reserved.