Snyder, Edward Groff (1905-1991)
From GAMEO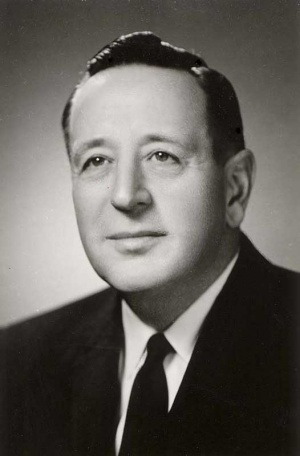 Edward Groff Snyder: farmer, businessman, Mennonite lay leader, was born 16 March 1905 to Absalom B. Snyder (7 March 1861-11 March 1936) and Mary Groff Snyder (15 August 1864-22 November 1949) at the family farm on Beaverdale Road in the Township of Waterloo (now part of Cambridge, Ontario, Canada). He was the youngest of six children. Absalom was the minister at Wanner Mennonite Church from 1892-1932. On 23 November 1938, Edward married M. (Magdalena)  Glennys Snider (24 April 1907-30 June 1996) at her home in Kitchener. The couple had met as a result of Glennys, a registered nurse, tending to Edward's father, Absalom. Edward and Glennys had no children. However their nieces and nephews loved coming to their farm, often to go fishing with their uncle Edward. The farm remained Edward's home until his death on 10 April 1991.
Edward attended elementary school at Waterloo Township #16, also known as Reist's School. In the ensuing years he helped his father on the farm. As an adult student, he attended Goshen College for one year, developing his interest in music and economics.
As early as 1935, Edward began to specialize in growing high quality potatoes which he sold to stores in the local community and beyond. He was one of the first farmers to introduce water irrigation in pressurized pipes for the potato crops. He purchased significant farm land, close to his own, as he expanded his potato operation. In 1945, Edward partnered with Franklin Gray in the invention of the Gray-Snyder Potato Harvester. Eventually his automobile licence plate read "MR SPUD".
Edward's business acumen led him to experiment in making potato chips in a large iron kettle on the kitchen stove in his home. One Saturday he took a small supply to the Kitchener Market and was sold out by mid-morning. Because of this early success, the chip business outgrew the kitchen and moved to the doddy house part of the farmhouse. The potatoes were peeled by hand and salted from hand-shaken salt shakers. He wanted Snyder's Potato Chips to be of the highest quality. He created foil bags in which to package the chips to retain their flavour and crispness. The public demand for Snyder's Potato chips led Snyder to move the business to a house, later factory which he built on land he purchased that adjoined the Snyder farm. His entrepreneurial spirit and outstanding marketing ability led to his chips being sold across southern Ontario and in the city of Toronto. In 1955, Snyder sold his chip business to E. W. Vanstone. Over the years the brand name changed to Hostess, followed by Frito Lay. In the 1980s, the chip brand that Edward pioneered became Canada's #1 seller. He continued in the wholesale potato business well into his last years.
Edward was a charter member of Mennonite Economic Development Associates (MEDA) and made numerous trips to the Chaco in Paraguay as part of this involvement. Because of his encouragement, other Mennonite business people donated their time and resources to the MEDA program. He and Glennys gave generously to church-related programs like MEDA, Mennonite Central Committee and Mennonite educational institutions. From 1953-1959 he was also the part time manager of the Canadian MCC office in Kitchener, Ontario. One fundraising technique he used involved young Mennonite musicians who performed at various musical concerts at the Wanner Church. Edward Snyder looked after the costs but charged admission to the concerts, with all proceeds going to MCC.
Edward Snyder's family, church community and business associates remembered him as a modest, successful businessman, with a deep concern for the Mennonite Church and his community. He frequently encouraged young people, and he and Glennys benefited many needy individuals.
During the last years of his life, Edward and Glennys spent their winters in Florida. After Edward's death, Glennys moved to a cottage at Fairview Mennonite Home in Cambridge, Ontario. They are both buried at the Wanner Mennonite Cemetery.
Bibliography
Printed articles from Marion Cressman. Private collection. Cambridge, Ontario.
Marr, Lucille. The Transforming Power of a Century: Mennonite Central Committee and Its Evolution in Ontario. Kitchener, Ont: Pandora Press, 2003.
Neff, Herman, Richard Neff, Marion Cressman and Ruth Hess. Interviews by the author. Cambridge, Ontario (March 2012). 
Various collections. Mennonite Archives of Ontario. Waterloo, Ontario.
Author(s)
Del Gingrich
Date Published
October 2012
Cite This Article
MLA style
Gingrich, Del. "Snyder, Edward Groff (1905-1991)." Global Anabaptist Mennonite Encyclopedia Online. October 2012. Web. 25 Mar 2019. http://gameo.org/index.php?title=Snyder,_Edward_Groff_(1905-1991)&oldid=115037.
APA style
Gingrich, Del. (October 2012). Snyder, Edward Groff (1905-1991). Global Anabaptist Mennonite Encyclopedia Online. Retrieved 25 March 2019, from http://gameo.org/index.php?title=Snyder,_Edward_Groff_(1905-1991)&oldid=115037.
---

©1996-2019 by the Global Anabaptist Mennonite Encyclopedia Online. All rights reserved.