Wiebe, David (1941-2012)
From GAMEO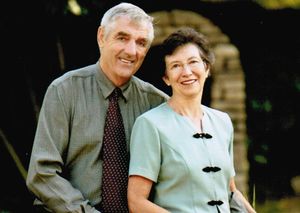 Edwin David Wiebe: businessman; born to Philip P. Wiebe (18 January 1912, Gnadental, Baratov Mennonite Settlement, South Russia – 16 May 1966, Abbotsford, British Columbia, Canada) and Anna (Dueck) Wiebe (15 January 1912, Barvenkovo, Kharkov, South Russia – 3 April 1987, Abbotsford, British Columbia) in Winkler, Manitoba, Canada on 15 October 1941. He was the second of seven children. On 1 February 1969 David married Phyllis Marie Cromartie at St. Matthews Anglican Church in Abbotsford, BC. The newly-wedded couple attended the Bakerview Mennonite Brethren Church in Abbotsford. They were blessed with three children: Leah, Kevin, and Allen. David died on 6 August 2012 in Abbotsford, BC.
David was raised in a Christian home in Gnadental, Manitoba. In 1952 the family moved to a small berry and chicken farm in Clearbrook, British Columbia. David's father was a dynamic preacher in southern Manitoba and later in the Clearbrook Mennonite Brethren Church where the family attended. David accepted Christ as his Savior at an early age.
David left school early to assist his parents financially. For some years he worked at various jobs before completing high school. Although he had no construction background, he then began building homes. In 1967 he founded his first company, W&I Contracting Ltd.
David's Christian testimony was clear and consistent. He had ample opportunity to practice his faith and did so, mostly through quiet actions. He was baptized in 1982 in the Bakerview Mennonite Brethren Church. He nurtured and raised his family to have meaningful goals in life. He often provided a listening ear, lent a helping hand, and developed many strong relationships.
As a builder David initially framed apartments for others. By 1974 his company was building its own rental apartment suites. A visionary young man with much drive, ability and energy, he loved construction and was good at it. He developed many subdivisions and single family homes, mostly in Abbotsford but also in other places in the Lower Mainland. His specialty was three/four story apartment/condo complexes but he also developed warehouse units, some commercial units and a strip mall. He truly understood the economics of building but focused more on providing high quality homes for the residents. It is estimated that he built several thousand homes in Abbotsford, probably more than any other builder. Various streets in Abbotsford are graced by his impressive residential complexes with their distinctive architectural style.
David loved many sports and enjoyed playing hockey and skiing with his family which he did until two years before his life came to a close. He and his wife enjoyed travel. Wherever he was, he marveled at the world around him. David saw the goodness in all God's children and helped many of them. He was a true Christian gentleman, very humble and highly respected for his integrity.
In May 2012, David discovered he had pancreatic cancer. As was his custom in any challenging situation, he fought the disease courageously and valiantly. Unfortunately, the cancer eventually claimed his life. David's highly productive life ended on 6 August 2012. Throughout his life David experienced his share of losses and hard issues. At all times, but especially as his health deteriorated, he came to a place of peace, of submission to his circumstances, and a dependency on Christ.
David left a fine legacy. Many hundreds of people remember him as their highly-skilled, client-oriented home builder and a fine business associate. More than a few charities also remember him as a generous steward of the financial assets God entrusted to him. Edwin David Wiebe, with his entrepreneurial talent, construction skills, service mindset, and Christian ethics, had a major impact on Abbotsford, his church, numerous Christian causes, and the wider community.
Author(s)
John H Redekop
Date Published
September 2015
Cite This Article
MLA style
Redekop, John H. "Wiebe, David (1941-2012)." Global Anabaptist Mennonite Encyclopedia Online. September 2015. Web. 15 Nov 2018. http://gameo.org/index.php?title=Wiebe,_David_(1941-2012)&oldid=136067.
APA style
Redekop, John H. (September 2015). Wiebe, David (1941-2012). Global Anabaptist Mennonite Encyclopedia Online. Retrieved 15 November 2018, from http://gameo.org/index.php?title=Wiebe,_David_(1941-2012)&oldid=136067.
---

©1996-2018 by the Global Anabaptist Mennonite Encyclopedia Online. All rights reserved.