Willms, Jacob (1935-2016)
Jump to navigation
Jump to search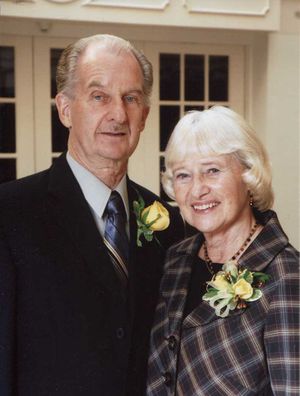 Jacob "Jake" Wilms: university administrator, youth worker, choir director; born 20 June 1935 to Gerhard Willms (27 February 1892-1 January 1970) and Agatha (Boschman) Willms (23 December 1894-13 October 1952) on a farm in Ruthven, near Leamington, Ontario, Canada. He was the youngest of five children including brothers Walter, Victor and George, and a sister, Sylvia. He married Margarita "Rita" Fehderau (18 February 1936 -), daughter of Nicholas (25 June 1904-16 November 1989) and Louise (Martens) Fehderau (9 February 1906-30 January 1987), on 20 July 1957 and became the devoted and proud father of three daughters: Lori (Les) Neufeld, Lisa and Lynn. Jake Willms died 19 April 2016. The funeral service was held at Kitchener Mennonite Brethren Church and burial took place at Parkview Cemetery in Waterloo, Ontario.
In 1952 when Jake was just 17, his mother died, after which he and his father moved to Kitchener, Ontario. He worked briefly for his brother's construction company and then began a career at the Waterloo Trust where he eventually became Manager of the Mortgage Department.
In 1968 Jake became a part-time student at the University of Waterloo. He was encouraged to apply for a position in the Registrar's Office while studying for his BA in English Literature, which he completed in 1974. For most of the 27 years he worked at the University of Waterloo, he was Administrative Officer for the Faculty of Arts. Jake retired in 1996.
Throughout his life, Jake Willms took his relationship with God very seriously and lived out his faith with integrity in whatever context he found himself. He was a lifelong member of Kitchener Mennonite Brethren Church (KMB) where he served for many years as moderator with quiet wisdom and diligence. Jake and Rita had a heart for young people and were active as youth leaders. Jake also served in the Ontario Mennonite Brethren Conference and for many years was on the board of Camp Crossroads, the Ontario Conference camp in Torrance, Ontario. Jake and Rita spent many years at the camp serving in various capacities. They were a good team and supported each other's goals and endeavors.
Music was the bedrock of Jake's life. He used his musical gifts in the ministries of the Kitchener Mennonite Brethren Church by singing in church choirs and in the Sacred Song Quartet. He also began the very successful Reach Out/Celebration Youth choir, which drew in young people from KMB where it was based, as well as youth from other churches and the community. Their enthusiastic singing was enjoyed in many churches across Ontario. They performed as far away as Winnipeg, Manitoba and Banff, Alberta. Later Jake started the Jubilation Male Chorus which allowed men from many community congregations to gather at KMB and enjoy singing together. Their programs of sacred songs were also well received in many different churches throughout Ontario. While working at the university, Jake was known for gathering staff together and enthusiastically leading them in an annual Christmas carol sing, an anticipated tradition. He also enjoyed singing in the musicals produced by the Gilbert and Sullivan Society of Kitchener-Waterloo.
Jake Willms was diagnosed with vascular parkinsonism in 2010. His strength and vitality slowly diminished, calling for great courage, faith and perseverance on the part of both Jake and Rita.
Throughout his life, Jake was loyal, devoted and faithful to his family, the church, his workplace and the community. At the end of his life he could truly say, as in the words of his favorite hymn, "It is well with my soul".
Bibliography
Fehderau, Rita. Interview by Nancy Fehderau, Kitchener, Ont. (August 2016).
"Jacob 'Jake' Willms." GRANDMA (The Genealogical Registry and Database of Mennonite Ancestry) Database, 16-07 ed. Fresno, CA: " California Mennonite Historical Society, 2016: #170802.
The Willms Family. "Eulogy," Kitchener, Ont. (April 2016).
Author(s)
Nancy Riediger Fehderau
Date Published
October 2016
Cite This Article
MLA style
Fehderau, Nancy Riediger. "Willms, Jacob (1935-2016)." Global Anabaptist Mennonite Encyclopedia Online. October 2016. Web. 16 Jul 2020. https://gameo.org/index.php?title=Willms,_Jacob_(1935-2016)&oldid=139608.
APA style
Fehderau, Nancy Riediger. (October 2016). Willms, Jacob (1935-2016). Global Anabaptist Mennonite Encyclopedia Online. Retrieved 16 July 2020, from https://gameo.org/index.php?title=Willms,_Jacob_(1935-2016)&oldid=139608.
---

©1996-2020 by the Global Anabaptist Mennonite Encyclopedia Online. All rights reserved.