Wisconsin (USA)
From GAMEO
1959 Article
Wisconsin, a midwestern state north of Illinois, has an area of 65,498 square miles (169,790 km²) and in 2008 had an estimated population of 5,627,967. It was the leading dairy state, ranking first in the nation in the production of milk and cheese and second in butter in 1956. In 2005 it was still first in cheese production, but second in milk and butter, behind California. In 2005, 91.00% of Wisconsin's population was White and 6.48% was African American. In terms of religious affiliation, the following breakdown was reported in 2000: Christian – 85% (Lutheran – 23%;Methodist – 7%;Baptist – 5%; Presbyterian – 2%; United Church of Christ – 2%; Other Protestant or general Protestant – 15%); Roman Catholic – 29%; Other Christian – 1%; Other religions – 1%; and Non-affiliated – 15%.
The first Mennonites in the state were several Amish families who moved into Sawyer County, in the northwestern part of the state, in 1909, the Bontreger family in the following year, and later 15 other families, settling near Exeland. The congregation, now extinct, was last listed in the 1927 Mennonite Yearbook. A second Old Order Amish settlement in nearby Rusk County was listed in the Yearbook 1922-1934, under the addresses of Glen Flora and Ingram. A third Old Order Amish settlement was listed for the first time in 1934 at Medford, Taylor County, a town about 35 miles southeast of Glen Flora. William M. Miller, an Amish bishop from Haven, Kansas, was living here by 1925, and Joseph Y. Lehman, a minister, by 1930 or earlier. In 1950 the membership of this group had reached 94, and the settlement was divided into two districts, the North Side and the South Side, very likely in 1951. The South Side spilt over into Clark County and has Curtiss for its address.
The Mennonite Church (MC) had three organized and two unorganized congregations in Wisconsin in 1957. Mission activity began in the area southeast of Exeland in 1929, but a congregation was not organized until 1954. The membership in 1957 was 24. The largest of the five congregations was Sheldon in Rusk County. Mission activity was started in the area in 1932 and a church organized in 1936. Its 1957 membership was 73. South Lawrence at Glen Flora was started in 1946 and in 1957 had a membership of 26. The two unorganized congregations were at Loyal and Hayward, both in northwestern Wisconsin. The total Amish and Mennonite membership for Wisconsin in 1958 was approximately 225.
During the years of Civilian Public Service Mennonite young men served in dairy units in the southern half of Wisconsin. By the summer of 1943, Dodge, Fond du Lac, Green, Dane, and Outagamie counties had 20 assignees each. Other Mennonite conscientious objectors served in the Southern Wisconsin Colony and Training School for the feeble-minded, at Union Grove, and in the Winnebago State Hospital, a phychiatric hospital. -- Melvin Gingerich
1990 Update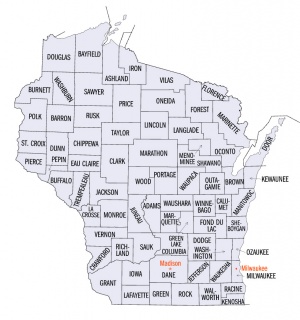 In 1988 there were 18 Mennonite congregations in Wisconsin, including a church planting effort by the Central District Conference (General Conference Mennonite) in Milwaukee. The Church of God in Christ, Mennonite (Holdeman), had one congregation. There were four Fellowship churches with a total membership of 179, and one congregation (24 members) with dual membership in the Illinois Mennonite Conference (MC) and Central District Conference (GCM). The other conferences represented (number of congregations and members) were: North Central Mennonite Conference (MC; 2, 65); Midwest Mennonite Fellowship (2, 84); Brethren in Christ (1, 34); Conservative Mennonite Conference (MC; 1, 33). Four unaffiliated congregations had a total membership of 143. The Conservative Mennonite Mission Board (Rosedale) administered a voluntary service unit at Northwoods Beach Home, Hayward, Wisconsin.
In 1985 there were 14 Old Order Amish settlements in the state with a total of 25 congregations. Rapid expansion of Amish settlement in Wisconsin followed the 1972 Supreme Court decision in Wisonsin versus Yoder, which declared that no state could require Amish children to go to high school. -- Reynold Sawatzky
See also Medford, WI, Old Order Amish Settlement; Cashton, WI, Old Order Amish Settlement
Bibliography
Handbook of Information, General Conference Mennonite Church. Newton, KS, 1988: 13, 140.
Horsch, James E., ed. Mennonite Yearbook and Directory. Scottdale: Mennonite Publishing House, 1988-89: 44, 52, 72, 85, 88, 95-96, 98-99, 152.
Luthy, David. Amish Settlements Across America. Aylmer, ON: Pathway, 1985: 3, 12.
Author(s)
Melvin Gingerich
Reynold Sawatzky
Date Published
February 2009
Cite This Article
MLA style
Gingerich, Melvin and Reynold Sawatzky. "Wisconsin (USA)." Global Anabaptist Mennonite Encyclopedia Online. February 2009. Web. 22 Aug 2018. http://gameo.org/index.php?title=Wisconsin_(USA)&oldid=148653.
APA style
Gingerich, Melvin and Reynold Sawatzky. (February 2009). Wisconsin (USA). Global Anabaptist Mennonite Encyclopedia Online. Retrieved 22 August 2018, from http://gameo.org/index.php?title=Wisconsin_(USA)&oldid=148653.
---

Adapted by permission of Herald Press, Harrisonburg, Virginia, from Mennonite Encyclopedia, Vol. 4, pp. 964-965; vol. 5, p. 931. All rights reserved.

©1996-2018 by the Global Anabaptist Mennonite Encyclopedia Online. All rights reserved.