Longacre, Horace W. (1912-2009)
From GAMEO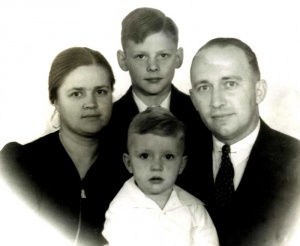 Horace W. Longacre: businessman and philanthropist; born 16 January 1912 to Henry and Mary Alice (Ruth) Longacre in Milford Township, Bucks County, Pennsylvania. Although his father was a dairy farmer, Horace disliked farming, showing an inclination instead to follow in the footsteps of his grandfather, an entrepreneur who owned a mill and dreamed of new inventions. Horace's mother was a schoolteacher and valued education. Despite her influence, Horace did not enjoy school and, after taking some business classes in high school, he dropped out in 11th grade, a decision he regretted all his life.
Horace grew up at Swamp Mennonite Church, attending services with his family every other week—it was there that he accepted Christ when he was 15. A year later, he met Elizabeth Goshow (b. 12 April 1913, daughter of Henry and Katie Moyer Goshow) at a song service. They married on 28 June 1930. Horace left work on his father's farm and for the first six months of their marriage, they lived with Elizabeth's parents while he apprenticed at a hosiery mill.
When the time came to start their family, Horace borrowed the money from his dad to purchase a grocery store, hoping this would support their family enough that Elizabeth would not have to work. After a rocky 16 weeks, however, he sold the store and returned to work at a hosiery mill.
With the arrival of World War II, Horace's conscientious objector status meant a choice between alternative service or taking a farm deferment. Horace and Elizabeth decided to buy a farm and soon they were selling vegetables, eggs, and eventually poultry at a local farmers market.
Horace discovered that he made a higher profit with poultry, so he began to expand his business, buying an increased number of chickens and turkeys locally and out of state. By 1948 the business had grown enough that they had opened a stand in a second farmers market, employing others to run the farm. Eventually Horace's older son, Ken, marketed their poultry products and his younger son, Henry, managed their retail outlets, which remained in operation until the Longacres sold the business in 1992.
In 1949, Longacre Poultry began selling wholesale, purchasing a plant in Franconia Township, Pennsylvania. For the next two decades, they expanded their product line to include over 70 poultry products sold in 20 different countries. The business had a reputation for staying on the cutting edge of further processed poultry products.
In 1975 Horace named his sons presidents of the company, but this semi-retirement did not slow him down. For much of his adult life, he served on the boards of numerous community businesses and organizations including Telford Savings & Loan, People's National Bank, Fisher Enterprises, Franconia Mennonite Conference, Hatfield Mennonite Home, Care & Share Shoppes, Eastern Mennonite University, and Dock Woods Community, in addition to 35 years as trustee and 20 years as treasurer of his home congregation, Swamp Mennonite Church. He enjoyed the challenge of developing these organizations and introducing innovation; it was under his direction, for instance, that Swamp became the first congregation in Franconia Conference to budget their income and expenses.
Horace was known to have a generous heart and a ready checkbook, providing support for members of his community and for churches around the world. Although he supported many Mennonite organizations, he had a special heart for Mennonite education.
Horace passed away on 25 May 2009 in his apartment at Souderton (Pennsylvania) Mennonite Homes.  He and Elizabeth had two sons, eight grandchildren, and 14 great-grandchildren.
Bibliography
Found Faithful: A Longacre Family Album. VHS. Lederach, PA: Branch Valley Productions, 2005.
Souder, Mary Jane. A Look Back: the Horace and Elizabeth Longacre Story. Self-published, 1999.
Author(s)
Emily Ralph
Date Published
December 2011
Cite This Article
MLA style
Ralph, Emily. "Longacre, Horace W. (1912-2009)." Global Anabaptist Mennonite Encyclopedia Online. December 2011. Web. 21 Oct 2017. http://gameo.org/index.php?title=Longacre,_Horace_W._(1912-2009)&oldid=115110.
APA style
Ralph, Emily. (December 2011). Longacre, Horace W. (1912-2009). Global Anabaptist Mennonite Encyclopedia Online. Retrieved 21 October 2017, from http://gameo.org/index.php?title=Longacre,_Horace_W._(1912-2009)&oldid=115110.
---

©1996-2017 by the Global Anabaptist Mennonite Encyclopedia Online. All rights reserved.