From GAMEO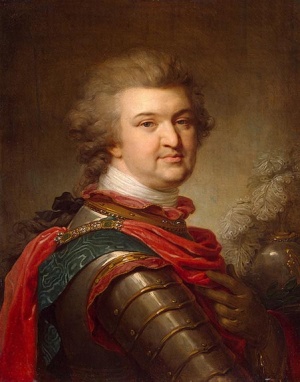 Prince Grigori Alexandrovich Potemkin: Russian statesman; born 24 September 1739 in the village of Chizhovo, Russia. As a member of the Chevalier Guard, he participated in the palace coup that ousted Peter III.  By 1774 he had become a favorite of Catherine the Great, and for the next 17 years he was the most powerful man in the Russian Empire. Potemkin died 5 October 1791.
Potemkin was appointed gov­ernor general of New Russia by Catherine the Great with instructions to open and settle the newly acquired territory in the South. Potemkin accomplished this task by resettling Russian peasants and settling foreign pioneers, by founding cities (see Kherson and Ekaterinoslav [now Dnipropetrovsk]), developing roads, and planting forests and vine­yards. The war with Turkey, which broke out in 1787, came inopportunely for him, but the acquisi­tion of Crimea in 1783 was one of his achieve­ments. Upon the suggestion of Count Peter Rumyantsev (1725-1796), a Russian general, Catherine sent George von Trappe as her plenipotentiary to invite foreign settlers, with an especial commission to the Danzig Mennonites, whose pioneering capabilities had come to the attention of the Russians in the Seven Years' War. As governor general of Little Russia Count Rumiantsev was much interested in agriculture, and in 1770 he had permitted the Hutterian Brethren, who had been designated as Men­nonites by the immigration laws, to settle on his Vyshenka estate in the province of Chernigov. After Rumyantsev's death the Hutterian Brethren established a Bruderhof at Radichev. In oth­er respects also the Hutterian Brethren were the forerunners of the Mennonites in settling in Russia.
Potemkin, whose colonizing achievements have been described by Theresia Adamczyk, in 1786 re­ceived in Dubrovna on the Dnieper Jakob Höppner and Johann Bartsch, the delegates sent by the Danzig Mennonites to examine the land of­fered by Catherine. In the spring of the following year the delegates were received at Kremenchug by Catherine in the presence of her dignitaries, and al­so, on the return journey, by Paul, the heir apparent to the throne. They had selected the region of Berislav, not far from Kherson, for settlement, but "on account of warlike events" (Heese) were compelled by Potemkin to settle in the Chortitza area in the district of Ekaterinoslav, the capital of which Potem­kin was planning to make the center of the Black Sea region.
[edit]
Bibliography
Adamczyk, Theresia . Fürst G. A. Potemkin, Untersuchung zu seiner Lebensgeschichte (dissertation, Berlin and Emsdetten, 1936): 28-49.
Hege, Christian and Christian Neff. Mennonitisches Lexikon, 4 vols. Frankfurt & Weierhof: Hege; Karlsruhe: Schneider, 1913-1967: v. III, 385.
Klaus, Alexander. Unsere Kolonien (translated into German from Russian by Jakob Töws, Odessa, 1887).
Leibbrandt, Georg.  Sammlung IV. Leipzig, 1941: 3, note 1; 4, note 5.
Woltner, Margarete. Die Gemeindeberichten von 1818 der deutschen Siedlungen am Schwarzen Meer.
Author(s)
Benjamin H Unruh
Date Published
1959
[edit]
Cite This Article
MLA style
Unruh, Benjamin H. "Potemkin, Prince Grigori Alexandrovich (1739-1791)." Global Anabaptist Mennonite Encyclopedia Online. 1959. Web. 1 Jun 2016. http://gameo.org/index.php?title=Potemkin,_Prince_Grigori_Alexandrovich_(1739-1791)&oldid=111672.
APA style
Unruh, Benjamin H. (1959). Potemkin, Prince Grigori Alexandrovich (1739-1791). Global Anabaptist Mennonite Encyclopedia Online. Retrieved 1 June 2016, from http://gameo.org/index.php?title=Potemkin,_Prince_Grigori_Alexandrovich_(1739-1791)&oldid=111672.
---
Adapted by permission of Herald Press, Harrisonburg, Virginia, and Waterloo, Ontario, from
Mennonite Encyclopedia
, Vol. 4, pp. 206-207. All rights reserved. For information on ordering the encyclopedia visit the
Herald Press
website.

©1996-2016 by the Global Anabaptist Mennonite Encyclopedia Online. All rights reserved.