Aardenburg (Zeeland, Netherlands)
From GAMEO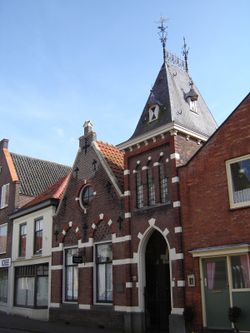 Aardenburg, a small town of 3,800 inhabitants in the Dutch province of Zeeland, not far from the Belgian border. Here a Mennonite congregation was founded in 1614 by refugees from Flanders, though it is known that there had been a congregation in Aardenburg and vicinity at an earlier period. The new congregation had a hard time at first; in spite of religious freedom proclaimed by the States-General on 1 May 1615, especially for the Mennonites living here, they were still molested by the city government. The first meetings were held in a private house, and later in a meetinghouse in de Biezen outside the town. In 1636 a church was built in Aardenburg.
In the seventeenth century the congregation had excellent leaders. Jacques van Maldeghem was elder until about 1636, Boudewijn de Meyere from 1633 to 1681, and Ghijsel Hebberecht from about 1657 to 1680. Under their leadership the grim conflict with the government took place regarding exemption from military service, which, as everywhere in Holland, was finally also granted to the Mennonites of Aardenburg in return for a specified fee. About 1650 the congregation reached its greatest strength. Soon after this many Mennonites moved to Middelburg and the province of Holland. Familiar Mennonite family names, such as van Eeghen, Dobbelaer, Dyserinck, van der Sluys, of families which had come from Belgium and settled here, disappeared from the registers by about 1700.                
When the Lammerenkrijg divided the Mennonites of Holland into two camps, the Aardenburg congregation joined the Zonists after a visit by Samuel Apostool in 1665. Sometimes the congregation was called the congregation of Old Flemish. Even before 1691 no suitable lay preacher could be found in their own ranks, and a preacher was therefore called in on a salary. In the eighteenth century and especially in the first half of the nineteenth century there was a decline: the membership, which stood at 126 in 1636, and which had increased to more than 160 in 1670, was down to forty-six in 1840. In 1952 the number of baptized members was 116, of whom half lived in the town and half in the vicinity.
As of 1952, the congregation was a member of the Zuidhollands-Zeeuwse Ring. It had a Sunday school, a youth organization, a women's organization and a reading club. The members were exempt from payment or had reduced rates for medical and hospital care. The preachers of the congregation have included H. Broese van Groenou, 1852-1883; C. P. van Eeghen, Jr., 1883-1892; G. Hofstede Gz., 1893-1903; Jacob Koekebakker, 1903-1919; J. G. Frerichs, 1921-1927; F. van der Wissel, 1927-1932; Abr. Mulder, 1932-1941; M. J. Nolthenius, 1941-1951, and S. A. Vis, 1952-.
In 1793 the church, which was in a dilapidated state, and was also much too large, was completely remodeled; in 1856 it was improved and in 1872 an organ was added. During September and October 1944 the church and parsonage were severely damaged, but were rebuilt with the aid of the brotherhood.
Worthy of note is the fact that the Aardenburg congregation has a seal. The old church of1636 was situated behind a house "where the lamb protruded" (waar het lammeke uitstak). And so this lamb was chosen as the symbol. The seal shows the lamb and has the marginal legend, "de Kerck het Lam tot Aerdenburgh."
Bibliography
Broese van Groenou, H. "Uit het verleden der Doopsgezinde gemeente te Aardenburg." Doopsgezinde Bijdragen (1876), (1877), (1879), (1883), (1884), (1885).
Hege, Christian and Christian Neff. Mennonitisches Lexikon, 4 vols. Frankfurt & Weierhof: Hege; Karlsruhe: Schneider, 1913-1967: v. I, 4.
Additional Information
Congregation: Doopsgezinde Gemeente Aardenburg
Address: Weststraat 37, 4527 BR Aardenburg, Netherlands
Telephone: 0117-492907
Church website: Doopsgezinde Gemeente Aardenburg
Denominational affiliation:
Algemene Doopsgezinde Societeit
Maps
Author(s)
Nanne van der Zijpp
Date Published
1953
Cite This Article
MLA style
Zijpp, Nanne van der. "Aardenburg (Zeeland, Netherlands)." Global Anabaptist Mennonite Encyclopedia Online. 1953. Web. 19 Sep 2018. http://gameo.org/index.php?title=Aardenburg_(Zeeland,_Netherlands)&oldid=144673.
APA style
Zijpp, Nanne van der. (1953). Aardenburg (Zeeland, Netherlands). Global Anabaptist Mennonite Encyclopedia Online. Retrieved 19 September 2018, from http://gameo.org/index.php?title=Aardenburg_(Zeeland,_Netherlands)&oldid=144673.
---

Adapted by permission of Herald Press, Harrisonburg, Virginia, from Mennonite Encyclopedia, Vol. 1, pp. 3-4. All rights reserved.

©1996-2018 by the Global Anabaptist Mennonite Encyclopedia Online. All rights reserved.