Amigo Center (Sturgis, Michigan, USA)
From GAMEO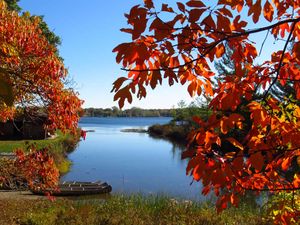 The history of camping in the Indiana-Michigan Mennonite Conference began in 1949 with the Child Welfare Committee of the Mennonite Board of Missions and Charities. That committee had acquired a property in Cass County, Michigan that was known as Youth Village (later known as Mirror Valley Retreat). The property included 171 acres and two sets of building. One potential use related to foster children, but another vision of Child Welfare Committee member Alta Schrock was to use the property "for summer camps for underprivileged children."
Most of the children who came to the Youth Village were from mission churches within the Indiana-Michigan Conference. The camping program started in summer 1950 and continued as Youth Village until 1983 when it became a part of the Camp Amigo program. During those years Youth Village provided a camping experience for thousands of children.
The Bible Memory Program also had an impact on the camping movement. One component of the program was a week at camp. Many of Indiana-Michigan Conference churches embraced this program. As it grew, so did the number of campers. Finding facilities for the campers became a real problem. Youth Village was no longer large enough and other camping facilities were not readily available. The time seemed right to consider a conference camp.
Several potential sites both in Indiana and Michigan were considered by the Christian Workers Conference of the Indiana-Michigan Conference. However, when the 360 acre Perrin Lake area became available in September 1956, it seemed the most logical location for the development of a camping program.
At a meeting held at the East Goshen Mennonite Church on 8 October 1956, the new Indiana Michigan Mennonite Camp Association was organized. The purposes of the organization were stated as follows:
To provide camp facilities under church sponsorship and direction for congregations, families, youth groups and children.
To provide suitable facilities for Bible conference, mission meetings, inspirational services, and such other meetings as the Board of Directors may approve.
To provide a suitable location for family cottages or dwellings for rest and/or recreation in a Christian environment.
Funds for the purchase of the property in 1957 were to come from three sources: the sale of lots along the north shore of big Perrin Lake, the purchase of Association memberships at $100 each, and contributions from congregations throughout the conference. The Association then managed the camping program for the conference.
The first year was spent in gaining control of the property and preparing it for the sale of lots, putting in necessary roads, planning for the use of the lakes, cleaning up the camping area and publicizing the program among the churches. Roman Gingerich, from Goshen College and Bob Tulley, from Indiana University, drove the stakes where the cabins and restrooms were to be located in both boys' and girls' area.
In fall 1958, the Association's board of directors agreed to provide facilities for the 1959 Bible Memory camps. On 6 December 1958, Kenneth Snyder was appointed as camp manager for one year on a marginal time basis throughout the school year and full-time during the summer.
The camping program grew slowly over the next several years. Some of the significant events during that time included: the name Camp Amigo was chosen, boys and girls camps were introduced, Torchbearer Rallies, Mennonite Youth Fellowships annual meetings and Bible Memory camps were held.
In January 1966 John R. Smucker began to serve as camp manager, and two years later became executive director. During John's tenure, the mortgage on the property was paid off, the Yutzy house was purchased for the director and the all-purpose building (the lodge) was dedicated in May 1967.
The new facility made possible programs such as: youth snow camps, business men's retreats and farmer's day. Because Amigo was now expanding its program it was necessary to reduce the Bible Memory usage. During the summer of 1968, Bible Memory was scheduled for three weeks instead of four. In addition to program changes new facilities were added. These included a new maintenance building, the tube run and a RV Park known as Amigo Park. This park was dedicated on 8 July 1972.
A final initiative before John Smucker left Camp Amigo was the establishment of the Outdoor Education Program in spring 1971. Government money was available, so 60 fifth grade students from York Elementary School had their first outdoor education experience. Since that time the program grew to include many schools and thousands of students. With winterized cabins the program continued later in the fall and started earlier in the spring.
John R. Smucker left in the fall of 1973 and was replaced by Rich and Chris Oswald. Children's play equipment was added to the park during this year. During Rich Oswald's years at camp, the health center was built, the director's house was constructed, a boat house built, a garage for Amigo Park managers built and a new swimming area dredged. As it turned out, the dredged area was not suitable for swimming but was an excellent place for launching boats and fishing.
During the year 1977-1978, four Voluntary Service people arrived at Amigo--Dale and Ethel Stutzman, Bill Minter and Karen Albrecht. Ethel became the first full-time secretary, Karen was the full-time cook and Bill and Dale built trails, managed the woodlot, plowed snow and constructed the first marsh bridge. The cross-country ski program got off to a good start during the snowy winter. A new furnace was installed in the "Lodge" so much wood had to be cut and split.
The year of 1979 brought more changes. An arts and crafts building was constructed. In later years it was remodeled and became the nature center. Also during this time, Lakeside Cottage was purchased and remodeled for useby full-time staff. In 1982, Rich Owald resigned and LeRoy Mast became his replacement as Executive Director.
Mast continued to upgrade facilities and program. Most of the girls' cabins were winterized. The offices were remodeled along with the staff lounge. He also proposed a very ambitious project known as "2001 and Beyond." Included in this proposal were a modern retreat center, activity building and swimming pool. Before LeRoy and Sherry Mast left in 1992, the modern motel type retreat center was a reality--a far cry from the tents and cabins of former years.
LeRoy Mast's replacement was Dana Sommers, former director at Laurelville Mennonite Church Center. His coming ushered in a new era of camping at Amigo. The new facility allowed and required hosting multiple programs simultaneously. Dana had experienced this program complexity at Laurelville. Another new facility was the Activities Center. This building along with the West Shore Lodge and winterized boy's cabins were all a part of the new look at Amigo.
Because Amigo was no longer just a camp, the name changed in 1995 to Amigo Center.
The development of the Amigo program grew from offering a few summer camp programs along side Bible Memory Camps to providing year-round programming and now to multiple group programming. People like Dale Stutzman, Cindy Graber, Mark Vincent, Brian Martin Burkholder and countless short-term program coordinators have created programs that helped to facilitate the ministry of the church. The Outdoor/Environmental Education program has been expanded to serve interested hosted groups and all program groups in addition to the traditional school program.
In 2016 Amigo Center stated its mission was "to facilitate the ministry of the church, encourage commitment to Jesus Christ and assist people of all ages to become the person God desires."
In 2016 the Executive Director was Matt Ropp.
Bibliography
Eby, Larry and Mary Jane Brenneman, eds. In harmony with creation: seeking God's face in Mennonite camping. Elkhart, Indiana : Mennonite Camping Association, 2006:.
Stutzman, W. Dale and Brian Martin Burkholder. "History of Amigo: 1957-2002." Amigo Center. Web. 24 November 2016. http://www.amigocentre.org/amigo-history.html.
Additional Information
Address: 26455 Banker Road, Sturgis, Michigan 49091
Phone: 269-651-2811
Website: http://www.amigocentre.org/
Camp Managers/Executive Directors at Camp Amigo/Amigo Center
Name
Years
of Service
Kenneth Snyder
1958-1965
John R. Smucker
1966-1973
Rich Oswald
1973-1982
LeRoy Mast
1982-1992
Dana L. Sommers
1992-2005
Kent Miller
2005-2010
Cliff Brubaker
2010-2016
Matt Ropp
2016-present
Map
Map:Amigo Center (Sturgis, Michigan, USA)
Author(s)
W. Dale Stutzman
Brian Martin Burkholder
Date Published
November 2016
Cite This Article
MLA style
Stutzman, W. Dale and Brian Martin Burkholder. "Amigo Center (Sturgis, Michigan, USA)." Global Anabaptist Mennonite Encyclopedia Online. November 2016. Web. 24 Sep 2018. http://gameo.org/index.php?title=Amigo_Center_(Sturgis,_Michigan,_USA)&oldid=147992.
APA style
Stutzman, W. Dale and Brian Martin Burkholder. (November 2016). Amigo Center (Sturgis, Michigan, USA). Global Anabaptist Mennonite Encyclopedia Online. Retrieved 24 September 2018, from http://gameo.org/index.php?title=Amigo_Center_(Sturgis,_Michigan,_USA)&oldid=147992.
---

©1996-2018 by the Global Anabaptist Mennonite Encyclopedia Online. All rights reserved.