Enkhuizen (Noord-Holland, Netherlands)
Jump to navigation
Jump to search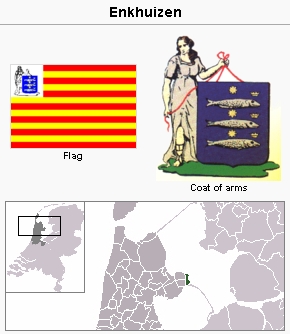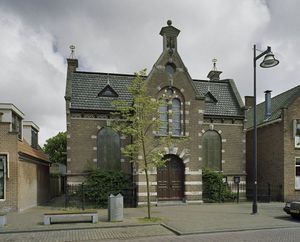 Enkhuizen, a town in the Dutch province of North Holland, formerly on the Zuiderzee (population, 10,000 in 1950; 17,833 in 2007; coordinates: 52° 43′ 12″ N, 5° 16′ 48″ E), has since the middle of the 16th century been the seat of a Mennonite congregation. Leenaert Bouwens baptized 36 persons here. During the days of the persecution the government was favorably inclined to them. When the mayor Sievert Meinertszoon Bokgeest was informed (1558) that the Mennonites were holding secret meetings, which the government was obliged to prevent, he sent them warning, so that they could escape arrest. The magistrate likewise showed no great interest in persecuting them. Van Braght's Martyrs' Mirror lists the following martyrs executed in Enkhuizen: Dirk Pietersz Krood, Pieter Trijnes, Claes Roders, and Pieter Claes Jansz. The year of the execution is not known. None of them were citizens of Enkhuizen. Whereas the membership was large in the 16th century, it declined sharply according to the report of the Reformed preacher Bogerman in 1603. The division into various factions had a deterrent influence.
Little is known concerning the history of the various congregations. There were at least two Mennonite congregations in Enkhuizen. The larger of these belonged to the Waterlander branch; the other, which was always small and in 1733 had only 22 members, belonged to the Groningen Old Flemish. The Waterlander congregation sent a representative to the conference of this branch meeting at Amsterdam in 1647. In 1760 difficulties with the magistrates arose in the ordination of Reinhard Rahusen and in 1765 in the ordination of Hendrik van Gelder, since the mayors of the city claimed the right of confirming the ordination. The church council did not yield, and both ordinations proceeded without disturbance. In 1765 the union between the (Groningen) Old Flemish and the Waterlander congregations took place, the small congregation in nearby Venhuizen having merged with the Waterlander congregation of Enkhuizen in 1735. Evidence of a willingness to sacrifice is shown in the contributions of this congregation to the relief fund for foreign needs: 117 guilders in 1727; 112 in 1733; 203 in 1736. From 1840 until his retirement in 1888, the pastor was Dirk Harting, a man of great learning, especially in the Greek. He was the founder of the Doopsgezinde Bijdragen. During his pastorship in 1860, the church, parsonage, and custodians' residence were restored. From 1888 to 1900 this church was united with Medemblik. From 1901 to 1907 the minister was H. Bakels. He was followed by S. Spaans 1907-17, F. F. Milatz 1918-29; after a vacant pulpit for four years, the congregation joined with Hoorn to provide ministerial care (1933).
In 1847 the membership was 40 (90 souls). In 1953 it numbered 112 baptized members. The congregation had a youth club and a choir.
Bibliography
Cate, Steven Blaupot ten. Geschiedenis der Doopsgezinden in Holland, Zeeland, Utrecht en Gelderland, 2 vols. Amsterdam: P.N. van Kampen, 1847: vv. I and II, passim.
Doopsgezinde Bijdragen (1879): 6; (1883): 72; (1889): 134; (1907): 169.
Hege, Christian and Christian Neff. Mennonitisches Lexikon, 4 vols. Frankfurt & Weierhof: Hege; Karlsruhe: Schneider, 1913-1967: v. I, 591 f.
Hoop Scheffer, Jacob Gijsbert de. Inventaris der Archiefstukken berustende bij de Vereenigde Doopsgezinde Gemeente to Amsterdam, 2 vols. Amsterdam: Uitgegeven en ten geschenke aangeboden door den Kerkeraad dier Gemeente, 1883-1884: v. I, Nos. 88, 708, 1149, 1164, 1180; v. II, Nos. 1716 f.
Reliwiki. "Enkhuizen, Venedie 17 - Doopsgezinde Gemeente." 18 September 2013. Web. 12 October 2014. http://reliwiki.nl/index.php/Enkhuizen,_Venedie_17_-_Doopsgezinde_Gemeente.
Additional Information
Congregation: Doopsgezinde Gemeente Enkhuizen & omstreken
Address: Venedie 17, 1601 HA, Enkhuizen, Netherlands
Telephone: 0228-316512
Church website: Doopsgezinde Gemeente Enkhuizen & omstreken
Denominational affiliation:
Algemene Doopsgezinde Sociëteit
Maps
Author(s)
Karel Vos
Nanne van der Zijpp
Date Published
1956
Cite This Article
MLA style
Vos, Karel and Nanne van der Zijpp. "Enkhuizen (Noord-Holland, Netherlands)." Global Anabaptist Mennonite Encyclopedia Online. 1956. Web. 14 Aug 2020. https://gameo.org/index.php?title=Enkhuizen_(Noord-Holland,_Netherlands)&oldid=145006.
APA style
Vos, Karel and Nanne van der Zijpp. (1956). Enkhuizen (Noord-Holland, Netherlands). Global Anabaptist Mennonite Encyclopedia Online. Retrieved 14 August 2020, from https://gameo.org/index.php?title=Enkhuizen_(Noord-Holland,_Netherlands)&oldid=145006.
---

Adapted by permission of Herald Press, Harrisonburg, Virginia, from Mennonite Encyclopedia, Vol. 2, p. 223. All rights reserved.

©1996-2020 by the Global Anabaptist Mennonite Encyclopedia Online. All rights reserved.