Enns, Margaretha Frantz (1892-1959)
Jump to navigation
Jump to search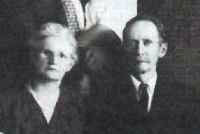 Margaretha Frantz Enns: Mennonite immigrant to Canada; born 10 August 1892 in the village of Sarona, Crimea, South Russia. She was the youngest of six children born to Heinrich Frantz (1848-1892) and Barbara (Rempel) Frantz (1860-1938). Margaretha's father died just weeks after she was born. Abraham Giesbrecht (1868-1938) became her stepfather in 1893 when her mother remarried. On 27 May 1910 Margaretha was baptized by Ältester Heinrich Dirks (1842-1915) and became a member of the Crimea Mennonite Church. On 14 August  1914 Margaretha married David D. Enns (1886-1973) and left the Crimea to live on her husband's family estate near Taschtschenak, Ukraine. Together they had five daughters, four of which survived to adulthood. Margaretha died on 25 April 1959 in Steinbach, Manitoba, Canada.
Shortly after Margaretha's mother and stepfather married they moved the family to the village of Shirin in Crimea. This is where Margaretha spend her childhood, attended school and developed her artistic talents. In addition to being a gifted painter and musician with a strong soprano voice, Margaretha was also an accomplished seamstress who received training in fashion design and pattern making. She would later put these skills to good use during the Great Depression in Canada. Margaretha was raised in a Mennonite home and community where she learned about the Mennonite faith and was nurtured in her own spiritual development. She met her future husband while working as a nurse maid on the estate of a Martens' family near Taschtschenak. The year she married David D. Enns, 1914, also marked the beginning of the World War I. As political and social instability began spreading across Russia, Margaretha, her husband and two young children were forced to leave their home, finding refuge with relatives in Halbstadt. Here Margaretha gave birth to three more daughters, one of which died at birth. The years of revolution, famine, disease and terror which followed were made bearable by the hope of immigrating to Canada, hope which became a reality in 1924. Margaretha and her daughters made one last trip to visit her parents in Neu Shirin before saying good-bye for the last time. On 20 July 1924 she and her family left for Canada.
Their ship arrived in Quebec City on 8 August 1924. From there they traveled to Kitchener, Ontario where they lived with a Mennonite family until moving on to Dominion City, Manitoba in February 1925. Though they experienced many hardships during their early years in Canada, Margaretha remained positive. In spite of losing everything they had owned in Russia it was wonderful to be free of violence and fear.
In 1927 Margaretha and her husband moved to Grunthal, Manitoba where a number of Mennonite families were selling their farms in preparation for immigration to Paraguay. In Grunthal they became members of the Elim Mennonite Church. During the economic depression of the 1930s, they always had a garden, Margaretha took in sewing and her daughters went to work in Winnipeg as domestics. Their earnings were used to make house payments and were also put towards the travel debt that they finally fully repaid on 30 July 1941. Hearing news of hardships facing Mennonites in the "old country" Maria also managed to send food parcels to her family in the Crimea.
After living a life full of hardship and self sacrifice Margaretha's retirement years were marred by failing health and blindness. In spite of life's struggles or perhaps because of her courage and strength in facing life's struggles, Margaretha was admired and dearly loved by her family and community.
Bibliography
Rempel, Margaret Thiessen. "Margaretha Frantz Enns (1892-1959)." Preservings (June 1997): 56-60.
Author(s)
Sharon H. H Brown
Date Published
March 2006
Cite This Article
MLA style
Brown, Sharon H. H. "Enns, Margaretha Frantz (1892-1959)." Global Anabaptist Mennonite Encyclopedia Online. March 2006. Web. 20 Aug 2019. https://gameo.org/index.php?title=Enns,_Margaretha_Frantz_(1892-1959)&oldid=91705.
APA style
Brown, Sharon H. H. (March 2006). Enns, Margaretha Frantz (1892-1959). Global Anabaptist Mennonite Encyclopedia Online. Retrieved 20 August 2019, from https://gameo.org/index.php?title=Enns,_Margaretha_Frantz_(1892-1959)&oldid=91705.
---

©1996-2019 by the Global Anabaptist Mennonite Encyclopedia Online. All rights reserved.