Technology
From GAMEO
Introduction
Most Mennonites have accepted technological advances. They have contributed to these advances and benefited from them.
Agriculture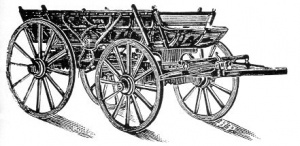 Mennonites were known as excellent farmers throughout their history. They generally used the same technology as other farmers but put in extra effort to get the best results with the technology available. Mennonites in southern Germany and the Alsace have been viewed by some scholars as innovators in livestock breeding and crop rotation techniques; the claim is disputed by others. In the 19th century better quality steel led to improvements in agricultural machinery. In Russia in the 19th century, this meant production of higher quality wagons, plows, mowers, reapers, and threshing machines. The Russian Mennonites made improvements on this agricultural machinery to adapt it to local conditions and make it easier to repair and maintain. Often, they were also able to produce such machines cheaper than imported models. In North America, Mennonites were making similar improvements in agricultural machinery in the 19th and on into the 20th century. Examples would be the production of straw blowers, self-feeders for threshing machines, and refinements in other harvesting machinery.
Mills
The Dutch had become very adept at building and using mills powered by wind to pump water so that land could be drained for agricultural use. The Dutch Mennonites used this technology in The Netherlands and took this skill with them across northern Europe as they moved eastward. They not only built and operated the mills but also engineered the drainage systems. In Prussia mills were also used for producing flour from the grain grown on the drained soil. On the Russian steppes and on the prairies of North America the mills were used more as grist mills and saw mills. This particular skill has helped make Mennonites more welcome in each of the locales where they have been.
Transportation
Mennonites generally accepted the transportation technology that was available to them. The Dutch people were adept sailors; Dutch Mennonites were active in various maritime endeavors. Horses and wagons were used by European Mennonites when this was the common mode of transportation. Especially in Russia, the Mennonites became very good wagon manufacturers. Later, when steam and internal combustion engines made tractors, trains, automobiles, bigger ships, and airplanes available, Mennonites generally accepted these as well. There were some exceptions, however (see below).
Manufacturing
The Dutch Mennonites were active in shipbuilding, the related lumber business, food industry, and the textile industry. These industries carried over to Prussia and Russia. New modes of power like steam made large flour mills possible in Russia, much bigger than those powered by the windmills of the previous centuries. Agricultural machinery was manufactured on a large scale in Russia, including wagons, mowers, plows, and threshing machines. In North America, Mennonites have been involved in many areas of manufacturing, including as in previous centuries, the food industry, lumber business, flour mills, and agricultural machinery. Some of the plain people are still excellent wagon manufacturers.
Communication
European Mennonites used the same means of communication as transportation made possible. Publishing was also done by the available technology. In the 19th and 20th centuries, when newer technologies came into common use, the Mennonites used these as well. These included the telephone, telegraph, television, offset press, photocopying, laser printing, and other computer-generated technologies. These recent technologies have raised many questions even though they have been commonly accepted and used by Mennonites. They threaten to introduce many undesirable values into the home through television and related technologies. For Mennonite businesses and institutions it raises questions of the right to privacy and the use of information to manipulate or take advantage of other people. There is a concern that people remain able to control technology and not vice versa.
Conservative Caution
Not all Mennonites have adapted to changes in technology. Old Order Mennonites, Old Order Amish, Old Colony Mennonites, some Sommerfeld Mennonites, Old Order River Brethren and others have been very cautious in adopting any technology which potentially threatened their traditional way of life. Some have accepted a non-rubber-tired tractor as something that was an asset, and, if kept under control, would not threaten their way of life. Some have not accepted the radio or television because they would be a liability and would threaten their way of life. These technologies would allow a direct invasion of the outside world into their homes which could potentially bring unacceptable changes. Their basic motivations are both religious and pragmatic. They prefer to retain the old and tried technology which has not threatened their ways of life.
Appropriate Technology
Mennonites have always tried to help members of their own community in need (mutual aid). In the 20th century they have also begun helping others. This has brought them in contact with peoples of other cultures who use other technologies. It has raised the question whether one should place a higher value on one technology over another. The approach taken by Mennonite development workers has generally been that one does not categorize technologies in a way that makes one better than another. Rather, they have sought to adapt available technologies to local situations. For example, Eric Rempel of Manitoba, Canada, helped Africans develop a farm implement using local materials and skills which they could easily manufacture and maintain. European or North American Mennonites might categorize this farm machinery as less efficient than their own machinery. However, they were quite willing to support Rempel in his work. The same Rempel helped North American native peoples develop a wild rice harvester which they could use for their local needs. This piece of machinery is much more complex than the one Rempel developed for the Africans but it met the needs using locally available and understood technologies. In both cases, technology was used to benefit people rather than imposing supposedly superior technologies which would not have been adaptable (appropriate technology).
Technology needs to remain a tool for individuals, the church, and society to use. If it becomes a master or is imposed from the outside, Mennonites would generally deem it inappropriate technology. Therefore, technology will continue to be viewed, adapted, and used in the broader context of the ultimate purpose for people on this earth.
See also Ecology; Industrialization; Modernity
Bibliography
Armytage, W. H. G. A Social History of Engineering. London: Faber and Faber, 1961.
Dyck, C. J., ed. Introduction to Mennonite History. Scottdale, PA: Herald Press, 1967.
Ellul, Jacques. The Technological Society. New York: Alfred A. Knopf, Inc., 1964, 1976.
Grant, George. Technology and Empire. Toronto, 1969.
Hostetler, John A. Amish Society. Baltimore: Johns Hopkins U. Press, 1980.
Hostetler, John A. Hutterite Society. Baltimore: Johns Hopkins U. Press, 1974.
Odessaer Zeitung 1876-88.
Redekop, Calvin W. Old Colony Mennonites. Baltimore: Johns Hopkins U. Press, 1969: e.g., 137ff.
Séguy, Jean. "Religion and Agricultural Success: the Vocational Life of the French Anabaptists from the 17th to the 19th Century." Mennonite Quarterly Review 47 (1973): 179-224.
Séguy, Jean. Les Assemblées anabaptistes-mennonites de France. The Hague: Mouton, 1977.
Unterhaltungsblatt für die deutschen Ansiedler im Südlichen Rußland; this periodical contains a series of articles which mention Mennonite technological contributions 1849-61, copies at Centre for Mennonite Brethren Studies, Winnipeg.
Urry, James. "Through the Eye of a Needle: Wealth and the Mennonite Experience in Imperial Russia." Journal of Mennonite Studies 3 (1985): 7-35.
Varry, Dominique. "Jacques Klopfenstein and the Almanacs of Beaufort and Montbéliard in the 19th century." Mennonite Quarterly Review 58 (1984): 241-57.
Author(s)
Bert Friesen
Date Published
1990
Cite This Article
MLA style
Friesen, Bert. "Technology." Global Anabaptist Mennonite Encyclopedia Online. 1990. Web. 19 Mar 2019. http://gameo.org/index.php?title=Technology&oldid=143456.
APA style
Friesen, Bert. (1990). Technology. Global Anabaptist Mennonite Encyclopedia Online. Retrieved 19 March 2019, from http://gameo.org/index.php?title=Technology&oldid=143456.
---

Adapted by permission of Herald Press, Harrisonburg, Virginia, from Mennonite Encyclopedia, Vol. 5, pp. 875-876. All rights reserved.

©1996-2019 by the Global Anabaptist Mennonite Encyclopedia Online. All rights reserved.