Wiebe, Aaron Reimer (1906-1991)
Jump to navigation
Jump to search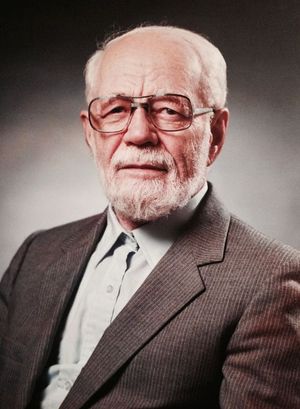 Aaron Reimer Wiebe: agribusinessman, community leader, and churchman; born 16 November 1906 in the Rural Municipality of La Broquerie, Manitoba to Jacob T. Wiebe (25 October 1872, Russia – 6 April 1965, Canada) and Anna (Reimer) Wiebe (29 August 1871, Russia – 5 July 1924, Ste. Anne, Manitoba), the eighth of twelve children. On 13 June 1930, Aaron married Martha Toews (11 April 1910 – 1 December 1935), daughter of Jacob G. Toews (1878-1945) and Anna (Giesbrecht) Toews (1880-1951). They had three children, Margaret, Burton and Ken. Martha passed away in 1935 due to complications during the birth of their third child. On 15 August 1936, Aaron married Martha's older sister Mary (6 March 1907, Rosenort, Manitoba – 23 October 1980, British Columbia), and another four children, Russell, Hank, Hugh and Dan were born. After 44 years of marriage, Mary succumbed to cancer on 23 October 1980. Aaron then married Lottie (Toews) Penner (21 December 1912, Sunnyslope, Alberta – 12 April 2012, Crooked Creek, Alberta), a widow from Linden, Alberta, on 8 May 1981. They had 10 years together before he died on 5 June 1991 in Abbotsford, British Columbia. His last years were spent in a care home in Abbotsford, suffering from Parkinson's disease and dementia.
Aaron's father was a successful mixed farmer and blacksmith who served the local community, and was the leading minister of his local congregation. Jacob's son, Aaron, grew up on the farm, received elementary education in a country school, and at age 18 entered Normal School at Gretna, Manitoba. There he received a teaching certificate and taught school for 16 years in several surrounding communities.
In the early 1940s, Aaron left teaching and established a mixed farm on 240 acres in Ste. Anne, Manitoba, cropping the ground, raising hogs and chickens, and milking cows. In addition, he managed a small apiary, built and operated the first telephone system in the community, and graded and sold both his and his neighbours' eggs to shopkeepers in Winnipeg.
In fall 1949, Aaron and Mary sold their farm and business interests in Manitoba and moved their family to Mt. Lehman, British Columbia. There, Aaron established a poultry farm on 24 acres, and immersed himself in his community and the Abbotsford Church of God in Christ, Mennonite congregation where he served as deacon for many years. A compassionate man, his heart was always sensitive to the needs of others. He donated prime land and oversaw the construction and early management of Valhaven Home, a senior citizens' complex, as well as the Sunset Subdivision Community for rural retirees. Aaron was a man of principle and understood the love and providence of God reaching to all humanity. Although a conservative Mennonite, his heart and acceptance of others was not limited to his own church affiliation. This was the spiritual underpinning he cherished, promoted, and lived by, and the philosophy that brought him into conflict with, and discipline from, his own conservative church body.
Wiebe expanded his poultry farming operations, Brookside Farms Ltd., to include egg grading, egg processing, and feed milling. He was one of the first chicken broiler producers in BC and became a major supplier of live poultry to Panco Poultry. He showed himself to be a true pioneer in the 1950s through his introduction of high-volume poultry production. In the process, he provided mentoring and employment to the community and to young farmers. His goal was always to provide wholesome food to the public and leave a testimony of strong business ethics. Those ethics were learned from his father, passed on to his children, and remain a tradition honored by his family to this day.
Aaron's egg-processing business became the largest in Canada, with plants in British Columbia, Manitoba, and Ontario. His feed-milling operation on Mt. Lehman Road was the base from which he co-founded and was president of Ritchie Smith Ltd. in 1968 until the majority shares in the company were sold to partners Bill Ritchie and Dave Smith in 1971-72. His early interest and entrepreneurship in farming and processing eventually impacted worldwide commercial achievements in the poultry, egg, biologics (the production of isolated natural enzymes and immunoglobulins used in the production of foods and pharmaceuticals), and confections industries. Aaron rejected any personal gain from his endeavors, and in his mid-50s he gave his entire company to his sons and daughter.
Three different family enterprises arose from the base that Aaron started. Rossdown (owned by son Dan) expanded the live poultry production by integrating all the segments of breeding stock, broiler production, feed milling, hatching, processing and cold storage. Brookside (owned by son Hugh) took over the egg processing segment, developed hi tech egg byproducts for worldwide consumption and introduced chocolate manufacturing (recently sold to Hershey Corporation). Labelle (owned by Hank) used the egg drying technology to produce dried colostrum and other egg byproducts in California and Washington for distribution to world markets.
Aaron lived his life with a view to the core principles for a godly, significant life as epitomized by Micah 6:8, concerned to do justice, show faithfulness, compassion, and walk humbly with his God. Alongside, he had a vision for the issues of the wider world as demonstrated by his development of new businesses and housing for seniors. His generosity was epitomized by his support and mentoring of people working to get started in new businesses – he helped others get their start. Aaron Reimer Wiebe – a man of principle, vision, and generosity.
Bibliography
GRANDMA (The Genealogical Registry and Database of Mennonite Ancestry) Database, 7.05 ed. Fresno, CA: " California Mennonite Historical Society, 2013: #252898.
Author(s)
David Loewen
Dan Wiebe
Date Published
January 2014
Cite This Article
MLA style
Loewen, David and Dan Wiebe. "Wiebe, Aaron Reimer (1906-1991)." Global Anabaptist Mennonite Encyclopedia Online. January 2014. Web. 7 Jul 2020. https://gameo.org/index.php?title=Wiebe,_Aaron_Reimer_(1906-1991)&oldid=135971.
APA style
Loewen, David and Dan Wiebe. (January 2014). Wiebe, Aaron Reimer (1906-1991). Global Anabaptist Mennonite Encyclopedia Online. Retrieved 7 July 2020, from https://gameo.org/index.php?title=Wiebe,_Aaron_Reimer_(1906-1991)&oldid=135971.
---

©1996-2020 by the Global Anabaptist Mennonite Encyclopedia Online. All rights reserved.