Wiebe, Ronald Bruce (1945–1999)
Jump to navigation
Jump to search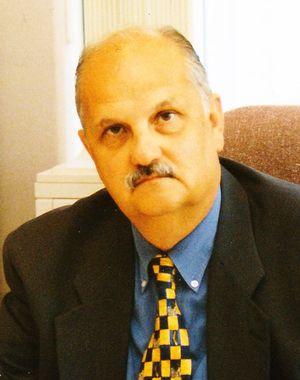 Ronald Bruce Wiebe: social worker, correctional professional, community activist, and church leader; born the youngest of three children to William G. Wiebe (1912-2003) and Elizabeth L. (nee Janzen) Wiebe (1914-2005) in Chilliwack, British Columbia (BC), Canada on 20 July 1945. Ron married Shirley D. Johnston, daughter of Henry O. and Ruth E. (Sako) Johnson, on 6 May 1967 at Crystal Free Church, Minneapolis, Minnesota, USA. Ron and Shirley had three sons: Jeffrey, Jason and Jordan. Shirley was a hairdresser by trade, operating her own home-based business for many years. Ron died 28 July 1999 in Abbotsford, BC after a brief battle with cancer, while in the prime of his life and career.
Ron was baptized in 1962 at Central Heights Mennonite Brethren Church, Abbotsford. BC. Following graduation from Abbotsford Senior High School, and attending Briercrest Bible Institute in Caronport, Saskatchewan (1964-65), Ron completed a Bachelor of Arts degree at Simon Fraser University, Burnaby, BC, and a Master of Social Work degree at University of British Columbia, Vancouver, BC.
Wiebe worked as a social worker in the Northwest Territories of Canada (1971-73), then obtained employment with Correctional Services Canada, in whose employ he remained until his death. While holding numerous positions of leadership, his seminal contribution was as Warden of both Ferndale Institution and Elbow Lake Institution. In this position he worked with Aboriginal offenders and introduced "restorative justice" approaches, including an annual conference for staff, inmates and institutional and community partners. Ron engaged the community in significant ways, including volunteers assisting offenders in a various ways, and offenders contributing to community projects.
Prior to his death, the Commissioner of Corrections contracted George Garrett, radio reporter, to assist Ron in recording and transcribing a series of conversations, leading to the publication of his memoirs (posthumously) entitled The Visionary Legacy of Ron Wiebe: An Unfinished Conversation. Reflections of a Canadian Prison Warden (see bibliography). The Commissioner also established a "Restorative Justice Award" in Ron's name which is awarded annually to a person making an outstanding contribution to restorative justice in Canada. Wiebe was the recipient of national awards including the Governor General's Award and the Award for Meritorious Service, and a scholarship was established in his name in criminal justice at the University of the Fraser Valley.
Wiebe's contributions to the community were equally significant, including: contributing to the establishment of family service programs at Abbotsford Community Services; examining women's resource needs that led to the creation of Ishtar Transition House; leadership in establishing minor soccer and baseball leagues in Abbotsford; chair and board member of Central Fraser Valley Big Brothers; membership on the steering committee for the development of Exhibition Park, Abbotsford; founding member and chair of Columbia Counseling Group, Abbotsford; elder and active volunteer at Highland Community Church (MB), where he led the development of a mission and core values statement for the congregation, and promoted the use of church facilities by numerous community groups. A complex of playing fields in Abbotsford have been named after him in recognition of his service.
Ron Wiebe's work, community and church life were characterized by an active, whole-hearted tempo, embracing people from diverse cultures, religions and backgrounds, love of family and Christian heritage, a passion for music (guitar), and promoting and fostering permanent friendships.
Bibliography
Konrad, John and Nellie Tayloe. "Ron Wiebe: Visionary Prison Warden." Profiles of Mennonite Faith. 18 March 2016. Web. 11 April 2016.
Wiebe, Ron. The Visionary Legacy of Ron Wiebe: An Unfinished Conversation. Ottawa: Correctional Service of Canada, 2000. http://www.csc-scc.gc.ca/restorative-justice/003005-3100-eng.shtml.
Author(s)
John Konrad
Date Published
February 2011
Cite This Article
MLA style
Konrad, John. "Wiebe, Ronald Bruce (1945–1999)." Global Anabaptist Mennonite Encyclopedia Online. February 2011. Web. 20 Feb 2020. https://gameo.org/index.php?title=Wiebe,_Ronald_Bruce_(1945%E2%80%931999)&oldid=133958.
APA style
Konrad, John. (February 2011). Wiebe, Ronald Bruce (1945–1999). Global Anabaptist Mennonite Encyclopedia Online. Retrieved 20 February 2020, from https://gameo.org/index.php?title=Wiebe,_Ronald_Bruce_(1945%E2%80%931999)&oldid=133958.
---

©1996-2020 by the Global Anabaptist Mennonite Encyclopedia Online. All rights reserved.