Zwolle (Overijssel, Netherlands)
Jump to navigation
Jump to search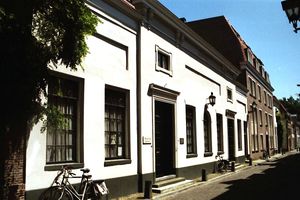 Zwolle, capital of the Dutch province of Overijssel (1953 pop. 52,500, with 368 Mennonites; 2005 pop. 111,962), seat of a Mennonite congregation. Anabaptism was found here as early as 1533, then bearing a strongly marked revolutionary character. Jan van Geelen was in Zwolle in January 1535. Among the many Anabaptists active here was Harman Hoen. Cornelis de Vlaminck, a deacon of the early Anabaptist congregation of Amsterdam, was executed at Zwolle in 1535. In 1544 there was still some revolutionary activity here. A Mennonite congregation of Zwolle is first mentioned in 1574, but Mennonite meetings had been held here at least by 1562. About 1600 there probably were three Mennonite congregations here—Flemish, Waterlander, and High German—but these groups merged before 1649. The united church, sometimes called Flemish and sometimes Waterlander, was represented at the Haarlem Flemish conference in 1649 by Hendrick Theunis, Wynant Jansz, and Thomas Schirnmelpenninck. In 1674 the Zwolle congregation joined the Zonist Conference. Though there never was an Old Flemish congregation at Zwolle, the Groningen Old Flemish preachers Ubbo Meertens and Lubbert Jansz Kremer preached here in 1754 to large audiences. A meetinghouse was probably built in 1638 or shortly after on Wolweversstraat on the site of the present Mennonite church. It was remodeled in 1708, and enlarged in 1846; its organ was secured in 1907. The Zwolle congregation possesses two silver communion cups from 1661, one from 1670, and one from 1851. An old people's home on Koestraat was used until 1781 and then sold. A special hymnal, the Zwolsche Bundel, has been used here since 1808.
Concerning membership little is known; the baptized membership numbered 34 in 1706, 40 in 1796, 170 in 1861, 340 in 1926, 280 in 1958. Members of the old Stroink family are still found here; formerly there was also the Schirnmelpenninck family, many of whose members were deacons. The small congregation of Zwolle in 1672 contributed 414 Dutch guilders for the Swiss Mennonites and again a considerable gift in 1710, and later also in behalf of the Prussian Mennonites.
Until c1695 the congregation was served by untrained and unsalaried ministers chosen from the membership; the first salaried minister was Abraham Blijdenstein, serving from 1700. The conservative leader Jacobus Rijsdijk served at Zwolle 1723-1728. The first minister educated at the Amsterdam seminary to serve here was Thomas Menalda, 1771-d. 1794. Assuerus Doyer, a beloved pastor, served 1795-d. 1838. He was followed by L. ten Cate Coster 1833-1858, T. Kuiper 1859-1862, A. Vis 1862-1866, J. Kerbert 1867-1884, Samuel Cramer 1885-1890, A. G. van Gilse 1890-1922, W. H. toe Water 1923-1938, A. P. van de Water 1939-1942, Miss C. Soutendijk 1942-1946, and J. Meerburg Snarenberg from 1947. Church activities include two women's circles and a Sunday school for children.
Bibliography
Algemeen Doopsgez. Weekblad XI (1956): No. 13.
Cate, Steven Blaupot ten. Geschiedenis der Doopsgezinden in Groningen, Overijssel en Oost-Friesland, 2 vols. Leeuwarden: W. Eekhoff en J. B. Wolters, 1842. I, 18, 96 f., 143 note 1, 150, 215 f., 239; II, 127, 185 f.
Doopsgezind Jaarboekje. (1840): 44; (1850): 411.
Doopsgezinde Bijdragen. (1861): 174; (1875): 54 f.; (1882): 108 f.; (1900): 115; (1903): 149.
Elte, S. "Godsdienstige conflicten in Zwolle . . . 1580-80." in Verslagen en Mededeelingen Overijsselsch Regt en Geschiedenis. 1936.
Hoop Scheffer, Jacob Gijsbert de. Inventaris der Archiefstukken berustende bij de Vereenigde Doopsgezinde Gemeente to Amsterdam, 2 vols. Amsterdam: Uitgegeven en ten geschenke aangeboden door den Kerkeraad dier Gemeente, 1883-1884: v. I, Nos. 84, 134, 267, 886, 1117; v. II, Nos. 2456-71.
Mellink, Albert F. De Wederdopers in de noordelijke Nederlanden 1531-1544. Groningen: J.B. Wolters, 1954: 282-90.
van der Zijpp, Nanne. Geschiedenis der Doopsgezinden in Nederland. Arnhem, 1952: 109, 242 note 17.
Additional Information
Congregation: Doopsgezinde Gemeente Zwolle
Address: Wolweverstraat 9, 8011 NW Zwolle, Netherlands
Telephone: 038-4211586
Church website: Doopsgezinde Gemeente Zwolle
Denominational affiliation:
Algemene Doopsgezinde Sociëteit
Map
Map:Doopsgezinde Gemeente Zwolle
Author(s)
Nanne van der Zijpp
Date Published
1959
Cite This Article
MLA style
Zijpp, Nanne van der. "Zwolle (Overijssel, Netherlands)." Global Anabaptist Mennonite Encyclopedia Online. 1959. Web. 9 Aug 2020. https://gameo.org/index.php?title=Zwolle_(Overijssel,_Netherlands)&oldid=126014.
APA style
Zijpp, Nanne van der. (1959). Zwolle (Overijssel, Netherlands). Global Anabaptist Mennonite Encyclopedia Online. Retrieved 9 August 2020, from https://gameo.org/index.php?title=Zwolle_(Overijssel,_Netherlands)&oldid=126014.
---

Adapted by permission of Herald Press, Harrisonburg, Virginia, from Mennonite Encyclopedia, Vol. 4, p. 1054. All rights reserved.

©1996-2020 by the Global Anabaptist Mennonite Encyclopedia Online. All rights reserved.