Brucks, Henry (1918-1987)
From GAMEO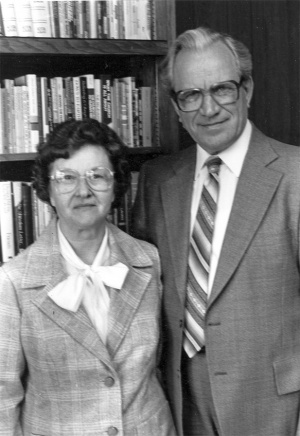 Henry Brucks: missionary and minister; born 30 June 1918 in Stepanovka, Orenburg, Russia, the only son and sixth child among ten children of Heinrich Brucks (17 August 1880, Ladekopp, Molotschna Mennonite Settlement, South Russia - 24 September 1951, Yarrow, British Columbia [BC], Canada) and Aganetha (Dueck) Brucks (2 July 1889, Klippenfeld, Molotschna, South Russia - 8 March 1972, Abbotsford, BC). On 17 July 1948 Henry married Elsie Hiebert (1 January 1923, Ekaterinoslav, Ukraine - 27 March 2012, Winnipeg, Manitoba, Canada), daughter of Heinrich J. Hiebert (1890-1964) and Ottilie (Luzius) Hiebert (1895-1988), of Arnaud, Manitoba. They had four children: Florence, Naomi, Paul, and Joanne. Henry died 21 March 1987 in Winnipeg, Manitoba.
The family migrated to Canada in 1926 when Henry was seven, settling in Coaldale, Alberta. When he was twelve he turned to his mother who helped him make commit his life to God. However, it was after his first year of attendance at the Coaldale Bible School that he made a full commitment to his Lord, one that affected the direction and future of his life.
The family moved to Yarrow, British Columbia in 1939 where Henry quickly became involved in teaching children and conducting services on the home-missions front, including street meetings in neighbouring boroughs.
When World War II ended Henry enrolled in the Mennonite Brethren Bible College in Winnipeg, where he co-pioneered and co-piloted "The Gospel Light Hour" radio program. His passion for missions was revived when after two years he was encouraged to apply to the mission board at Hillsboro, Kansas for active service. In July of 1948 the Canadian Conference of Mennonite Brethren churches presented Henry as a candidate for mission work in Africa, whereupon he sped by bus to Arnaud, Manitoba to be married the following day.
Immediately Henry and Elsie plunged into deputation work continuing westward to British Columbia, where on 15 August 1948 Henry was ordained and the couple was commissioned as missionaries. After a year at Tabor College in Hillsboro they left for language study in Belgium. In the summer of 1950 they sailed to Belgian Congo.
During their two terms in the Congo, Henry participated in building projects such as mud houses, churches, schools and medical buildings. He served as teacher and principal in the Bible institute, legal representative, school inspector, village evangelist and minister to churches and their leaders.
Independence in June 1960 forced missionaries to evacuate. Despite harrowing interceptions, the family escaped to Angola. After six weeks Henry returned to a changed Leopoldville, now Kinshasa, and briefly to Kikwit to encourage the church leaders and assess the political climate. However with the country in turmoil education for their children was no longer possible. In November he returned with his family to Canada.
Henry was approached by his longstanding friend, Peter P. Neufeldt, pastor of the Yarrow MB Church, to replace him. Tragically, the call was sanctioned when Neufeldt and two fellow delegates were killed en route to the Canadian Conference.
After a four-year, gratifying pastorate in Yarrow, Henry moved to study at Tabor College. During the ten years in Kansas he served initially as an itinerant preacher, and subsequently as resident pastor. Later he was appointed by the Mennonite Brethren Conference as Secretary for the Board of Welfare and assigned to facilitate the merger of the Boards of Welfare and Missions. He moved to Hillsboro where both Elsie and their daughter Florence attended Tabor College. Under the new Board of Missions and Services (BOMAS) Henry's areas of responsibility were South America, Europe, and personnel. In both South America and post-war Europe ministerial consolidations required much wisdom and foresight for which Henry was trained and experienced, if unassuming.
In 1975 Henry began his ministry with the Board of Evangelism in Winnipeg, travelling to churches across Canada conducting evangelistic meetings and deeper life ministries, spending much time in Quebec. As a result of a serious accident that hospitalized him, believers from all over Quebec visited him. The Board endorsed the purchase of the St. Rose United Church where in the fall of 1976 Bible training began with a few interested students. The Institute Biblique Laval (now Ecole de Theologie Evangelique de Montreal) continues to provide training to this day. Elsie, with fluency in French, provided singular secretarial support.
After six years of exhausting work and busy travelling schedules Henry accepted the position of pastor of the Elmwood Mennonite Brethren Church in Winnipeg and, within a year, the position of Canadian MB Conference Minister succeeding Peter R. Toews, serving four years until retirement. BOMAS immediately approached Henry to consider a six-month assignment in Europe to work with Russian refugees in Germany. Before this trip materialized he accepted a shorter trip to the Soviet Union in September 1986 to be present at the dedication of the new church in Orenburg, the land of his birth. A highlight was to visit Stepanovka, the village where he was born and where his father was forbidden to teach and preach. Now his visa declared freedom to do "religious work."
On 28 February 1987, in Henry's absence, Elsie orchestrated their move to Kelowna. With barely time to settle, they made preparations for the assignment in Europe. On March 20 en route to the airport in Winnipeg, Henry fell ill and was taken to the hospital where he died of a stroke the following morning.
The hallmark of Henry's approach to both ministry and life was a gentle spirit without compromise to his convictions. He was truly a man of steel and velvet
Bibliography
Brucks, Henry and Elsie. God's Hand in My Life. Henry and Elsie Brucks, n.d.
GRANDMA (The Genealogical Registry and Database of Mennonite Ancestry) Database, 7.03 ed. Fresno, CA: California Mennonite Historical Society, 2013: #364247.
Archival Records
Archival holdings of personal papers at Centre for Mennonite Brethren Studies.
Author(s)
Mary M Steegstra
Date Published
July 2013
Cite This Article
MLA style
Steegstra, Mary M. "Brucks, Henry (1918-1987)." Global Anabaptist Mennonite Encyclopedia Online. July 2013. Web. 18 Jan 2019. http://gameo.org/index.php?title=Brucks,_Henry_(1918-1987)&oldid=142622.
APA style
Steegstra, Mary M. (July 2013). Brucks, Henry (1918-1987). Global Anabaptist Mennonite Encyclopedia Online. Retrieved 18 January 2019, from http://gameo.org/index.php?title=Brucks,_Henry_(1918-1987)&oldid=142622.
---

©1996-2019 by the Global Anabaptist Mennonite Encyclopedia Online. All rights reserved.